Nan's Experience Essential Oils Membership provides Exclusive EO Training and Coaching on Transformation, Functional Wellness, Animal Topics and More!

FREE ACCESS to E-Merald Level with THREE Training Bundles!

 Click HERE to LEARN MORE and Get INSTANT ACCESS to E-merald Level Trainings!
Pure Protein Complete Natural Whey Protein Powder Chocolate and Vanilla Spice
High Protein Meal Replacement Shake

Pure Protein Complete Natural Whey Protein Powder meal replacement powder is a natural whey protein powder that supports the body nutritionally. This high protein meal replacement satisfies the appetite while providing the body's essential requirements.
The proprietary 5-Protein Blend contains essential oils, herbal cleansing ingredients, vitamins, minerals, enzymes, amino acids and antioxidants. Perfect addition or supplement to your healthy weight management program or fitness and exercise routine.

This high protein meal replacement powder is low in calories and high in protein; and is a fantastic powder to use as part of an all natural detox or weight management program in addition to exercise. It is a complementary product to the Slique Weight Mangement Complete Kit and the 5 Day Nutritive Cleanse All Natural Detox Kit.
This is an easy reference guide for Pure Protein Complete. It will tell you how to use it and what to use it for!
Want to Purchase Pure Protein Complete Natural Whey Protein Powder?
To purchase the Vanilla, click here!  To purchase the Chocolate, click here!
Experience Pure Protein Complete Natural Whey Protein Powder™

What are the Benefits of Pure Protein Complete Natural Whey Protein Powder?
Here are just some of the benefits:
High in Nutritional Valued Protein: 25 grams
Supports Energy Levels and ATP Production

 rBGH-Free Whey
Optimal 5-Protein Blend providing energizing nutritional value

 Provides a full range of Amino Acids including: D-aspartic acid, Threonine, L-serine, Glutamic acid, Glycine, Alanine, Valine, Methionine, Isoleucine, Leucine, Tyrosine, Phenylalanine, Lysine, Histidine, Arginine, Proline, Hydroxyproline, Cystine, Tryptophan, and Cysteine
Supports Protein Metabolism
Supports Healthy Muscular System and the Body in Building Lean Muscle. Great Pre- and Post- Workout or Exercise Meal Replacement Powder or Boost.

Ancient peat  or elevATP or and Apple extract supports healthy ATP production levels which is the energy storage of the body
No trans fat
Soy-Free - No isolated soy!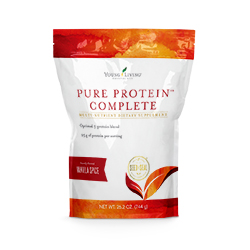 There are many different natural ingredients as well as essential oils in Pure Protein Complete.
The natural ingredients include:
Protein blend (rBGH-free whey protein concentrate, Goat whey protein concentrate, Egg albumin, Pea protein isolate, Organic hemp seed protein, and Sunflower lecithin), Organic evaporated cane juice crystals, Cocoa powder, Natural flavors, Xanthan gum, Amino acid blend (L-leucine, L-isoleucine, L-valine, L-methionine, L-lysine, and L-glutamine), Sodium chloride, Ancient peat, Apple extract, Zinc (Zinc picolinate), Enzyme complex (Alpha and Beta amylase, Protease, Lipase, Cellulase, Lactase and L. acidophilus, Papain, and Bromelain), Rebaudioside (Stevia rebaudiana), Biotin, Vitamin B3 (Niacin), Vitamin B5 (D-calcium pantothenate), Orange (Citrus sinesis) rind oil, Vitamin B6 (Pyridoxine hydrochloride), Vitamin B1 (Thiamin hydrochloride), Lou han guo (Siraitia grosvenori) fruit extract, Vitamin B2 (Riboflavin), Vitamin B12 (Methylcobalamin), and Folic acid
One essential oil is contained in this product.
ALLERGEN WARNING:
CONTAINS MILK AND EGG DERIVED INGREDIENTS
What is the Nutritional Profile?
Here it is for the Chocolate:
Calories: 170 per serving
Total Fat: 2.5 g per serving
Sodium:  240 mg per serving
Protein:  25 g per serving
Total Carbohydrate: 14 g per serving
Dietary Fiber: 2 g per serving
Sugars: 9 g per serving
Enzyme Complex: 55 mg per serving

Want More Information About the Individual Oil? Just click on the name of the oil to find out other interesting information such as:
What Part of the Plant is Used?
What is an ORAC Value?
What is the ORAC of the Oil?
What are the Plant Properties and Uses?
Where is the Name derived from?
The Most Interesting Historical Reference?
And more!
What are the Documented Uses for Pure Protein Natural Whey Protein Powder? Cleansing, increase fiber intake, fitness and exercise goals and weight management along with exercise and diet*, full range of Amino Acid, supports body in building lean muscle and atp production; Protein metabolism support.

How Do I Use It?
Add one or two scoops to 8 oz of cold water or favorite drink. Shake, stir or blend until a smooth consistency. For added benefit add other essential oils!
For a healthy weight management program, or daily nutritional shake replace at least one meal per day with Pure Protein Complete*.

Can this Product be Used for Animals?  I would not personally use this for animals. The chocolate definitely not.

Note About Animals: Certain oils can be very toxic to cats especially when they are not therapeutic grade. Citrus products and oils in particular. Please consult your vet if you are not sure about applying any essential oil to your pet.
What are the Safety Precautions? No contraindications.
Want to Purchase Pure Protein Natural Whey Protein Powder?
To purchase the Vanilla, click here!  To purchase the Chocolate, click here!
Return from Pure Protein Complete Natural Whey Protein Powder to All Natural Herbal Weight Loss