Nan's Experience Essential Oils Membership provides Exclusive EO Training and Coaching on Transformation, Functional Wellness, Animal Topics and More!

FREE ACCESS to E-Merald Level with THREE Training Bundles!

 Click HERE to LEARN MORE and Get INSTANT ACCESS to E-merald Level Trainings!
Five Day Nutritive Cleanse Detox Kit -
Supports Overall Wellness*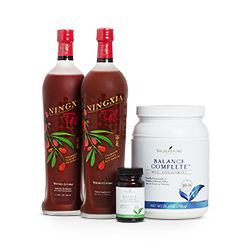 Five Day Nutritive Cleanse Detox Kit contains NingXia Red, an energizing, replenishing, whole wolfberry nutrient infusion; Balance Complete, a fiber and vitamin, meal replacement powder and nutritive cleanse; Digest and Cleanse which soothes and cleanses gastrointestinal upset and supports healthy digestion*. Kit improves overall health and well-being.*
This kit facilitates gentle and effective cleansing to support your wellness goals easily. Comes with complete instructional book and guide!
Support yourself with the right nutrients in your body, to facilitate detox and/or support your weight management program!

This is an easy reference guide for Five Day Nutritive Cleanse Kit. It will tell you how to use it and what to use it for!
Want to Purchase the Five Day Nutritive Cleanse Detox Kit?
To purchase this product, go to The Oil Shop!
---
Experience Five Day Nutritive Cleanse Detox Kit™
What is in Five Day Kit? 
There are three supplements in this kit:

Make it complete and add Life 9 Time Released Probiotic Supplement!

Want More Information About the Individual Oil?
Click on the name of the oil to find out other interesting information such as:


What Part of the Plant is Used?
What is an ORAC Value?
What is the ORAC of the Oil?
What are the Plant Properties and Uses?
Where is the Name derived from?
The Most Interesting Historical Reference?
And more!
How Do I Use It?
Please refer to the individual pages for use information.
Can this Product be Used for Animals?  Yes, but please refer to the individual supplements for more information. NingXia Red in particular provides a safe and excellent source of antioxidants for animals*.

Note About Animals: Certain oils can be very toxic to cats especially when poor quality oils are used. Citrus products and oils in particular that are not of therapeutic grade.  Please consult your vet if you are not sure about applying any essential oil to your pet.
What are the Safety Precautions?  Please refer to individual product for specific information.
Keep in a cool place away from excessive heat or direct sunlight. If you are pregnant, nursing, taking medication, or have a medical condition, consult a health professional prior to use. Do not give this product to children under 12 years of age except under the supervision of a health professional. Keep in a cool dry place.
Want to Purchase the Five Day Cleanse Detox Kit?
To purchase this product, go to The Oil Shop!
Return from Five Day Nutritive Cleanse Detox Kit to All Nautral Detox Supplements