Nan's Experience Essential Oils Membership provides Exclusive EO Training and Coaching on Transformation, Functional Wellness, Animal Topics and More!

FREE ACCESS to E-Merald Level with THREE Training Bundles!

 Click HERE to LEARN MORE and Get INSTANT ACCESS to E-merald Level Trainings!
Citrus Fresh Vitality Essential Oil 
Drink it, En-Capsule it, Love it!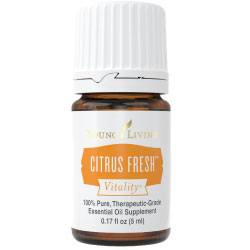 Citrus Fresh Vitality Essential Oil zests up your water, tea, or juice with one drop! Mix up your own sports drink! It includes naturally occurring constituents limonene, beta-pinene, and linalol. It provides great antioxidant support when taken as a dietary supplement and provides an energy boost!

This oil is contained in the new Vitality Dietary Essential Oil Collection which includes over 25 oils for dietary use, cooking and more!
Physically, it may be a cleanser and helps with detoxification. Place it in your water for a sport drink is refreshing and tastes great!

It is perfect for those hot days because it is refreshing to drink. If you like citrus and mint then you will absolutely love this blend. It contains five different citrus oils plus Spearmint essential oil for that minty after taste!
My recommended alternative for water is Slique Essence Essential Oil.

This is a fun and easy reference guide for Citrus Fresh Vitality Essential Oil Blend. It will tell you how to use your oil blend and what to use it for. It will also provide you with some fun tips and testimonials!
As I receive new tips and testimonials they will be added to the page, so check back frequently!
Want to Purchase Therapeutic Citrus Fresh Vitality Essential Oil?
Go to the Oil Shop! Buy Citrus Fresh Vitality Oil Here!
Experience Citrus Fresh Vitality Essential Oil™
What is in Citrus Fresh Vitality Essential Oil Blend? There are six different oils in Citrus Fresh Vitality. They are listed below along with a brief description of each oil.
Want More Information About the Individual Oil? Just click on the name of the oil to find out other interesting information such as:
What Part of the Plant is Used?
What is an ORAC Value?
What is the ORAC of the Oil?
What are the Plant Properties and Uses?
Where is the Name derived from?
The Most Interesting Historical Reference?
And more!
What are the Documented Uses for Citrus Fresh Essential Oil? Supporting overall well being*. Cleansing and provides a source of healthy antioxidants*. Place in water, drink or recipe!

Want to Learn about Nan's Mental (Mindset), Emotional and Spiritual Interpretation of this Oil?
Then go to the Citrus Fresh Essential Oil page!
How Do I Use It?
Use NEAT (undiluted) then,
Dietary Supplement: place several drops in capsule with olive oil and take internally.
Add a drop or two to water, juice, NingXia Red or other beverage.
Place in favorite drink, dressing or marinade recipe.

Aromatic - Diffuse
Can this Oil be Used for Animals? Yes, my horse Roxie loves all the citrus and mint oils. She will lick this oil right out of my hand!
Always start slow. With a small dog or cat use a toothpick amount to start. (Dip toothpick in bottle to get that amount).
Note About Animals: Certain oils can be very toxic to cats. Citrus products and oils in particular that are not of therapeutic grade! Please consult your vet if you are not sure about applying any essential oil to your pet.
What are the Safety Precautions? Keep out of reach of children. Avoid using on infants and very small children.
If pregnant or under a doctor's care, consult your physician.
Want to Purchase Therapeutic Citrus Fresh Vitality Essential Oil?
Go to the Oil Shop! Buy Citrus Fresh Vitality Oil Here!
Tips and Testimonials from an Essential Oil User
Place Citrus Fresh to water and then freeze as popsicles for a healthy snack for you or for your kids!
Return from Citrus Fresh Oil to Vitality Dietary Essential Oils