Nan's Experience Essential Oils Membership provides Exclusive EO Training and Coaching on Transformation, Functional Wellness, Animal Topics and More!

FREE ACCESS to E-Merald Level with THREE Training Bundles!

 Click HERE to LEARN MORE and Get INSTANT ACCESS to E-merald Level Trainings!
Tangerine Vitality Essential Oil
Zest Up Your Water, Smoothie or Workout!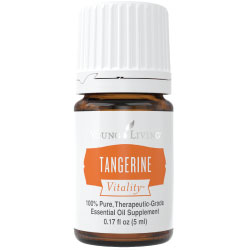 Tangerine Vitality Essential Oil Zests up Your Fitness Routine. Place in water, smoothies and marinades with this limonene rich essential oil!

This oil may help maintain a healthy lifestyle regimen and may create a feeling of satiety*. 
Cold pressed from the rind and is a species variation of the mandarin orange.
Tangerine variations can be of the species citrus nobilis or citrus reticulate so it can be a bit confusing. The citrus nobilis species is often associated with the tangor or temple orange so for our purposes we will stick with citrus reticulate!
Mandarin and Tangerine have very similar properties and are often interchanged; however, there are some differences in chemistry.
Mandarin essential oil contains esters while tangerine does not. Mandarin oil also has greater alcohol content. And Mandarin is steam distilled from the leaves, not the rind!
Tangerine contains 85-93% limonene. Limonene is found in citrus oils.

The simplest way to take advantage of the benefits of Tangerine every day is to use Tangerine Essential Oil in your water or smoothie! Tangerine oil is always available and the oil doesn't go bad when you don't use it right away!
Drink a Lot of Water? I do!
Place a drop of tangerine oil in your water or your kids' water and drink the benefits of tangerine all day! Kids just seem to love the taste of tangerine and orange oils! What better way to get them to drink more water then adding in their favorite essential oil!
Do you Love the Taste and Smell of Citrus Oils?
I do! Try Citrus Fresh essential oil blend that contains tangerine, orange, grapefruit, lemon and spearmint essential oils. Place a drop in water to cool off from a hot day or create an uplifting sports drink! Either way your body will be happy!
Read below for more information on Tangerine vitality essential oil and how to use it and what to use it for. This section will also provide you with some fun suggestions, safety precautions for you and your pet!
As I receive new tips and testimonials for Tangerine Vitality Essential Oil they will be added to the page, so check back frequently!
Want to Purchase Therapeutic Tangerine Vitality Essential Oil?
Go to the Oil Shop! Tangerine Vitality Oil Here!
---
Experience Tangerine Vitality Essential Oil
What is the Genus Species? Citrus reticulate. See introduction for more clarification!
Why is this Information Important? It's always important to know the genus species of your oil. Just the common name on the bottle doesn't really tell you exactly what you're getting.
Where Did the Name Come From? Tangerine comes from Tangier, Morocco which is the port that the first tangerines were shipped to in Europe!
Why is this Information so Important? Its not, it's just a fun fact!
What Part of the Plant is Used? Cold pressed from the rind.
Most Interesting Historical Reference?
Did you know that tangerines have been grown in China, Japan, and Djibouti for over 3,000 years? Wow, that is a long time!
What are the Plant Properties? Cleansing and relaxing

What are the Documented Uses and Benefits of Tangerine Vitality Oil? May supports healthy digestive system*. Antioxidant support.

Want to Learn about Nan's Mental (Mindset), Emotional and Spiritual Interpretation of this Oil? And Other Uses?
Then go to the Tangerine Essential Oil page!
How Do I Use It?
Use diluted or undiluted. Then,
Dietary Supplement: place several drops in capsule with olive oil and take internally. If dilution preferred use 50:50 dilution-one part essential oil: one part  vegetable oil.
Add a drop or two to water, juice, NingXia Red or other beverage.
Place in favorite drink or baking recipe.

Aromatic - Diffuse
Can this Oil be Used for Pets? Yes, great calming oil and animals generally like the smell. Not advised for cats unless therapeutic grade!
Note About Animal Use: Certain oils can be very toxic to cats. Citrus and pine products and oils in particular. Please consult your vet if you are not sure about applying any essential oil to your pet.
I only use Young Living Oils on Animals.

What are the Safety Precautions? Only therapeutic grade essential oils should be used for results. Because it is approved as a Food Additive (FA) by the FDA, Tangerine Oil is readily available on the market in many different qualities.
It is Generally Regarded as Safe (GRAS). Although it may be used as a dietary supplement, it is advised not to use it in this manner for children under 6 years of age.
Essential Oil Trivia?
Did you know that Tangerines provide a whole source of Vitamin C, beta-carotene and folate? They also contain other essential vitamin Bs, and potassium and magnesium!
Want to Purchase Therapeutic Tangerine Vitality Essential Oil?
Go to the Oil Shop! Tangerine Vitality Oil Here!
Tips and Testimonials from an Essential Oil User
Add Tangerine Vitality to NingXia Red Wolfberry Drink, freeze and enjoy!


Return from Tangerine Essential Oil to Vitality Dietary Essential Oils Collection