Nan's Experience Essential Oils Membership provides Exclusive EO Training and Coaching on Transformation, Functional Wellness, Animal Topics and More!

FREE ACCESS to E-Merald Level with THREE Training Bundles!

 Click HERE to LEARN MORE and Get INSTANT ACCESS to E-merald Level Trainings!
The Benefits of Grapefruit
Essential Oils for Skin
The Benefits of Grapefruit include supporting healthy skin and cleansing! Rich in the naturally occurring limonene, like many cold pressed citrus oils, it is wonderful to add to your homemade lotions, creams and massage oils!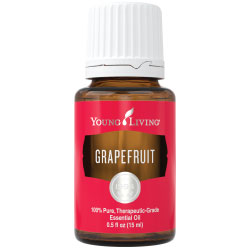 Allow Grapefruit Essential Oil to soothe and refresh skin by placing in the bath or creating a sugar or salt scrub. It is also mentally uplifting so don't forget to diffuse it when soaking in the tub!
Carry grapefruit with you to dismiss odors or anytime you just want a burst of citrusy freshness in your car, the bathroom, office or kennel.

Oh yes, especially those that just linger in your nose forever! You know what I mean...(rotting food, foreclosed homes, landfill drive-bys!) Just inhale right from the bottle and your noxious odor memories are gone!
Or just add a drop or two to water sprayer, shake and spray!
There really are hundreds of benefits of Grapefruit. Read below for more information on how to use it and what to use it for. This section will also provide you with some fun suggestions, safety precautions for you and your pet!
As I receive new tips and testimonials for Grapefruit Essential Oil they will be added to the page, so check back frequently!
Want to Purchase Therapeutic Grapefruit Oil?
Purchase Grapefruit Essential Oil Here!
---
Experience the Benefits of Grapefruit: Grapefruit Essential Oil
What is the Genus Species? Citrus paradisi
Why is this Information Important? It's always important to know your genus species of your oil. Just the common name on the bottle doesn't really tell you exactly what you're getting.
Where Did the Name Come From? Grapefruit was first bred in Jamaica by Captain Shaddock; therefore, it was called "shaddock" or "shattuck" until the 1800s! Then it was given the name grapefruit because it looks like clusters of grapes on the tree.
Why is this Information so Important? Its not, it's just a fun fact!
What Part of the Plant is Used? cold pressed from the rind.
What is the ORAC Value? 22,600 µTE/100g
What Does this Number Mean? ORAC stands for Oxygen Radical Absorbance Capacity. It tells you the antioxidant capacity of a food item.  This was developed by the USDA researchers. For instance: Oranges = 750; Clove = 1,078,700. Wow! The number for clove is NOT a typo!
Most Interesting Historical Reference?
Did you know that the grapefruit is thought to be a hybrid between pomelo (Citrus maximus) and the sweet orange (Citrus sinensis)? Captain Shaddock cultivated the pomelo and sweet orange seeds in Jamaica (18th century) which soon led to its hybridization!
What are the Plant Properties? Energizing and purifying.
What are the Documented Uses and Benefits of Grapefruit? Promotes healthy cleansing and detoxification of skin. Supports healthy skin by soothing and cleansing. Eliminates odors. Great for homemade skin care products or natural household products.
What is the Aromatic Affect on the Mind? Its fresh and citrus aroma is very uplifting to the body and mind.
What is Nan's Mental (Mindset), Emotional and Spiritual Interpretation of this Oil?
The benefits of grapefruit include the spiritual realm as well.
Grapefruit is cleansing to the aura and mental body which helps release confusion and mental chatter. Once this is cleared we can be more receptive to our inner voice and intuitive powers. So ultimately grapefruit helps us restore our own power and claim our own spiritual purpose.
Powerful auric field cleanser as well as space cleanser.

What Chakra is Affected? The solar plexus chakra is energized which affects the other chakras in the body. Expands the heart and third eye chakras.
What is the Corresponding Chakra Color? Yellow
How Do I Use It?

Use diluted - 50:50 dilution. Then,
Apply several drops (2-4) on location
Apply to chakras
Directly inhale
Diffuse

Interested in Dietary Grapefruit for Your Culinary Adventures?
Then check out Grapefruit Vitality Essential Oil!
Can this Oil be Used for Animals? Yes Have your animals smell it directly from the bottle or place a drop or two in your palm, then smell. Or place a drop in your palm and pet head to toe.
I only recommend using Young Living Oils on animals at this time.

Note About Animal Use: Certain oils can be very toxic to cats. Citrus and pine products and oils in particular. Please consult your vet if you are not sure about applying any essential oil to your pet.
What are the Safety Precautions? Only therapeutic grade essential oils should be used for results.

Avoid direct sunlight or UV rays for up to 12 hours after applying product.
If pregnant, nursing, taking medication, or have a medical condition, consult a healthcare professional prior to use.
Essential Oil Trivia?
Did you know in Barbados it was originally called "forbidden fruit"? But now, they consider it one of the "Seven Wonders of Barbados."
Did you know that grapefruit was brought to the United States in 1823 by Count Odette Philippe? He brought it to the Tampa area (city known today as Safety Harbor)!
Want to Purchase Therapeutic Grapefruit Oil?
Go to the Oil Shop! Buy Grapefruit Essential Oil Here!
Tips and Testimonials from an Essential Oil User
Add to vegetable or carrier oil to create your own massage spa oil experience! Consider adding juniper, spearmint, or wintergreen for after exercise routines.

Return from Benefits of Grapefruit to Citrus Fresh Essential Oil