Breathe Again Essential Oil
Supports Respiratory Health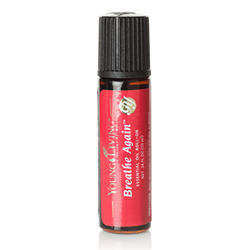 Breathe Again Essential Oil was designed to support healthy lung function and the respiratory system. And take a breathe of relief!

It is a fantastic blend of ten therapeutic grade essential oils that can be used to support a healthy respiratory system. Eucalyptus oils contain high amounts of cineole, which has been studied for its potential to support healthy lung function.
There are two exotic oils in this blend including Eucalyptus Blue, and Copaiba (Copal) essential oils. Copal reduces the body's natural response to injury or irritation and supports healthy digestion.
Breathe Again essential oil comes in a portable roll-on applicator. The steel ball applicator makes it super easy to apply and provides a small amount of oil to the application area. Perfect for when you are driving down the road or running to your next appointment!
There are many more uses for Breathe Again so keep reading below in the uses and benefits Section. It will tell you how to use your oil blend and what to use it for. It will also provide you with some fun tips and testimonials!
As I receive new tips and testimonials they will be added to the page, so check back frequently!
Buy Breathe Again Essential Oil Here!
---
Breathe Again Essential Oil Blend™
What is in Breathe Again essential oil? There are ten therapeutic grade essential oils in Breathe Again. They are listed below along with a brief description of each oil.
Eucalyptus staigeriana Essential Oil This oil is commonly known as Lemon Ironbark (not to be confused with lemon myrtle). This oil contains a high amount of aldehydes (about 51%).


Eucalyptus globulus Essential Oil or Blue Gum Oil is one of many eucalyptus essential oils. It is primarily used to support the respiratory system; and to soothe muscle discomfort after exercise.


Eucalyptus radiata Essential Oil or

Black Peppermint Oil

is one of many eucalyptus essential oils.  It is primarily used to support the respiratory system; and to soothe muscle discomfort after exercise.


Eucalyptus Blue Essential Oil (Eucalyptus bicostata) is a unique eucalyptus essential oil that is grown in Ecuador. It is very supportive of the respiratory system due to its high amount of alpha-pinene. Also helps to optimize digestion and restore balance to this critical system.


Peppermint Essential Oil (Mentha piperita) is one of the most highly regarded herbs for soothing digestion, it may also restore digestive efficiency. Jean Valnet MD studied peppermint's supportive effect on the liver and respiratory systems. Alan Hirsch MD studied peppermint's ability to directly affect the brain's satiety center, which triggers a sensation of fullness after meals. It is also a key oil in the Raindrop Technique.


Copaiba or Copal Essential Oil (Copaifera reticulata) has anti-inflammatory, antiseptic, analgesic and antibacterial properties. It is a powerful anti-inflammatory and helps the cardiovascular, respiratory and nervous systems as well as muscles and joints.


Myrtle Essential Oil (Myrtus communis) is supportive of the respiratory system, skin, and hair, it has been researched for its effects on glandular imbalances.It is also helpful for meditation and lifting the spirit.


Bay or Sweet Bay Laurel Essential Oil (Laurus nobilis) has been used by Ancient Greece. Traditionally used to support the respiratory and digestive systems.


Blue Cypress Essential Oil (Callitris intratropica) is indigenous to Australia. It has historically been used to boost the immune system and support the digestive system. It has traditionally been used for incense, perfume and embalming. Traditionally the aboriginal burned the wood to repel mosquitoes and midges! Its benefits also include supporting the body's natural response to irritation and injury as well as aiding normal breathing.


Rose Hip Fruit Essential Oil (Rosa canina or rubiginosa) has regenerative properties. It is used to nourish the skin and supports a healthy respiratory system.

Carrier Oil: Coconut oil (Cocos nucifera)
Do you want more Information about the Individual oil? Just click on the name of the oil to find out other interesting information such as:
What Part of the Plant is Used?
What is an ORAC Value?
What is the ORAC of the Oil?
What are the Plant Properties and Uses?
Where is the Name derived from?
The Most Interesting Historical Reference?
And more!
What are the Documented Uses for Breathe Again Essential Oil? Respiratory system and healthy lung function. Assists with letting go.

What Healthy Body Systems are Supported? Respiratory and Immune System
What is the Aromatic Affect on the Mind? Uplifting and energizing.
What is the Spiritual Influence? Breathe Again essential oil opens the solar plexus and heart chakras. It helps us to express our self better in the world better by letting go and embracing joy and hope.
Those who feel depleted and are holding deep sadness and grief in the heart and lungs can see relief with this oil. According to Traditional Chinese Medicine this is where grief and sadness are held.

How do I Use it?
Use NEAT (undiluted). Then,
Roll on chest or neck, or apply under the nose
Apply to chakras/vitaflex points
Good oil for the First Aid Kit? No
Can this oil be Used for Animals? Yes
Note about Animals: Certain oils can be very toxic to cats. Citrus products and oils in particular that are not of therapeutic quality! Please consult your vet if you are not sure about applying any essential oil to your pet.
What are the Safety Precautions? f pregnant, nursing, taking medication, or have a medical condition, consult a healthcare practitioner prior to use. Keep away from eyes or sensitive skin.
Want to Purchase Therapeutic Breathe Again Essential Oil?
Go to the Oil Shop! Buy Breathe Again Oil Here!
Tips and Testimonials from an Essential Oil User
Roll on back of neck and chest during winter to ease stress.

Have a Great Experience to Share About this Essential Oil?
Do you have a personal story to share about this Essential Oil? Please share it here!
Return from Breathe Again Essential Oil to Copal Essential Oil