Juniper Essential Oil is a Natural Diuretic and Detoxifier!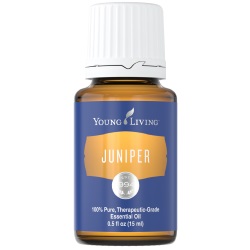 Juniper Essential Oil is steam distilled from the aerial parts including the juniper berries and twigs. There are over 50 species of Juniper grown throughout the world so it can be a bit confusing when choosing a juniper oil to work with!
The essential oil that I am most familiar with and personally use contains two different species: Juniperus osteosperma (Utah Juniper) and Juniperus scopulorum (Rocky Mountain Juniper). They mainly grow in Southwestern United States although the one I use the species are both grown in Utah.
Most of us associate juniper with our favorite distilled gin, since it is what gives gin its flavor! But juniper has been used for centuries for infections, headaches, arthritis and contagious diseases. In France, they burned sprigs of rosemary and juniper in hospitals to protect from infection as well!
Juniper essential oil is beneficial for any type of skin condition including chapped and sagging skin. It will help to prevent wrinkles, speed the healing of wounds and fade scars. You will see it in many skin care products for this reason! It is also excellent for anything that has to do with the kidneys and bladder. It is a diuretic and will increase the circulation through the kidneys plus help them detoxify. Juniper will also help with kidney stones and urinary tract or bladder infection.
My favorite blends that contain juniper essential oil are Di-Gize (digestion and stomach), Into the Future and Ortho Ease (massage blend for muscles). They are fantastic oils and I use them every day at home and at the barn for the horses. The horses love the oils!
I designed this section so you could use it as a fun and easy reference guide. It will tell you how to use your oil and what to use it for. It will also provide you with some fun tips, testimonials and oil trivia!
As I receive new tips and testimonials they will be added to the page, so check back often!
Buy Juniper Essential Oil Here!
---
Juniper Essential Oil
What is the Genus Species? Juniperus osteosperma (Utah Juniper) and Juniperus scopulorum (Rocky Mountain Juniper).
Why is this information important? There are several species as indicated in the introduction. So, it is always best to purchase your essential oil by common name and genus species so you know exactly what you are getting!
Where is the name derived from? Juniper is derived from the Latin word "juniores" meaning "young berries".
Why is this information so important? Its not, it's just a fun fact!
What Part of the Plant is Used? Aerial Parts
What is the ORAC Value? 250 µTE/100g
Why know about this number? ORAC stands for Oxygen Radical Absorbance Capacity. It tells you the antioxidant capacity of a food item. Antioxidants have shown to reduce the risk of age related conditions and cancer! This was developed by the USDA researchers. For instance: Spinach = 1,400; Clove = 1,078,700. Wow! The number for clove is NOT a typo!
Most Interesting Historical Reference?
Did you know that juniper berries have been found at prehistoric sites in the Swiss Lakes? Yes, juniper was definitely one of the first plants used by mankind!
What are the Plant Properties? Antiseptic, astringent, antispasmodic, cleanser, detoxifier, digestive stimulant and cleanser, diuretic, stimulant, promotes nerve regeneration and tonic.
What are the Documented Benefits and Uses of Juniper? Skin conditions (acne, eczema, dermatitis, scaring, dull skin or regulates oily skin), kidneys (increases circulation, promotes excretion of toxins, kidney stones), bladder (infections), liver problems, cellulite, gout, rheumatism (promotes excretion of uric acid and toxins), nerve function and regeneration, ulcers, varicose veins, water and fluid retention and wounds.
What is the Aromatic Affect on the Mind? Its sweet and musky aroma is elevating and creates a feeling of peace.
What is the Spiritual Influence? This oil helps us release thoughts of suppression, insecurity and anger. These negative thoughts hold us back from aligning with our spirit and developing a deeper divine consciousness.
When our chakras align with the divine, we also align and connect with our soul group. This creates protection and security at a very deep level for our soul. And allows us to move forward with a feeling of support and love from source.
What Chakra is Affected? The root, solar plexus, third eye and crown chakras align and expand.
What is the corresponding Chakra Color? Violet
How do I use it?
Use diluted - 50:50 dilution (one part essential oil: one part of vegetable oil). Then,
Apply several drops (2-4) on location
Apply to chakras/vitaflex points
Directly inhale
Diffuse, or
May be used as a dietary supplement.
Good oil for the First Aid Kit? No
Can this oil be used for Pets? Yes, juniper essential oil can be used for skin conditions.
It is also in several blends that I use at the barn on a daily basis. They are: Di-Gize (digestive and stomach upsets), Into the Future and Ortho Ease (massage oil for muscles).
Note about Animal Use: Certain oils can be very toxic to cats. Pine and citrus products and oils in particular that are not of therapeutic grade! Please consult your vet if you are not sure about applying any essential oil to your pet.
What are the Safety Precautions? Only therapeutic grade essential oils should be used for healing results. Because it is approved as a Food Additive (FA) by the FDA, Juniper essential oil is readily available on the market in many different qualities, so please choose your oil wisely!
It is Generally Regarded as Safe (GRAS). Although it may be used as a dietary supplement, it is advised not to use it in this manner for children under 6 years of age.
Essential Oil Trivia?
Did you know that the French call Juniper Genievre? This is derived from a Celtic word "gen" meaning "small bush" and "brus" meaning "hot and bitter"!
Did you know that during the Medieval Times, bundles of Juniper were hung over doors to ward off witches?
Did you know that Juniper trees protect the entrance to the Other Worlds, home of the Elves and Fairies? It is also said that juniper oil attracts more Fairies into your life!
Want to Purchase Therapeutic Juniper Essential Oil?
Go to the Oil Shop! Buy Juniper Oil Here!
Tips and Testimonials from an Essential Oil User
Make a blend of Rosemary, Sage, Idaho Balsam Fir and Juniper essential oils, place over kidney with a warm compress for painful kidney when passing stones. Do this one or two times a day for 20 to 30 minutes a day. Kidney stones home remedy should always include Idaho Balsam Fir and Juniper oils.
Have a Great Experience to Share About this Essential Oil?
Do you have a personal story to share about this Essential Oil? Please share it here!
Return from Juniper Essential Oil to Essential Oils for Muscles