Essential Oils are Easy to Use  
Natural Thyroid Remedies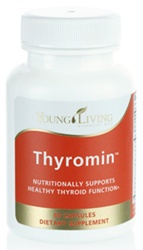 Therapeutic grade essential oils and supplements are excellent natural thyroid remedies. As a matter of fact research has shown that essential oils have the ability to regulate, normalize, support and boost the thyroid gland!
For instance...
Did you know that Myrrh balances the production of Thyroxin? And Black Spruce is useful in cases of hyperthyroidism. Yes, from underactive to overactive thyroids..there is an oil for you.
But first...
What is Thyroid Gland so Important to my Health?
The thyroid is part of the endocrine system that produces the hormones of the body. The thyroid is considered the "energy gland" of the body. It is very important and is responsible for many bodily functions including:
Regulating metabolism (T3 and T4 thyroid hormones); and


Secreting hormones for circulation, immune function, digestion, body temperature and even emotions.
Where is the Thyroid Located?
The thyroid is located below the Adams apple at the base of the neck
How do I know if My Thyroid is Functioning Correctly?
There is a very simple and inexpensive at home thyroid test that you can do to monitor your thyroid. This is very effective and many alternative health and medical doctors use this test for a baseline to determine if the thyroid is functioning well or not. Just follow the directions there.
What Essential Oils and Supplements Can we Use as Natural Thyroid Remedies?
For the thyroid we want to use oils and nutrition (Thyromin) that is specific to the condition. There are two main thyroid conditions. Just click on the links below to find out the signs of thyroid problems for that condition and the essential oils to use.
What if My Thyroid Hormone Deficiency is due to Pituitary or Hypothalamus Not Functioning?
The pituitary gland signals the thyroid to produce thyroid hormone which is actually controlled by the hypothalamus. The hypothalamus monitors the hormone levels in the blood stream.
If the pituitary or hypothalamus are not functioning properly than make sure you are using essential oils that stimulate these glands. And then re-monitor your thyroid function using the home test. Some oils that stimulate and oxygenate the pituitary and hypothalamus are:
Still not sure?
Use the home test as a starter and go from there! 
Return from Natural Thyroid Remedies to Experience Essential Oils