Ocotea Essential Oil - 
Reduce Inflammation and Balance
Blood Sugar Levels Naturally!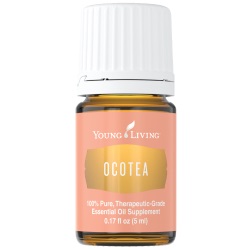 Ocotea Essential Oil is an amazing and rare essential oil that comes from the Ocotea Tree in Ecuador. It is in the cinnamon family and you will recognize the aroma right away!
Ocotea oil has a very low amount of cinnamaldehyde (less than 5%) unlike its cousin cinnamon that can contain up to 50% cinnamaldehyde.
This is the compound that creates skin sensitivity and can produce toxicity if used in large does on a daily basis. With Ocotea essential oil, there are no safety concerns in this regard; however there still may be some skin irritation as it is a "hot" oil.
Did you know that the Ocotea tree is distinctively separated into male and female trees? Yes, the reason...it is only the female trees that produce foliage that is suitable for therapeutic grade essential oil!
Isn't that fascinating? The male trees don't produce any therapeutic essential oil!
But wait, there's more...
Did you know that Ocotea essential oil known to have some of the highest levels of alpha-humulene in the world?
Yes, Copaiba (Copal Essential Oil) comes close to Ocotea essential oil. Ocotea is a natural anti-inflammatory. Alpha-humulene is known for its ability to minimize the body's response to irritation and inflammation. It can block at least two different anti-inflammatory cytokines.
What are Cytokines?
Cytokines are small proteins that help with the communication between cells. They include interferons which are known to trigger inflammation.
Of other significance which is worth noting is the effect Ocotea essential oil has on balancing blood sugar levels. People who have taken from 1-4 drops under the tongue every 24 hours have been able to stabilize their blood sugar levels significantly. And those on insulin would need to monitor their glucose levels while using this oil.
I know that people are using cinnamon for the same reason; however, again with the cinnamaldehyde levels there may be a concern. Go with Ocotea, I think you will love the results!
The oils that are coming out of the Amazon and Ecuador continue to amaze me. And continue to help me through many health and spiritual challenges. If you enjoyed reading this, definitely check out Palo Santo, Copaiba, Rue and Eucalyptus Blue! They are all from that neck of the woods!
That section will tell you how to use Ocotea essential oil and what to use it for. It will also provide you with some fun suggestions, safety precautions for you and your animal!
As I receive new tips and testimonials for Ocotea oil they will be added to the page, so check back frequently!
Buy Ocotea Essential Oil Here!
---
Ocotea Essential Oil
What is the Genus Species? Ocotea quixos
Why is this information important? The Ocotea genus belongs to the family Lauraceae that has over 50 different species most of which have no therapeutic value; and are considered toxic.
Also, Ocotea quixos is a very different species of tree from Ocotea cymbarum; but I have heard them used interchangeably by a common name of Brazilian Sassafras. This is incorrect and Ocotea cymbarum should not be used medicinally. However, I have seen is sold under the "Oil of Ocotea" and the generic name Ocotea, so please be careful!
You may also hear the name Ishpingo. Ishpingo refers to the native tree flowers of the Ocotea tree. The name was given by the Quechua people because the flowers only blossom every two years. So Ishpingo refers to the oil that is distilled strictly from the flowers.
Remember, even though species may share some similar properties they are not at all the same, and they do not even have therapeutic usage. Therefore, just knowing the common name of a plant is usually not enough information. So, always purchase your essential oil by the genus species and the common name!
What Part of the Plant is Used? Branches and leaves
What is the ORAC Value? I don't think it has been measured yet! If you find out, please let me know!
Why know about this number? ORAC stands for Oxygen Radical Absorbance Capacity. It tells you the antioxidant capacity of a food item. Antioxidants have shown to reduce the risk of age related conditions and cancer! This was developed by the USDA researchers. For instance: Spinach = 1,400; Clove = 1,078,700. Wow! The number for clove is NOT a typo!
Most Interesting Historical Reference?
Did you know that Ocotea was used to aromatize cakes and sweets over 500 years ago?
What are the Plant Properties? Analgesic, anti-inflammatory, antibacterial, antifungal, antidiarrhea, antiparasitic, antithrombotic and disinfectant.
What are the Documented Benefits and Uses of Ocotea? Inflammation (external and internal), blood sugar levels (balances), diabetes, digestive conditions, hypoglycemia, stress related conditions and reduce the body's response to irritation.
Here are some other possible uses based on recent research: prevent the clotting of red blood cells and protect the blood vessels, lowering cortisol levels, and antibiotic.
What is the Aromatic Affect on the Mind? Its warm and spicy aroma is mentally relaxing.
What is the Spiritual Influence? Ocotea essential oil has been honored as spiritual oil for many years. It is known to cleanse or purify the spirit. And today it is still used in purification rituals in the Amazon.
What Chakra is Affected? The sacral and solar plexus chakras.
What is the corresponding Chakra Color? Orange
How do I use it?
Use diluted - 20:80 dilution (one part essential oil: four parts of vegetable oil). Then,
Apply several drops (2-4) on location
Apply to chakras/vitaflex points
Directly inhale,
Diffuse, or
May be used as a dietary supplement.
Good oil for the First Aid Kit? No
Can this Oil be used for Animals? Yes, absolutely.
Note about Animal Use: Certain oils can be very toxic to cats. Citrus products and oils in particular. Please consult your vet if you are not sure about applying any essential oil to your pet.
What are the Safety Precautions? First, only use therapeutic grade essential oils! Ocotea essential oil has no known contraindications. It is Generally Regarded as Safe (GRAS) by the FDA.
Repeated use may result in contact sensitization.
Essential Oil Trivia?
Did you know that the native cultures would steep the leaves and fruit husk in water to benefit from the Ocotea? Yes, they knew the benefits far before we did and they still drink it as a tea to purify the soul and cleanse the body.
Did you know that the Ocotea Tree grows in the Amazon Basin of Ecuador and from sea level up to 1500 meters above sea level?
Want to Purchase Therapeutic Ocotea Essential Oil?
Go to the Oil Shop! Buy Ocotea Essential Oil Here!
Tips and Testimonials from an Essential Oil User
Massage a drop or two along with Copaiba into muscles to reduce pain, stiffness and inflammation.
Have a Great Experience to Share About this Essential Oil?
Do you have a personal story to share about this Essential Oil? Please share it here!
Return from Ocotea Essential Oil to Essential Oils for Inflammation