Ortho Ease Massage Oil 
to  Soothe Muscles and Detox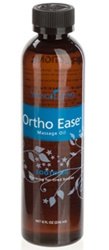 Ortho Ease Massage Oil is an fantastic blend of essential and vegetable oils that help to sooth muscles and help with minor and occasional aches and pains associated with exercise or everyday activities especially when used in combination with massage.

It is similar to Ortho Sport Massage Oil, only the phenol content is lower and the warming sensation is not quite as strong.
In combination with massage it can improve circulation by flushing lactic acid from the muscles resulting in improved body function; flush out swelling in joints; increase strength and flexibility which will make you less prone to injury.
Ask your massage therapist if they will use Ortho Ease or Ortho Sport in your next massage or during a Raindrop Technique session.
If you are new to using essential oils, then you will need to take some time and try different oils and blends to determine what works better for you! This is because we all have different body chemistry (blood types), and preferences, of course.
This is an easy reference guide for Ortho Ease Massage Oil Blend. It will tell you how to use your oil blend and what to use it for. It will also provide you with some fun tips and testimonials!
As I receive new tips and testimonials they will be added to the page, so check back frequently!
Want to Purchase Ortho Ease Massage Oil?
Go to the Oil Shop! Buy This Massage Oil Here!
---
Ortho Ease Massage Oil™
What is in Ortho Ease Blend? There are nine different essential oils and five different vegetable oils in this massage oil. They are listed below along with a brief description of each oil.
Vegetable Oils:
Fractionated Coconut Oil (distilled from pure coconut oil). It is easily absorbed into the skin, odorless, colorless, and easily washes out of fabrics.


Wheatgerm Oil is rich in vitamin B and E, and lecithin. It is an antioxidant, and has been known to reduce scaring from tissue damage and stretch marks.


Grape Seed Oil is an antioxidant and is very good for the skin.


Olive Oil contains squalene, an antioxidant and a great skin moisturizer.


Almond Oil is high in phytonutrients and vitamin E, and very beneficial to the skin,
Essential Oils:
Peppermint Essential Oil (Mentha piperita) is one of the most highly regarded herbs for soothing digestion, it may also restore digestive efficiency. Jean Valnet MD studied peppermint's supportive effect on the liver and respiratory systems. Alan Hirsch MD studied peppermint's ability to directly affect the brain's satiety center, which triggers a sensation of fullness after meals. It is also a key oil in the Raindrop Technique. 
Marjoram Essential Oil (Origanum majorana) relaxes tense muscles after exercise, and is supportive of the nervous and cardiovascular systems. It is a key oil in the Raindrop Technique! It is beneficial for occasional simple nervous tension.


Vetiver Essential Oil (Vetiveria zizanioides) brings you back to nature. It is a grounding oil and is one of the oils that is highest in sesquiterpenes, Vetiver was studied by Dr. Terry Friedmann for improving children's behavior. Vetiver may help when coping with stress and to recover from emotional trauma and shock.


Thyme Essential Oil (Thymus vulgaris) supports the immune, respiratory, digestive, nervous, and other body systems. Known since ancient times as a medicinal herb, thyme contains large amounts of thymol. It is also a key oil in the Raindrop Technique.

Do you want more information about the individual oil? Just click on the name of the oil to find out other interesting information such as:
What Part of the Plant is Used?


What is an ORAC Value?


What is the ORAC of the Oil?


What are the Plant Properties and Uses?


Where is the Name derived from?


The Most Interesting Historical Reference?


And more!
What are the Documented Uses for Ortho Ease Massage Oil? Circulation (when in combination with massage), mild edema (during women's cycle), lymphatic system (detoxify, increase function of, stimulates when in combination with massage), occasional muscle spasm and aches, muscle relaxation in combination with massage.
What Body Systems are Affected? Muscle and Bone and Skin.
What is the Aromatic Effect on the Mind? Invigorating yet warming.
How do I use it?
Use NEAT (undiluted) Then,
Apply to legs, arms, neck and back


Apply to sore muscles
Good oil for the First Aid Kit? Yes
Can this oil be used for Animals? Yes, I use it to soothe sore muscles on the horses after exercise. Very helpful in combination with massage.

Note about animals: Certain oils can be very toxic to cats. Citrus products and oils in particular that are not of therapeutic grade! Please consult your vet if you are not sure about applying any essential oil to your pet.
What are the Safety Precautions? Ortho Ease does not have any known contraindications. Avoid eye contact. For external use only.
Tips and Testimonials from an Essential Oil User
Place 1/4 to 1/2 cap of this massage oil in Epsom Salts and place in your bath water for after a work out!
Want to Purchase Ortho Ease Massage Oil?
Go to the Oil Shop! Buy This Massage Oil Here!
Return from Ortho Ease Oil to Oils for Muscles 
Return from Ortho Ease to Oils for Pain