Nan's Experience Essential Oils Membership provides Exclusive EO Training and Coaching on Transformation, Functional Wellness, Animal Topics and More!

FREE ACCESS to E-Merald Level with THREE Training Bundles!

 Click HERE to LEARN MORE and Get INSTANT ACCESS to E-merald Level Trainings!
AminoWise Essential Oil Amino Acid
Supplement Powder with Wolfberries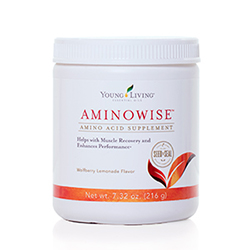 AminoWise Essential Oil Amino Acid Supplement Powder supports amino, exercise and muscle recovery*. Includes antioxidant benefits and minerals formulated to help reduce lactic acid created by exercise. Contains lime and lemon essential oils.
Here are the many benefits of this great product:
Synergistic complex of amino acids and antioxidants that supports energy and enhances muscle recovery during and after exercise
Formulated to reduce muscle fatigue and recovery
Supports muscles during and after exercise to enhance recovery and performance*
Supports the production of nitric oxide which can improve vascular blood flow*
Contains branched chain amino acids which have shown to aid in preventing muscle catabolism from exercise
Formulated to support hydration by restoring minerals lost during exercise
Good source of vitamin E and zinc
Formulated with wolfberry powder, a powerful antioxidant*
Flavored with Lemon and Lime essential oils
No preservatives, synthetic colors, or artificial flavors
No added sugar or artificial sweeteners
Did you know that Amino Acids are Building Blocks of Protein in the body; and Support Healthy Cell Function?
Yes, humans produce 10 of 20 amino acids that are essential to the body; and the others must be sourced from the food we eat. Essential means that we must have them for the body to operate. They are the building blocks of healthy hair, skin, cells, and body systems.

Amino acid and enzyme deficiency in the body may contribute to the aging process; and must be added back as we grow older. Amino acids are not stored therefore we must supplement them every day.
Contains therapeutic grade essential oils including Lemon and Lime!

Want to Purchase AminoWise Essential Oil Amino Acid Supplement Powder?
---
Experience AminoWise Essential Oil Amino Acid™ Supplement Powder

What is in AminoWise Powder? 

Here is the nutritional profile!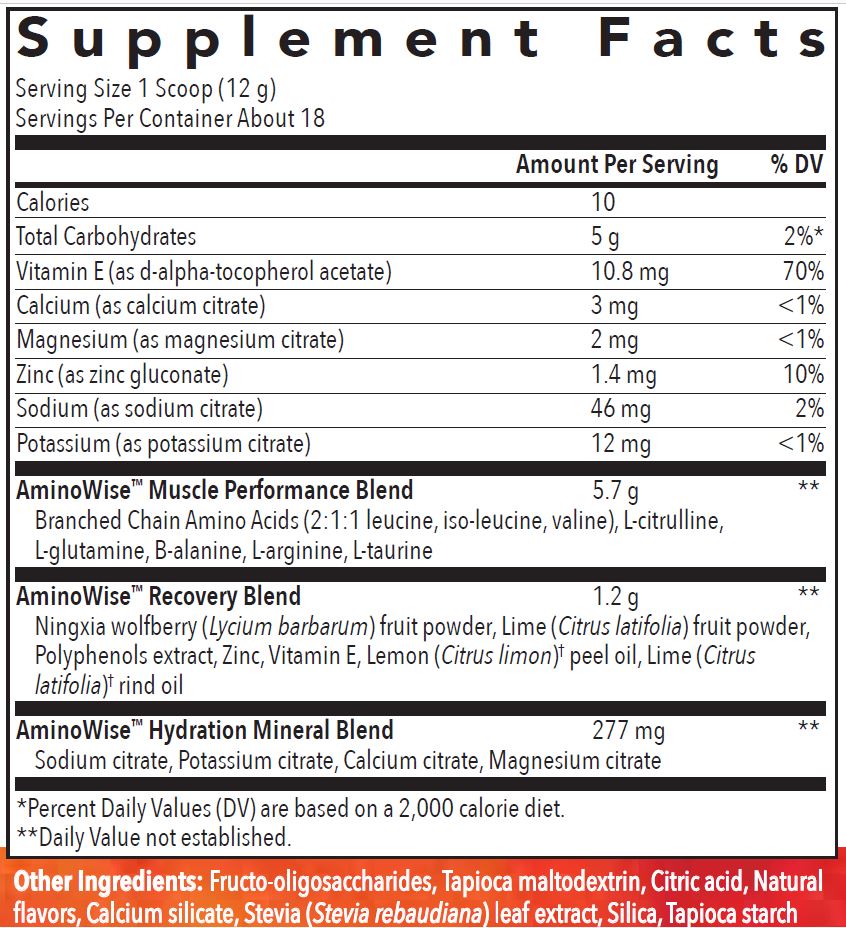 And don't forget it also contains antioxidant support! Learn more about NingXia Red with all the benefits of wolfberries!

Want More Information About the Individual Oil? Just click on the name of the oil to find out other interesting information such as:
What Part of the Plant is Used?
What is an ORAC Value?
What is the ORAC of the Oil?
What are the Plant Properties and Uses?
Where is the Name derived from?
The Most Interesting Historical Reference?
And more!
What are the Documented Uses for AminoWise Dietary Supplement?  Exercise and muscle recovery* by reducing lactic acid and providing hydrating minerals. Antioxidant support* Increases production of nitric oxide and supports healthy cardiovascular system* (NOS Gene).

How Do I Use AminoWise Dietary Supplement?
Mix 1 scoop with 8 fl. oz. of water and consume during or after exercise.
Can this Product be Used for Animals? Please consult your vet.

Note About Animals: Certain oils can be very toxic to cats especially if the quality of the oil is not pure. Citrus products and oils in particular when not therapeutic grade.  Please consult your vet if you are not sure about applying any essential oil to your pet or giving an essential oil supplement to your pet.
What are the Safety Precautions?

No contraindications

Want to Purchase AminoWise Essential Oil Amino Acid Supplement Powder?
Return from AminoWise Essential Oil Amino Acid Supplement Powder to Essential Oil Supplements