Nan's Experience Essential Oils Membership provides Exclusive EO Training and Coaching on Transformation, Functional Wellness, Animal Topics and More!

FREE ACCESS to E-Merald Level with THREE Training Bundles!

 Click HERE to LEARN MORE and Get INSTANT ACCESS to E-merald Level Trainings!
Build Your Dream Essential Oil Blend
Build Confidence & Move Forward

Build Your Dream Essential Oil Blend commemorative blend created to highlight Young Living's 20-year anniversary.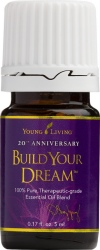 This wonderful smelling oil builds confidence and supports you in visualizing and getting clarity on what you desire.
This is perfect for honoring the entrepreneurial spirit in all of us. It also eases the stress of building your business and removing restrictions and obstacles in front of us.
**This oil captures the vision and entrepreneurial spirit since it was designed to celebrate 20 years of Young Living's success as a leader of Essential Oils. Designed by Gary for the 20th Anniversary Convention in Salt Lake.
This is a fun and easy reference guide for Build Your Dream Essential Oil Blend. It will tell you how to use your oil blend and what to use it for. It will also provide you with some fun tips and testimonials!
As I receive new tips and testimonials they will be added to the page, so check back frequently!
Want to Purchase Therapeutic Build Your Dream Essential Oil Blend?
Go to the Oil Shop! Buy Build Your Dream Oil Here!

---
Experience Build Your Dream Essential Oil Blend™
What is in Build Your Dream Essential Oil Blend? There are two blends and a ton of different oils in Build Your Dream. They are listed below along with a brief description of each oil.
Lavender Essential Oil (Lavandula angustifolia) can help you relax, wind down before bed and even ease stress due. Its balancing properties can provide a relaxing atmosphere when diffused.
Sacred Frankincense Essential Oil (Boswellia sacraa) is high in sesquiterpenes which helps to uplift spirits and promotes relaxation (overcome stress). This is thought to be the original oil given to baby Jesus.
Melissa or Lemon Balm Essential Oil (Melissa officinalis) is strengthening and revitalizing, yet soothing and calming making it good to ease stress. Several studies report that Melissa may benefit the skin.
Blue Cypress Essential Oil (Callitris intratropica) is indigenous to Australia. It has traditionally been used for incense, perfume and embalming.

Hong Kuai (Chamaecyparis formosensis) woody and grounding.

Idaho Blue Spruce Essential Oil (Picea Pungens) has a high content of alpha-pinene. Add it to your bath to relax both mind and body. This oil is harvested from Young Living's Highland Flats Tree Farm in Naples, Idaho and distilled at their St. Maries Farm.

Ylang Ylang Essential Oil (Cananga odorata) restores confidence and equilibrium.

Dream Catcher Essential Oi Blend (Royal Hawaiian Sandalwood, Black Pepper, Anise, Tangerine, Bergamot, Blue Tansy, Ylang Ylang, Juniper)
Believe Essential Oil Blend (Idaho Blue Spruce, Idaho Balsam Fir, Frankincense, Coriander, Bergamot, Ylang Ylang, Geranium)
Blue Lotus (Nymphaea caerulea)
Please Note: Dream Catcher Oil had a formulation change in 2015, so the original Build Your Dream Oil may be slightly different in terms of ingredients than what is being produced in 2016.

Want More Information About the Individual Oil?  Click on the name of the oil to find out other interesting information such as:
What Part of the Plant is Used?
What is an ORAC Value?
What is the ORAC of the Oil?
What are the Plant Properties and Uses?
Where is the Name derived from?
The Most Interesting Historical Reference?
And more!
What are the Documented Uses for Build Your Dream Essential Oil Blend? Business meetings and planning, clarity, courage, day-dreaming, entrepreneurial spirit, fear, frustration, fits and talents, intuition, stay in moment, restrictions and obstacles, past, visualization.

What is the Aromatic Affect on the Mind? Emotionally clearing and balancing.
What is Nan's Mental (Mindset), Emotional and Spiritual Interpretation of this Oil?
Build Your Dream relaxes and keeps you in the moment so you can pursue your hearts desires. It will provide you with the clarity and courage you need to OWN your dream and pursue it despite obstacles, restrictions and those who may influence your decisions.
It will also help you forgive yourself for those times that you have not been open to pursuing your dreams, or you felt dissapointed in yourself on lost opportunites. Remember, there is no such thing as a missed opportunity as we always have a way to manifest a new one.
Supports entrepreneural endeavers. Use for start-ups and to keep your dream alive!

What Chakra is Affected? Harmonizes all the chakras. Opens the heart, throat and crown chakra.

How Do I Use It?

Use NEAT (undiluted) then,
Apply several drops (2-4) to wrists, edge of ears, neck and feet
Add several drops (2-4) to bath water
Apply to chakras
Directly inhale or diffuse, and
Dilute 1:15 with vegetable oil for body massage.
Can this Oil be Used for Animals? Yes, absolutely. Help those show animals stay in the moment and build THEIR dream which is normally supporting their owners and becoming the best they can be.

Note About Animals: Certain oils can be very toxic to cats. Citrus products and oils in particular that are not of therapeutic grade! Please consult your vet if you are not sure about applying any essential oil to your pet.
What are the Safety Precautions? Build Your Dream essential oil may have possible skin sensitivity.

If pregnant or under a doctor's care, consult your physician.
Want to Purchase Therapeutic Build Your Dream Essential Oil Blend?
Go to the Oil Shop! Buy Build Your Dream Oil Here!
Tips and Testimonials from an Essential Oil User
Apply it to your wrists and neck before you meet with a new client or prospect; or business meeting.

Return from Build Your Dream Essential Oil Blend to Essential Oil Blends