Nan's Experience Essential Oils Membership provides Exclusive EO Training and Coaching on Transformation, Functional Wellness, Animal Topics and More!

FREE ACCESS to E-Merald Level with THREE Training Bundles!

 Click HERE to LEARN MORE and Get INSTANT ACCESS to E-merald Level Trainings!
Celery Seed Essential Oil
Soothes Discomforts

Celery Seed essential oil has historically been used for easing and soothing discomfort.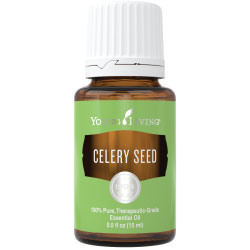 My favorite oil blends that contain Celery Seed are GLF and Juva Cleanse.

As I receive new tips and testimonials for Celery Seed Oil they will be added to the page, so check back frequently!
Want to Purchase Therapeutic Celery Seed Oil?
Go to the Oil Shop! Buy Celery Seed Essential Oil Here!
---
Experience Celery Seed Essential Oil

What is the Genus Species? Apium graveolens
Why is this Information Important? It's always important to know your genus species of your oil. Just the common name on the bottle doesn't really tell you exactly what you're getting.
What is the Origin of the Plant Name? Celery comes from Latin word "Selinon" meaning "parsley".
Why is this Information so Important? Its not, it's just a fun fact!
What Part of the Plant is Used? Seeds
Most Interesting Historical Reference?
Did you know that Aulus Cornelius Celsus a Roman encyclopedist, known for his medical book, De Medicina, recommend the use of Celery Seed in 30 AD? Yes, he would recommend celery seed!
What are the Celery Plant Properties? Soothing and relaxing.

What are the Documented Uses and Benefits of Celery Seed Essential Oil? May soothe physical discomforts when applied topically. May assist with healthy detox.

What is the Aromatic Affect on the Mind? Its spicy, sweet and warm aroma is very calming and relaxing.
What is Nan's Mental (Mindset), Emotional and Spiritual Interpretation of this Oil?
Celery Seed opens and expands the heart chakra and helps the heart and crown chakras align. It releases emotions of anger stemming from hurt, not enough, tired and unworthy.
This oil specifically helps to resolve and release fatherhood issues. This includes whether an individual is a father, one has issues with your father or with a fatherly figure; or for women who had to assume the role of a mother and father. The stuck emotions are usually associated with the fact that males are typically taught to assume the role as provider and take on the responsibility and burdens for the family's needs.
Positive emotions that are instilled are tenderness and strength of heart allowing the heart to function correctly and be open.
What Chakra is Affected? Root, solar plexus and heart chakra.
What is the Corresponding Chakra Color? Green
How Do I Use it?
Use 50:50 (one part essential oil: one part vegetable oil). Then,
Apply several drops (2-4) on location
Apply to chakras
Directly inhale
Diffuse
Interested in Dietary Celery Seed Oil for Your Culinary Adventures?
Then check out Celery Seed Vitality Essential Oil!
Can this Oil be Used for Animals? Yes, but I would use it in a blend.
Have your animals smell it directly from the bottle or place a drop or two in your palm, then smell. Or place a drop in your palm and pet head to toe.

Note on Animal Usage: Certain oils can be very toxic to cats. Citrus and pine oils in particular when using non therapeutic grade oils. Please consult your vet if you are not sure about applying any essential oil to your pet.
I only recommend using Young Living Oils on animals at this time.
What are the Safety Precautions? First, only use therapeutic grade essential oils for best results!
Celery Seed essential oil is Generally Regarded as Safe (GRAS) by the FDA.
Repeated use may create skin irritation or contact sensitization.
Avoid during pregnancy.
If you are pregnant, nursing, taking medication, or have a medical condition, consult a health-care practitioner prior to use.
Essential Oil Trivia?
Did you know that the Celery Seed Nutritional Value is high in Vitamin C, minerals and calcium? Yes, celery seed is one of the best sources of calcium and it is very high in protein!!!
Want to Purchase Therapeutic Celery Seed Oil?
Go to the Oil Shop! Buy Celery Seed Essential Oil Here!
Tips and Testimonials from an Essential Oil User
Have a Great Experience to Share About this Essential Oil?
Do you have a personal story to share about this Essential Oil? Please share it here!
Return from Celery Seed Essential Oil to Essential Oil Singles