Nan's Experience Essential Oils Membership provides Exclusive EO Training and Coaching on Transformation, Functional Wellness, Animal Topics and More!

FREE ACCESS to E-Merald Level with THREE Training Bundles!

 Click HERE to LEARN MORE and Get INSTANT ACCESS to E-merald Level Trainings!
CortiStop Cortisol Reducing Supplement
for Women with DHEA*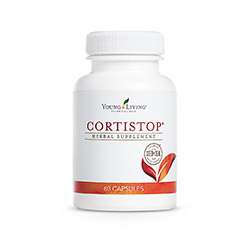 CortiStop cortisol reducing supplement for women with DHEA, black cohosh, pregnenolone and essential oils is the perfect balancing supplement. Use to  naturally support the endocrine system*.
Difficulty maintaining healthy weight and maintaining optimal health of cardiovascular systems and cortisol have long been associated. Excessive stress in the body creates higher estrogen which limits the ability of the thyroid and adrenal glands to manage cortisol levels*.
Symptoms of high cortisol levels include: feelings of fatigue and low energy, weight gain, and lesser ability to manage stress levels*. Cortisol has been labeled the "Death Hormone".
CortiStop supports the glandular systems of women*. Pregnenolone benefits include balancing glandulars, improving energy and reducing stress. Deficiency creates an imbalance of all the hormones.
Benefits of Black Cohosh include decreasing heat. DHEA, derived from wild yam is an important hormone precursor for progesterone; and enhances memory and lean body mass.
Contains five essential oils including Peppermint, Fennel, Frankincense, Clary Sage and Fleabane which all have balancing properties.
Also check out Sclaressence Vitality essential oil; and FemiGen and Progessence Plus Supplements for complementary products.
This is an easy reference guide for CortiStop cortisol reducing supplement for women.  It will tell you how to use your oil blend and what to use it for. It will also provide you with some fun tips and testimonials!
As I receive new tips and testimonials they will be added to the page, so check back frequently!
Want to Purchase CortiStop Cortisol Reducing Supplement for Women?
---
Experience CortiStop™ Cortisol Reducing Supplement for Women

What is in CortiStop Cortisol Reducing Supplement for Women? 

CortiStop Supplement combines natural ingredients as well as essential oils.

A brief description of each ingredient is provided below:

Pregnenolone - Key precursor for the body's production of progesterone, estrogen and DHEA*.

L-a-phosphatidylcholine – Is a phospholipid a primary component of lecithin; and a major constituent of cell membranes.
L-a-phosphatidylserine - Is an important phospholipid membrane component.
Black Cohosh Plant Root (Cimicifuga racemosa)
DHEA (derived from Wild Yam Root)

Conyza canadensis Flowering Top

Also contains these essential oils:
Want More Information About the Individual Oil? Just click on the name of the oil to find out other interesting information such as:
What Part of the Plant is Used?
What is an ORAC Value?
What is the ORAC of the Oil?
What are the Plant Properties and Uses?
Where is the Name derived from?
The Most Interesting Historical Reference?
And more!
What are the Documented Uses for CortiStop Cortisol Reducing Supplement for Women? Support female glandular systems*; maintain  natural balance and harmony*.
How Do I Use CortiStop Cortisol Reducing Supplement for Women?
Take 2 capsules in the morning before breakfast. If directed another two capsules may be taken before retiring. Uses daily for 8 weeks, then suspend use for 2 to 4 weeks before resuming this supplement.
Can this Product be Used for Animals?  Yes, but have not used it personally; and it hasn't been used extensively in animals yet. Use for endocrine system and hormonal balance.

Note About Animals: Certain oils can be very toxic to cats especially if the quality of the oil is not pure. Citrus products and oils in particular when not therapeutic grade.  Please consult your vet if you are not sure about applying any essential oil to your pet or giving an essential oil supplement to your pet.
What are the Safety Precautions? Caution using while pregnant. Consulting with a medical professional would be best prior to using this supplement.
Want to Purchase CortiStop Cortisol Reducing Supplement for Women?
Return from CortiStop Cortisol Reducing Supplement for Women to Essential Oil Supplements