Nan's Experience Essential Oils Membership provides Exclusive EO Training and Coaching on Transformation, Functional Wellness, Animal Topics and More!

FREE ACCESS to E-Merald Level with THREE Training Bundles!

 Click HERE to LEARN MORE and Get INSTANT ACCESS to E-merald Level Trainings!
Elemi Oil
Supports Healthy Skin
and Balances the Chakras
Elemi oil has traditionally been used to reduce lines and wrinkles associated with aging; and is supportive of healthy skin. Also for soothing muscles discomforts after exercise.
A member of the same botanical family as frankincense and myrrh it is steam distilled from the gum or resin of the tree; and you will recognize the smell, as such, immediately! It is unique oil that is not very common and can be hard to locate in therapeutic quality.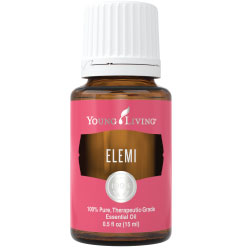 The tree is native to the Philippine and the Moluccas Islands. Europe has used Elemi to rejuvenate skin. Historically it was used as an ingredient in ointments for hundreds of years!
I often times choose Elemi oil over Frankincense. I like the softer feel and smell, especially when doing energy or emotional clearing work.
Also use to soothe muscle discomfort after exercise and in conjunction with massage. It is an ingredient in Ortho Sport Massage Oil.
I designed this section so you could use it as a fun and easy reference guide. It will tell you how to use your oil and what to use it for. It will also provide you with some fun tips and oil trivia!
As I receive new tips they will be added to the page, so check back often!
Want to Purchase Therapeutic Elemi Essential Oil?
Go to the Oil Shop! Buy Elemi Oil Here!
---
Experience Elemi Essential Oil
What is the Genus Species? Canarium luzonicum
Why is this Information Important? It is always a good idea to know your source and the genus species of your essential oil, so you know what you are getting! Too many companies label essential oils generically which means none of us know what they are putting in the oils they sell to us.
What is the Origin of the Plant Name? Elemi comes from an Arabic phrase "above and below" and the word "chryros" meaning "gold".
Why is this Information so Important? Its not, it's just a fun fact!
What Part of the Plant is Used? Gum of the Tree
Most Interesting Historical Reference?
Did you know that the Egyptians used the resin from elemi oil in the embalming process?
What are the Plant Properties? Calming and rejuvenating.

What are the Documented Uses and Benefits of Elemi Oil? Elemi is highly regarded for reducing the look of fine lines and wrinkles, skin support, and for soothing muscles after exercise
What is the Aromatic Affect on the Mind? Its spicy and fresh aroma makes is grounding and balancing.
What is Nan's Mental (Mindset), Emotional and Spiritual Interpretation of this Oil?
Elemi oil, as the name implies, brings balance to both the spiritual and emotional planes. It aligns the chakras and relieves stress to all aspects of the body. It is often used for meditation for this reason.
Those who are depleted emotionally will benefit from this oil as it opens the heart to reconnect from our inner source rather than allowing the ego to run the show which can create inner conflict.

What Chakra is Affected? Balances all the chakras. Opens the solar plexus and heart chakra.
What is the Corresponding Chakra Color? Yellow
How Do I Use It?
Use NEAT (undiluted). Then,
Apply several drops (2-4) on location
Apply to chakras
Directly inhale
Diffuse

Can this Oil be Used for Animals? Yes, has a calming effect on the horses.
Have your animals smell it directly from the bottle or place a drop or two in your palm, then smell. Or place a drop in your palm and pet head to toe.

Note About Animal Use: Certain oils can be very toxic to cats. Pine and citrus oils in particular which are not of therapeutic grade. Please consult your vet if you are not sure about applying any essential oil to your pet.
I only recommend using Young Living Oils on animals at this time.

What are the Safety Precautions? First, only use therapeutic grade essential oils when wanting best results!
This oil is approved as a Food Additive (FA) and for Flavoring Agent (FL). Dilution not required, except for the most sensitive skin.
Although it may be used as a dietary supplement, it is advised not to use it in this manner for children under 6 years of age.
If pregnant, nursing, taking medication, or have a medical condition, consult a healthcare professional prior to use.
Essential Oil Trivia?
Did you know that Elemi is referred to as "Poor Mans Frankincense" because it has some of the same properties and uses, and is in the same family of plants?
Did you know that a 17th century physician, JJ Wecker, used Elemi on of soldiers?
Want to Purchase Therapeutic Elemi Essential Oil?
Go to the Oil Shop! Buy Elemi Oil Here!
Tips and Testimonials from an Essential Oil User
Use instead of Frankincense or Sacred Frankincense.

Have a Great Experience to Share About this Essential Oil?
Do you have a personal story to share about this Essential Oil? Please share it here!
Return from Elemi to Essential Oils for Minor Pain