Nan's Experience Essential Oils Membership provides Exclusive EO Training and Coaching on Transformation, Functional Wellness, Animal Topics and More!

FREE ACCESS to E-Merald Level with THREE Training Bundles!

 Click HERE to LEARN MORE and Get INSTANT ACCESS to E-merald Level Trainings!
The Goldenrod Plant "Makes Us Whole"
and Brings Solitude!

The Goldenrod plant has traditionally used to calm for the body and mind. It releases the energy of "pissy" and allows energy to flow again.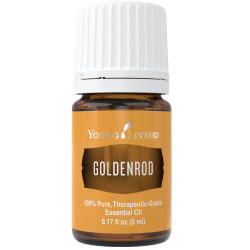 Most of us know goldenrod by its bright yellow flowers that bloom towards the end of summer.

The therapeutic grade oil is steam distilled from the goldenrod flower. The goldenrod plant oil that I use is grown in Canada and is commonly called Canada Goldenrod.

This section is a fun and easy reference guide for the goldenrod plant and the essential oil. It will tell you how to use it and what to use it for. It will also provide you with some fun suggestions, safety precautions for you and your pet!

As I receive new tips and testimonials for goldenrod they will be added to the page, so check back frequently!
Tips and Testimonials from an Essential Oil User

Buy Goldenrod Essential Oil Here!


---
Experience Goldenrod Essential Oil
What is the Genus Species? Solidago canadensis
Why is this Information Important? There are hundreds of different species of goldenrod and there are many hybrids! So it always is a good idea to purchase your essential oils by Common Name and Genus Species so you know what you are getting.
Where is the Name Derived From? The Genus derivative comes from a Latin word "solidago" meaning "to make whole".
Why is this Information so Important? Its not, it's just a fun fact!
What Part of the Goldenrod Plant is Used? Flowering tops
What is the ORAC Value? 61,900 µTE/100g
What Does this Number Mean? ORAC stands for Oxygen Radical Absorbance Capacity. It tells you the antioxidant capacity of a food item. This was developed by the USDA researchers. For instance: Blueberries = 2,400; Clove = 1,078,700. Wow! The number for clove is NOT a typo!
Most Interesting Historical Reference?
Did you know that during the Boston Tea Party, goldenrod was dumped into the harbor? Yes, the colonists drank the tea for good health and solitude; and nicknamed it "Liberty Tea"!
What are the Goldenrod Plant Properties? Relaxing and calming.

What are the Documented Goldenrod Uses and Benefits? Supports releasing fear and "pissy" energy.

What is the Aromatic Affect on the Mind? The aroma is calming and relaxing.
What is Nan's Mental (Mindset), Emotional and Spiritual Interpretation of this Oil?
The energies of goldenrod oil open and release emotional blocks in the root, sacral (and solar plexus) chakras which govern our survival and sexual instincts. Therefore, using this oil will help us let go so life flows; and learn how to forgive and love ourselves on a deeper level.
It will also help us become more accepting of our life experiences rather than be angry, resentful or "pissy" towards them. As we allow for this, our kidney (and bladder) energy expands and starts to flow.
What Chakra is Affected? Root, Sacral and Solar Plexus Chakras.
What are the Corresponding Chakra Colors? Yellow
How Do I Use It?
Use diluted 50:50- (one part essential oil: one part of vegetable oil). Then,
Apply several drops (2-4) on location, liver, etc

Apply to chakras

Directly inhale

Diffuse

Good oil for the First Aid Kit? No
Can this Oil be Used for Animals? Yes. Have your animals smell it directly from the bottle or place a drop or two in your palm, then smell. Or place a drop in your palm and pet head to toe.

Note About Animal Use: Certain oils can be very toxic to cats. Citrus and pine products and oils in particular when using non- therapeutic grade oils. Please consult your vet if you are not sure about applying any essential oil to your pet.
I only recommend using Young Living Oils on animals at this time.

What are the Safety Precautions? First, only use therapeutic grade essential oils!
Dilution recommended for both topical and internal use. Dilute before using on sensitive areas such as the face, neck, genital area, etc.
Keep out of reach of children. Avoid using on infants and very small children.
If pregnant or under a doctor's care, consult your physician.
Essential Oil Trivia?
Did you know that Thomas Edison made rubber from goldenrod that he grew? Yes and as a matter of fact he was given a Model T Ford from Henry Ford and the tires were made from goldenrod!
Did you know that goldenrod plant was called "woundwort" in folk remedies? Yupper!
Want to Purchase Therapeutic Goldenrod Essential Oil?
Go to the Oil Shop! Buy Goldenrod Oil Here!
Tips and Testimonials from an Essential Oil User
Use before sexual activity to enhance that special moment.

Have a Great Experience to Share About this Essential Oil?
Do you have a personal story to share about this Essential Oil? Please share it here!
Return from Goldenrod Plant to Essential Oil Singles F-L