Nan's Experience Essential Oils Membership provides Exclusive EO Training and Coaching on Transformation, Functional Wellness, Animal Topics and More!

FREE ACCESS to E-Merald Level with THREE Training Bundles!

 Click HERE to LEARN MORE and Get INSTANT ACCESS to E-merald Level Trainings!
Horse Sheath Cleaning should be Pleasant and
Non-Toxic for Your Gelding or Stallion. Is it?
Horse sheath cleaning isn't always our favorite task to complete as horse owners. However, it is a necessary item to do if you have a gelding or stallion!
If you have a horse that doesn't like it to be done, then the first thing you need to do is use some oils for horse relaxing, calming and focusing. And honestly, I always do this step anyway just in case!
What Essential Oils can I use for Cleaning the Sheath?
If the horse sheath needs to be cleaned then use these oils:
What Products that Contain Essential Oils can I Use for Cleaning the Sheath?
This is absolutely my FAVORITE product to clean sheaths!

Horse Sheath Cleaning Made Easy with Thieves Cleaner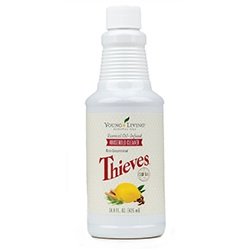 How to Use Thieves Essential Oil Cleaner?
Use about a half a cap or less of Thieves household cleanser in about a half gallon of warm water to clean the inside of the sheath. If you only have thieves oil then add several drops surfactant or a mild natural cleanser then add to a half gallon of water.
Make sure you are using gloves, and remove all the horse beans and smegma inside and out. You will know a horse bean; it's hard accumulated debris that can block the urethra and interfere with urine flow. Once this is done rinse thoroughly with water to remove any cleanser, gel or soap.
Clean the outside of the sheath using Thieves Cleaner or a combination of myrrh, rosemary and pure grade vegetable oil. Use about 5-10 drops (less is more) of myrrh and rosemary.
CAUTION: Remember if using just Thieves Oil to dilute at least 80:20 with lots of vegetable or coconut oil!

For maintenance, clean the sheath once per month and make sure the horse gets plenty of clean water and hay.
Enjoyed this Article on Horse Sheath Cleaning?

Fantastic! Then expand your knowledge and get FREE INSTANT ACCESS to EEO's Emerald Membership and Animal Wellness Quick Start Bundle!

Click HERE to LEARN MORE and Get INSTANT ACCESS!
Want to Purchase Thieves Oil or Cleaner? Or Other Essential Oils for Your Horse or Pet?

To purchase, Thieves Household Cleaner, go to The Oil Shop!
Here is the direct link to the Animal Section on the Shop! Don't forget the Animal Scents Ointment and Shampoo!

Return from Horse Sheath Cleaning to Oils for Horses