Nan's Experience Essential Oils Membership provides Exclusive EO Training and Coaching on Transformation, Functional Wellness, Animal Topics and More!

FREE ACCESS to E-Merald Level with THREE Training Bundles!

 Click HERE to LEARN MORE and Get INSTANT ACCESS to E-merald Level Trainings!
Lemon Myrtle Essential Oil -
 Purifying and Cleansing

Lemon myrtle essential oil offers natural support and its scent clears the mind. It is a cleansing agent for household surfaces as well. Aromatically, lemon myrtle has a powerful lemon scent, even stronger than lemon essential oil.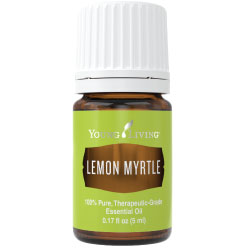 Lemon myrtle has a very robust lemon scent, way stronger than lemon essential oil and is very uplifting. This is a fantastic oil to diffuse to purify the air.

The tree of which this oil comes from grows in the subtropical rainforests of Queensland, Australia. However, now the trees are grown in orchards for commercial use because the applications are becoming so popular!
As I receive new tips and testimonials for Lemon myrtle Essential Oil they will be added to the page, so check back frequently!
Want to Purchase Therapeutic Lemon Myrtle Oil?
Then go to the Oil Shop! Purchase Lemon Myrtle Oil Here!
---
Experience Lemon Myrtle Essential Oil
What is the Genus Species? Backhousia citriodora. Commonly referred to as Lemon Ironwood, Sweet Verbenza, Australian Lemon Myrtle, Ironwood Oil
Why is this Information Important? It's always important to know your genus species of your oil. Just the common name on the bottle doesn't really tell you exactly what you're getting.
Where Did the Name Come From? Myrtle derived from Latin, the word means "chaste beauty".
Why is this Information so Important? Its not, it's just a fun fact!
What Part of the Plant is Used? Leaves from Ironwood Tree
What is the ORAC Value? I know there is a value. If anyone has please e-mail me with it! Thank you!
What Does this Number Mean? ORAC stands for Oxygen Radical Absorbance Capacity. It tells you the antioxidant capacity of a food item. Antioxidants have shown to reduce the risk of age related conditions! This was developed by the USDA researchers. For instance: Oranges = 750; Clove = 1,078,700. Wow! The number for clove is NOT a typo!
Most Interesting Historical Reference?
Did you know that Lemon Myrtle was named in 1853 after James Backhouse? Yes, James was an English nursery owner and a botanist collector. He documented a great deal of Australian flora and fauna in his trip from 1832 to 1838.
What are the Plant Properties?  Calming and cleansing.

What are the Documented Uses and Benefits of Lemon Myrtle Essential Oil? Supports focus and cleansing. Use for cleaning and purifying home, kennel and barn.

What is the Aromatic Affect on the Mind? Its fruity and lemony aroma is very uplifting and refreshing.
What is Nan's Mental (Mindset), Emotional and Spiritual Interpretation of this Oil?
Lemon Myrtle oil is about purifying the spirit of feelings of weakness, used and lost. It brings clarity to those who feel lost on their spiritual journey particularly as it relates to ones gifts.
It will bring strength in spirit and support us in knowing that all of our spiritual gifts are not only important but useful to mankind. It will clear the negative  thoughts that are held in the lungs specifically that are holding us back from realizing our own uniqueness.

What Chakra is Affected? Heart chakra.
What is the Corresponding Chakra Color? Yellow-green
How Do I Use It?
Use diluted - 20:80 dilution (one part essential oil: four parts of vegetable oil). Then,
Apply several drops (2-4) on location
Apply to chakras
Directly inhale
Diffuse

Can this Oil be used for Pets? Yes.
Note About Animal Use: Certain oils can be very toxic to cats. Citrus and pine oils in particular when using non therapeutic grade oils. Please consult your vet if you are not sure about applying any essential oil to your pet.
What are the Safety Precautions? First, only use therapeutic grade essential oils for best results! Lemon Myrtle essential oil is Generally Regarded as Safe (GRAS) for internal consumption by the FDA.
Although it may be used as a dietary supplement, it is advised not to use it in this manner for children under 6 years of age.
If you are pregnant, nursing, taking medication, or have a medical condition, consult a health-care practitioner prior to use.
Essential Oil Trivia?
Did you know that Lemon Myrtle can be placed in food in lieu of Lemon! Yes, use as a flavoring agent. But go slow, it is very strong!
Want to Purchase Therapeutic Lemon Myrtle Oil?
Go to the Oil Shop! Buy Lemon Myrtle Essential Oil Here!
Tips and Testimonials from an Essential Oil User
Add Lemon Myrtle to poultry and seafood for food flavoring!
Have a Great Experience to Share About this Essential Oil?
Do you have a personal story to share about this Essential Oil? Please share it here!

Return from Lemon Myrtle Essential Oil to Essential Oil Singles