Nan's Experience Essential Oils Membership provides Exclusive EO Training and Coaching on Transformation, Functional Wellness, Animal Topics and More!

FREE ACCESS to E-Merald Level with THREE Training Bundles!

 Click HERE to LEARN MORE and Get INSTANT ACCESS to E-merald Level Trainings!
Manuka Essential Oil -
Essential Oils for Skin

Manuka Essential Oil reduces the appearance of blemishes and supports healthy looking skin. Add to your collection for essential oils for skin!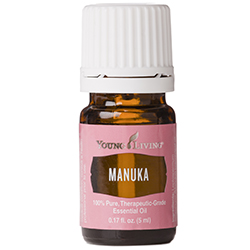 Manuka includes the naturally occurring constituents flavesone, leptospermone, and isoleptopsermone as determined by GC/MS.

Apply it topically to feet or toenails as needed. Or make your own homemade skin care products with this oil.

As I receive new tips and testimonials for Manuka Essential Oil they will be added to the page, so check back frequently!
Want to Purchase Therapeutic Manuka Essential Oil?
Go to the Oil Shop! Buy Manuka Essential Oil Here!
---
Experience Manuka Essential Oil
What is the Genus Species? Leptospermum scoparium 
Common names can include broom tea-tree, manuka myrtle and New Zealand Tea Tree.
Why is this Information Important? As described above in the introduction, it is always important to know the genus species and the part of the plant being used when using and purchasing essential oils.
There are a couple species of Manuka which is often confused so always best to purchase using genus species.
Remember, even though species may share some similar properties they are not at all the same. Therefore, just knowing the common name of a plant is usually not enough information.
What Part of the Plant is Used? Branch/Leaf
What is the ORAC Value? Not Measured

What Does this Number Mean? ORAC stands for Oxygen Radical Absorbance Capacity. It tells you the antioxidant capacity of a food item. This was developed by the USDA researchers. For instance: Oranges = 750; Clove = 1,078,700. Wow! The number for clove is NOT a typo!
Most Interesting Historical Reference?
Did you know that the emollient white gum of Manuka was called pai Manuka, was given to nursing babies?
What are the Plant Properties? Soothing, soft and gentle

What are the Documented Uses and Benefits of Manuka Essential Oil? Supports the appearance of healthy-looking skin, reduces the appearance of blemishes and supports healthy skin*. Dry skin.

What is the Aromatic Affect on the Mind? Its sweet, soft aroma is mentally relaxing, calming and self-assuring.

What is Nan's Mental (Mindset), Emotional and Spiritual Interpretation of this Oil?
Manuka softens and lifts the heart by helping you feel supported from the inside out. It helps release disappointments of the heart and soul. 
Helps us find the harmony between our male and female energies; and provides a soft supportive energy and an empowered knowingness for finding our own inner strength and power. We feel self-assured to find our path of transformation.

What Chakra is Affected? The sacral, solar plexus and heart chakras.
What is the Corresponding Chakra Color? Yellow-Orange

How Do I Use It?
Use NEAT (undiluted). Then,
Apply several drops (2-4) on location
Apply to chakras

Directly inhale,
Diffuse

Can this Oil be Used for Pets? Yes, this will help them with loss and take the "edge" off animals that are "on-guard" especially those who came from negative or poor homes.

Note About Animal Use: Certain oils can be very toxic to cats. Citrus and pine oils in particular that are not of therapeutic grade. Please consult your vet if you are not sure about applying any essential oil to your pet.
What are the Safety Precautions? First, only use therapeutic grade essential oils for best results.

Keep out of reach of children. If pregnant, nursing, taking medication or have a medical condition, consult a healthcare practitioner prior to use
Dilution not required, except for the most sensitive skin.
Essential Oil Trivia?
Did you know Manuka is cultivated for manuka honey in New Zealand?

Did you know that Kakariki parakeets eat the leaves and bark of the mānuka?

Want to Purchase Therapeutic Manuka Essential Oil?
Go to the Oil Shop! Buy Manuka Essential Oil Here!
Tips and Testimonials from an Essential Oil User
Add to coconut oil to make your favorite skin care product!

Return from Manuka Essential Oil to Essential Oils M-R