Nan's Experience Essential Oils Membership provides Exclusive EO Training and Coaching on Transformation, Functional Wellness, Animal Topics and More!

FREE ACCESS to E-Merald Level with THREE Training Bundles!

 Click HERE to LEARN MORE and Get INSTANT ACCESS to E-merald Level Trainings!
Mountain Savory Vitality Essential Oil -
Supports Healthy Life Style* and
Spices up the Kitchen!

Mountain Savory Vitality Essential Oil or Winter Savory supports overall wellness and lifestyle when used as a dietary supplement*. It is considered a general tonic for the body. This is a very energizing oil that can be used in the kitchen or the diffuser!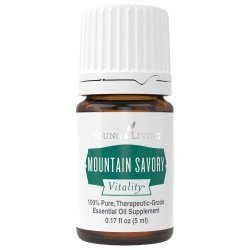 This oil is part of the new Vitality Dietary Essential Oil Collection which includes over 25 oils for dietary use, cooking and more! Check them out because you will want to have them all!
Vitalize all your recipes, sauces, soups, and dressings with this wonderful oil! This one blends well generally with meat, beans, rice and stuffing.

I designed this section so you could use it as a fun and easy reference guide. It will tell you how to use your oil and what to use it for. It will also provide you with some fun tips, testimonials and oil trivia!
As I receive new tips and testimonials they will be added to the page, so check back often!
Want to Purchase Therapeutic Mountain Savory Vitality Essential Oil?
Buy Mountain Savory Vitality Essential Oil Here!
---
Experience Mountain Savory Vitality Essential Oil
What is the Genus Species? Satureja montana. It is commonly referred to as Winter Savory as well.
Why is this Information Important? There are several species of Mountain Savory that all sometimes go under the generic label of "Savory". Some of the species are not suitable for therapeutic use, and often times the species are substituted or intertwined.
So, please make sure you are ordering your essential oil by the common name and the genus species, so you know what you are getting!
Where is the Name Derived From? Satureja comes from a Latin word "satureia" meaning "satyr's herb".
Why is this Information so important? Its not, it's just a fun fact!
What Part of the Plant is Used? Flowering plant
What is the ORAC Value? 11,300 µTE/100g
What Does this Number Mean? ORAC stands for Oxygen Radical Absorbance Capacity. It tells you the antioxidant capacity of a food item. This was developed by the USDA researchers. For instance: Oranges = 750; Clove = 1,078,700. Wow! The number for clove is NOT a typo!
Most Interesting Historical Reference?
Did you know that the Ancient Romans called Mountain Savory the Satyrs herb, the herb of virility and love?
What are the Plant Properties? Healthy immune system support*.

What are the Documented Uses and Benefits of Mountain Savory Vitality Essential Oil? Supports overall wellness and lifestyle*. Cooking including gravies, stuffing, rice, meat, beans and more. Spice up your beverage or tea.

Want to Learn about Nan's Mental (Mindset), Emotional and Spiritual Interpretation of this Oil? And Other Uses?
Then go to Mountain Savory Page for that information including the affect on the mind!

How Do I Use It?
Use diluted - 20:80 dilution (one part essential oil: four part of vegetable oil). Then,
Dietary Supplement: place several drops in capsule with olive oil and take internally. If you prefer dilution, use 20:80 dilution-one part essential oil: four part vegetable oil such as olive.
Add a drop or two to water, tea, NingXia Red or other beverage.
Place in favorite cooking recipe.

Aromatic - Diffuse
Can this Oil be Used for Animals? No, I wouldn't use this alone as a single oil. And this is not an oil for cats.
However, it is in two professionally blended oils: ImmuPower and Surrender. ImmuPower is one of my favorites.
Note About Animal Use: Certain oils can be very toxic to cats. Pine and citrus products and oils in particular if not of therapeutic grade! Please consult your vet if you are not sure about applying any essential oil to your pet.
What are the Safety Precautions? Only therapeutic grade essential oils should be used for better results.
Because it is approved as a Food Additive (FA) by the FDA, Mountain Savory Essential Oil is readily available on the market in several different qualities, so please know your source.
This oil should not be used for children younger than 18 months of age and women who are pregnant should avoid or use with extreme caution.

Although it may be used as a dietary supplement, it is advised not to use it in this manner for children under 6 years of age.
If pregnant or under a doctor's care, consult your physician.
Essential Oil Trivia?
Did you know the herb was used as a remedy going back to Ancient Rome?
Want to Purchase Therapeutic Mountain Savory Vitality Essential Oil?
Then go to The Oil Shop! Buy Mountain Savory Vitality Essential Oil!

Tips and Testimonials from an Essential Oil User
Combine Mountain Savory with Lemon for an awesome flavor! Oil Flavor!

Have a Great Experience to Share About this Essential Oil?
Do you have a personal story to share about this Essential Oil? Please share it here!
Return from Mountain Savory Vitality Essential Oil to Vitality Dietary Essential Oil Collection