Nan's Experience Essential Oils Membership provides Exclusive EO Training and Coaching on Transformation, Functional Wellness, Animal Topics and More!

FREE ACCESS to E-Merald Level with THREE Training Bundles!

 Click HERE to LEARN MORE and Get INSTANT ACCESS to E-merald Level Trainings!
Surrender Essential Oil
Release Stress and Let Go!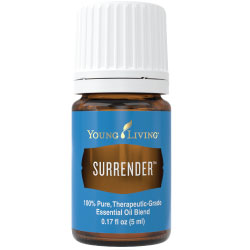 Surrender Essential Oil is a blend designed to balance and calm the emotions; and release controlling and/or unfocused behaviors.
Many times when we tend to be overbearing and committed to our ways we become one sided and can't see what is in front of us; even if it is an opportunity or a solution to our problem. Surrender oil will help us relax and clear the mind so we can be more open minded and see our way through.
Surrender essential oil also helps us release stress so we can become emotionally balanced. Surrender, like Motivation oil blend, can help us release resistance to change and the fear of moving forward.
All of us often have challenging times in our life where it is hard to keep focused on what we need to do to move forward and take action. Whether it is an emotional issue or a life challenge, surrender essential oil can help us surrender to what we can't control and develop a fresh outlook.
This is an easy reference guide for Surrender Oil Blend. It will tell you how to use your oil blend and what to use it for. It will also provide you with some fun tips and testimonials!
As I receive new tips and testimonials they will be added to the page, so check back frequently!
Want to Purchase Therapeutic Surrender Essential Oil?
Go to the Oil Shop! Buy Surrender Essential Oil Here!
---
Experience Surrender Essential Oil Blend™
What is in Surrender Essential Oil?
There are seven therapeutic grade essential oils in Surrender. They are listed below along with a brief description of each oil.
Want More Information About the Individual Oil? Just click on the name of the oil to find out other interesting information such as:
What Part of the Plant is Used?
What is an ORAC Value?
What is the ORAC of the Oil?
What are the Plant Properties and Uses?
Where is the Name derived from?
The Most Interesting Historical Reference?
And more!
What are the Documented Uses for Surrender Essential Oil? Agitation,  anger, argumentative, release locked up anger and frustration, calming, emotions, emotional upheaval and stress, excessive expression, unwind before bed, stress, focus, irritability, jealousy, mental stress, mind, nervousness, obsessiveness, resentment and restlessness.
What is the Aromatic Affect on the Mind? Its aroma is balancing and calming.
What is the Nan's Mental (Mindset), Emotional and Spiritual Interpretation of this Oil?
This oil helps us release emotions of overbearing, resistance or controlling. It will help those who are afraid of moving forward and met with resistance from past patterns or emotional upsets.
This will help you to surrender the rigidness, resistance and fighting to a possible solution. When we have a more open mind, the solution will always present itself!

What Chakra is Affected? Opens the root, solar plexus, third eye and throat chakra.
How Do I Use Itt?
Use NEAT (undiluted) then,
Apply several drops (2-4) on ears, throat, wrists, temples or feet
Apply to chakras
Directly inhale
Diffuse
Can this Oil be Used for Animals? Yes! I have had bossy horses hat have changed their attitude almost immediately using this oil. I have also used it for horse separation issue along with Peace & Calming or Grounding oil blends.
Note About Animals: Certain oils can be very toxic to cats. Citrus products and oils in particular. Please consult your vet if you are not sure about applying any essential oil to your pet.
What are the Safety Precautions? Women who are pregnant should use caution when using this oil. Repeated use could cause skin irritation.
Want to Purchase Therapeutic Surrender Essential Oil?
Go to the Oil Shop! Buy Surrender Oil Here! 
Tips and Testimonials from an Essential Oil User
Add several drops (2-4) to bath water for a relaxing bath.
Have a Great Experience to Share About this Essential Oil?
Do you have a personal story to share about this Essential Oil? Please share it here!
Return from Surrender Essential Oil to Oil Blends N-W