Nan's Experience Essential Oils Membership provides Exclusive EO Training and Coaching on Transformation, Functional Wellness, Animal Topics and More!

FREE ACCESS to E-Merald Level with THREE Training Bundles!

 Click HERE to LEARN MORE and Get INSTANT ACCESS to E-merald Level Trainings!
Nutmeg Vitality Essential Oil
Supports and Energizes


Nutmeg Vitality Essential Oil and Dietary Supplement benefits include cognitive function support, endocrine support, immune support, and powerful antioxidants.*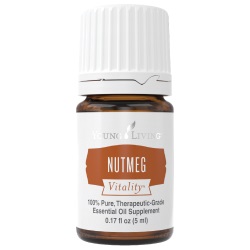 Many of the medicinal Nutmeg uses were first discovered by the Chinese and now are a vital part of Chinese culture.
Today, we still use nutmeg as an essential oil energize and balance.
Did you know that the original Coca-Cola contained essential oils? Yes it contained Coriander (Cilantro), Cinnamon, Orange, Lemon, Neroli and Nutmeg Essential Oils. This original concoction that many people drank was full of esters that are known for their soothing and relaxing properties!
More Nutmeg Vitality Essential Oil Uses? There is more! Keep reading for more information on how to use it and what to use it for. This section will also provide you with some fun suggestions, safety precautions for you and your pet!
As I receive new tips and testimonials for Nutmeg Uses they will be added to the page, so check back frequently!
Want to Purchase Therapeutic Nutmeg Vitality Essential Oil?
Buy Nutmeg Essential Oil Here!
---
Experience Nutmeg Vitality Essential Oil
What is the Genus Species? Myristica fragrans
Why is this Information Important? There are many species of Nutmeg however the most commonly used is Myristica fragrans. It is native to the Banda Islands of Indonesia and also grown in Grenada in the Caribbean and Penang Island in Malaysia.
It's always important to know your genus species of your oil. Just the common name on the bottle doesn't really tell you exactly what you're getting. So always purchase by genus species and common name!
Where Did the Name Come From? Nutmeg may go back to the Arabian word "mesk". The French translation is noix muguette and the English may have shortened it to "nutmeg". Sounds to me, like we really don't know for sure!
Why is this Information so Important? Its not, it's just a fun fact!
What Part of the Plant is Used? Fruits and seeds.
What is the ORAC Value? 158,100 µTE/100g
What Does this Number Mean? ORAC stands for Oxygen Radical Absorbance Capacity. It tells you the antioxidant capacity of a food item. This was developed by the USDA researchers. For instance: Oranges = 750; Clove = 1,078,700. Wow! The number for clove is NOT a typo!
Most Interesting Historical Reference?
Did you know that Nutmeg is contained in Hildegard's Medicine Book? Hildegard of Bingen (1098-1179) was known as the first herbalist and naturopath of the middle ages. Her book documented her work.

What are the Plant Properties?  Energizing and centering

What are the Documented Nutmeg Vitality Uses and Benefits? Supports cognitive function support, endocrine support, immune support, and powerful antioxidants.*
Want to Learn about Nan's Mental (Mindset), Emotional and Spiritual Interpretation of this Oil? And Other Uses?
Then go to Nutmeg Essential Oil Page!
How Do I Use It?
Dietary Supplement: place several drops in capsule with olive oil and take internally. If you prefer dilution, use 50:50 dilution-one part essential oil: one part vegetable oil.  Use for healthy immune system support*.
Take it as a dietary supplement to experience its cleansing properties and to support a healthy lifestyle.*
Place in favorite recipe as a seasoning for soups, sauces, marinades, fish, and salad dressings. Don't forget your baking as well! Cookies, breads and cakes!

Dilute 1 drop with 1 drop of carrier oil. Put in a capsule and take up to 3 times daily or as needed.
Aromatic - Diffuse
Can this Oil be Used for Animals? Yes, in very small amounts. I do not use Nutmeg as an individual oil on the animals, and if I did I would use with caution.
Note About Animal Use: Certain oils can be very toxic to cats. Citrus and pine oils in particular that are not of therapeutic grade. Please consult your vet if you are not sure about applying any essential oil to your pet.
I only recommend using Young Living Oils on animals.

What are the Safety Precautions? Only therapeutic grade essential oils should be used for healing results. Because it is approved as a Food Additive (FA) by the FDA, Nutmeg Oil is readily available on the market in many different qualities.
There are many Nutmeg uses because it is Generally Regarded as Safe (GRAS).

Although it may be used as a dietary supplement, it is advised not to use it in this manner for children under 6 years of age.
People with epilepsy should not use Nutmeg. Women who are pregnant should use caution.
Extreme use may cause mental discomfort or delirium, and could over stimulate the heart. Use caution and always dilute.
If pregnant, nursing, taking medication, or have a medical condition, consult a healthcare professional prior to use.
Essential Oil Trivia?
Did you know that members of the Chinese royal courts carried small ivory boxes filled with powdered nutmeg? They sprinkled it in their wine to increase the hallucinogenic effect of the nutmeg!
Did you know that Saint Theodore the Studite who lived from 758-826 allowed his monks to sprinkle nutmeg on pease pudding (porridge)?
Want to Purchase Therapeutic Nutmeg Vitality Essential Oil?
Buy Nutmeg Essential Oil Here!
Tips and Testimonials from an Essential Oil User
Add 1 drop to a glass of eggnog or Chai Tea to enhance this sweet and spicy beverage and support immunity!*

Have a Great Experience to Share About this Essential Oil?
Do you have a personal story to share about this Essential Oil? Please share it here!
Return from Nutmeg Vitality Essential Oil to Single Essential Oils M-R