Nan's Experience Essential Oils Membership provides Exclusive EO Training and Coaching on Transformation, Functional Wellness, Animal Topics and More!

FREE ACCESS to E-Merald Level with THREE Training Bundles!

 Click HERE to LEARN MORE and Get INSTANT ACCESS to E-merald Level Trainings!
PowerGize Essential Oil Supplement
with Ashwagandha Benefits

PowerGize Essential Oil Supplement infused with Blue Spruce, Goldenrod and Cassia essential oil is specially formulated to support individuals of all ages boost stamina and performance.*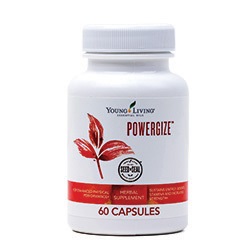 With botanicals from around the world, PowerGize helps sustain energy levels, strength, mental and physical vibrancy, and vitality when used in addition to physical activity.*
PowerGize essential oil supplement is also formulated with ashwagandha root extract KSM-66, known as a premium extract. The benefit of Ashwagandha root include properties that support immunity, mental clarity, concentration, and alertness. Its custom formula helps support the male reproductive system.* It has been used in Southeast Asian and Indian Ayurvedic medicine.

I love that this supplement contains proprietary therapeutic grade essential oils of Goldenrod, Idaho Blue Spruce and Cassia. These oils are known to support overall wellness*.

This is an easy reference guide for PowerGize essential oil supplement. It will tell you how to use it and what to use it for!
Want to Purchase PowerGize Essential Oil Supplement?
Go to the Oil Shop! To purchase click here!
---
Experience PowerGize Essential Oil Supplement™
What is in PowerGize Essential Oil Supplement?
There are several natural ingredients as well as essential oils in PowwerGize. The natural ingredients include:
Ashwagandha root extract (Withania somnifera) antioxidant and immune-supporting properties*
Longjack root powder (Eurycoma longifolia) supports healthy testosterone levels in both men and women*
Fenugreek seed extract (50% saponin) (Trigonella foenum-graecum)
Epimedium leaf powder (Epimedium brevicornum)
Desert hyacinth root powder (Cistanche tubulosa)
Tribulus plant part extract (45% saponin) (Tribulus terrestris)

Muira puama bark powder (Ptychopetalum olacoides)

Magnesium (as magnesium biglycinate)
The essential oils that are contained in PowerGize are listed below along with a brief description of the oil.
Goldenrod Essential Oil (Solidago canadensis)

Idaho Blue Spruce Essential Oil (Picea Pungens) has a high content of alpha-pinene. This oil is harvested from Young Livings Highland Flats Tree Farm in Naples, Idaho and distilled at their St. Maries Farm. It has a high percentage of d-limonene as well.
Cassia Essential Oil (Cinnamomum cassia) smells and tastes like cinnamon oil. Contained in the recipe for the Holy Anointing Oil given to Moses.
Want More Information About the Individual Oil? Just click on the name of the oil to find out other interesting information such as:
What Part of the Plant is Used?
What is an ORAC Value?
What is the ORAC of the Oil?
What are the Plant Properties and Uses?
Where is the Name derived from?
The Most Interesting Historical Reference?
And more!
What are the Documented Uses for PowerGize Essential Oil Supplement? Maintain balanced energy levels for physical performance and endurance*; boost stamina and enhance sports performance*; support healthy muscles, increase muscle size and strength, and enhance muscle tone and the rate of muscle recovery in men*; promote mental clarity, concentration, and alertness*; healthy testosterone levels in both men and women*; healthy response to stress*; supports male hormonal system*.

What Body Systems are Supported? Skeletal and Muscles. To see what oils support these systems, click here.

How Do I Use It? For best results, take two capsules daily for joint support.*
Can this product be Used for Animals? This is NOT recommended for animals.

Note About animals: Certain oils can be very toxic to cats. Citrus products and oils in particular that are not of therapeutic grade! Please consult your vet if you are not sure about applying any essential oil to your pet.
What are the Safety Precautions?

Keep out of reach of children.

If you are pregnant, nursing, taking medication, or have a medical condition, consult a health care professional prior to use.
Not for children or pets!

Want to Purchase PowerGize Essential Oil Supplement?
Go to the Oil Shop! To purchase click here!
Also check out BLM or Sulfurzyme Supplement which combines MSM, FOS and Ningxia wolfberries in a convenient powder form! Or AgilEase Joint Health Supplement.
Return from PowerGize Essential Oil Joint Health Supplement to Essential Oil Supplements