Nan's Experience Essential Oils Membership provides Exclusive EO Training and Coaching on Transformation, Functional Wellness, Animal Topics and More!

FREE ACCESS to E-Merald Level with THREE Training Bundles!

 Click HERE to LEARN MORE and Get INSTANT ACCESS to E-merald Level Trainings!
Tansy Essential Oil
Soothes Healthy Skin and More!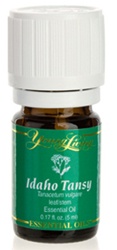 Tansy Essential Oil was traditionally used for intestinal worms and digestive upset during ancient times. The Irish folk recommended taking a bath in a solution of Tansy and salts.

Gypsy folklore considered it a cure all and used it in their daily routines.

Tansy Essential Oil has definitely been cultivated for use as an insect repellent and preservative for thousands of years! And it was common place to use in this fashion until modern society learned to synthetically make insect repellent! It was used in embalming and placed in with the dead to aid in preservation.
Studies have shown that it can repel mosquitoes and arthropods. As a matter of fact, Tansy is often grown next to squash, cucumbers, berries and roses! Tansy is one of my main ingredients in my fly spray I make for the horses.
My favorite blends that contains Idaho Tansy are ImmuPower and Into the Future (moving forward and releasing the past).
Want more information on Tansy Essential Oil? Keep reading below! It will tell you how to use it and what to use it for. It will also provide you with some fun suggestions, safety precautions for you and your pet!
As I receive new tips and testimonials for Tansy oil they will be added to the page, so check back frequently!
Want to Purchase Therapeutic Idaho Tansy Essential Oil?
Buy Idaho Tansy Essential Oil Here! TEMPORARILY UNAVAILABLE

---
Experience Idaho Tansy Essential Oil
What is the Genus Species? Tanacetum vulgare
Why is this Information Important? There are several species of Tansy that are grown all over the world including the United States. It has many common names including Idaho Tansy, Common Tansy, Bitter Buttons, Cow Bitter, or Golden Buttons. Wild Tansy often includes Tanacetum vulgare and Ambrosia artemisiifolia which is common ragweed, so it is definitely important to know your genus species and the common names here!
Artemesia vulgare or Mugwort is often confused with Tansy, but it is NOT the same plant. Additionally, Tansy is not Tansy Ragwort! Hope this clears the air!
Where is the Name Derived from? Tansy comes from a Greek word "Athanaton" meaning "immortal".
Why is this Information so Important? Its not, it's just a fun fact!
What Part of the Plant is Used? Leaves and stems.
Most Interesting Historical Reference?
Did you know that Greeks are the first known to cultivate Tansy for medicinal purposes?
What are the Plant Properties?  Insect repelling and toning.

What are the Documented Uses and Benefits of Tansy Oil?  Insects, soothes healthy skin.

What is the Aromatic Affect on the Mind? Its strong and sweet aroma is uplifting.
What is Nan's Mental (Mindset), Emotional and Spiritual Interpretation of this Oil?
Tansy essential oil is for those who procrastinate or can not find the motivation to move forward in their spiritual journey. It may also help those who are stuck in a rut, continue to sabotage themselves from achieving their goals, or simply are just overwhelmed and don't know how to move forward.
Using Tansy will assist those to find resolution within to make a decision to move forward by releasing that negative programming that was stuck to begin with.
What Chakra is Affected? Solar plexus and heart chakras.
What are the Corresponding Chakra Colors? Yellow and green.
How Do I Use It?
Dilute 50:50, and then,
Apply several drops (2-4) on location, abdomen and temples
Apply to chakras
Directly inhale or
Diffuse.
Can this Oil be Used for Animals? Yes, Tansy is a main stay at the barn!
Yes. Have your animals smell it directly from the bottle or place a drop or two in your palm, then smell. Or place a drop in your palm and pet head to toe.

It is in one of my favorite blends that I use for the horses quite a bit called Into The Future This blend is about moving forward and letting go of past patterns.
Note About Animal Use: Certain oils can be very toxic to cats. Pine and citrus products and oils in particular that are not therapeutic grade!Please consult your vet if you are not sure about applying any essential oil to your pet.
I only recommend using Young Living Oils on animals at this time.

What are the Safety Precautions?  Idaho Tansy essential oil contains thujone and that is why it is not recommended for internal use.
Thujone has been a source of some controversy, especially within the British School of Aromatherapy because it potentially may have a neruotoxic effect in high dosages. However, there are other oils that I use that also have high thujone content including Western Red Cedar and Western Red Cedar and Sage essential oils.
Please remember when you are reading this information that any product used incorrectly and in very high doses may be potentially harmful.
Women who are pregnant or have epilepsy should not use this oil. Additionally children under the age of 5 should not use this oil.
Essential Oil Trivia?
Did you know that Tansy was grown in gardens of Charles the Great (Charlemagne) in the eighth century?
Did you know that Tansy was highly regarded by the Benedictine monks of the Swiss Monastery of St Gall? It was grown in gardens also in the eighth century. 
Want to Purchase Therapeutic Idaho Tansy Essential Oil?
Buy Idaho Tansy Essential Oil Here! TEMPORARILY UNAVAILABLE
Tips and Testimonials from an Essential Oil User
Use Tea Tree and Idaho Tansy Essential Oil to deter insects.

Have a Great Experience to Share About this Essential Oil?
Do you have a personal story to share about this Essential Oil? Please share it here!
Have a Great Experience to Share About this Essential Oil?
Do you have a personal story to share about this Essential Oil? Please share it here!
Return from Tansy Essential Oil to Oils for Minor Pain