Nan's Experience Essential Oils Membership provides Exclusive EO Training and Coaching on Transformation, Functional Wellness, Animal Topics and More!

FREE ACCESS to E-Merald Level with THREE Training Bundles!

 Click HERE to LEARN MORE and Get INSTANT ACCESS to E-merald Level Trainings!
Homemade Fly Spray Deters Insects,
Smells Great and is
Emotionally Uplifting! What?
Homemade fly spray is easy to make with essential oils and doesn't harm you or your pets. Frankly most of the commercial fly sprays on the market for animals do work very well but they also come with harmful side effects such as toxicity and, adrenal and immune suppression.  
The fly spray for horses that I used to use not only killed flies but killed almost any crawling creature. That was great when I had a pile of red ants in my tack room, but honestly I really don't want something that powerful (and poisonous) on me, my dog or my horses!
The last time I used a store bought fly spray my entire arm broke out in a rash. That was the last day that I used a synthetically made fly spray for me or my animals.
But what about Natural Fly Spray for Horses or Natural Repellent?
Sorry to burst the bubble (again), but those sprays are toxic also. First of all the word "natural" is very deceiving whether it is on a fly repellent or a food substance. Companies are basically allowed to label a product "natural" if it contains any naturally occurring compound (even if it's been altered synthetically)!
Additionally those companies adding essential oils to their products are using perfume quality essential oils, not therapeutic grade. These usually contain 90-95% solvents so their cost is a fraction of what it takes to distill pure grade oils.
The skin is the largest organ of the animal or human body. It breaths and absorbs all the things in the air, many good, many not so good.
So What do We do?
Make your own homemade fly spray with essential oils! Now, I need to be truthful with you...the Florida flies are big and mean and to you need to spray it often. But to me, that is a minor drawback over toxicity and potential skin reactions.

What Essential Oils have Insect Deterrent Properties?
I have listed most of the essential oils that have insect deterrent properties so if you want to experiment you can do that as well. I have also provided some fly spray recipes that are safe for use on humans and animals.
These essential oils have insect deterrent properties:
My top choices are Citronella, Lemongrass and Purification blends.
Homemade Fly Spray Recipes

Here are the recipes! But I have to tell you I make each one a bit different cause I like to experiment and I usually just throw them together at the barn! So don't worry so much about the exact recipe. Also put in a drop or two of your favorite oil for calming, or refreshing!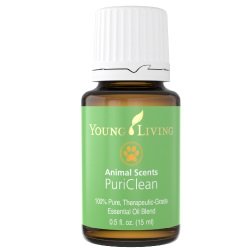 For the barn, I would say that my mainstays are Idaho Tansy and Peppermint and Purification. Purification has citronella, lemongrass, rosemary, tea tree,  and myrtle! I also like Animal Scents PuriClean Oil.

Here are recipes using a 32 oz spray bottle. I usually put in about 5 to 10 drops of EACH oil at least in with WATER. Again play with them and have some fun. You can't go wrong with mixing your own homemade fly spray!
Floral Fly Blend
Instead of sandalwood, try Citronella or Patchouli Essential Oil

Refreshing Fly Blend
Quick Fly Blend
Nan's Last Word: Homemade fly spray recipes will also enhance not damage your horse's coat! Remember, synthetic products can dull and dry coats, not protect them!
Want to Purchase Therapeutic Grade Essential Oils?
Return from Homemade Fly Spray to Essential Oils for Horses