Nan's Experience Essential Oils Membership provides Exclusive EO Training and Coaching on Transformation, Functional Wellness, Animal Topics and More!

FREE ACCESS to E-Merald Level with THREE Training Bundles!

 Click HERE to LEARN MORE and Get INSTANT ACCESS to E-merald Level Trainings!
Tranquil Essential Oil
Rolls in Calming For the Mind and Body
Tranquil Essential Oil was designed to calm and relax the body and mind. It will help to balance emotions while promoting a deep calm.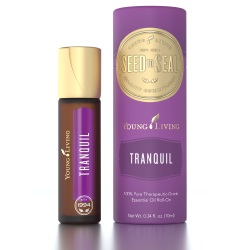 All three oils contained in this blend have calming and relaxing properties! Use it during the day to help manage stress.
This oil is not only a natural remedy for stress, but may also help with promoting a good night's sleep when used before bed time to relax and unwind. Place it on your neck (brain stem) as you get ready for bed. When we are relaxed before we go to bed we definitely get a better nights rest; and then we can handle stress better the next day!
Tranquil essential oil comes in a portable roll-on applicator. The steel ball applicator makes it super easy to apply and provides a small amount of oil to the application area. Perfect for when you are driving down the road or running to your next appointment!
There are many more uses for Tranquil so keep reading below in the uses and benefits Section. It will tell you how to use your oil blend and what to use it for. It will also provide you with some fun tips and testimonials!
As I receive new tips and testimonials they will be added to the page, so check back frequently!
Want to Purchase Therapeutic Tranquil Essential Oil?
Go to the Oil Shop! Buy Tranquil Oil Here!
---
Experience Tranquil Essential Oil Blend™
What is in Tranquil Essential Oil?
There are three therapeutic grade essential oils in Tranquil. They are listed below along with a brief description of each oil.
Cedarwood Essential Oil (Cedras atlantica) has an earthy aroma that gives you a sense of security. It is calming, purifying and grounding.

Lavender Essential Oil (Lavandula angustifolia) can help you relax, wind down before bed. Its balancing properties bring harmony to the environment when diffused.

Roman Chamomile Essential Oil (Chamaemelum nobile) creates inner peace. It is a calming oil that resonates well with adults, children and animals! Soothing to all types of skin, it is used extensively in Europe in skin preparations. Roman chamomile is also beneficial when added to massage oil for relief of muscle discomfort after exercise.
Carrier Oil: Coconut oil (Cocos nucifera)
Want More Information About the Individual Oil? Just click on the name of the oil to find out other interesting information such as:
What Part of the Plant is Used?
What is an ORAC Value?
What is the ORAC of the Oil?
What are the Plant Properties and Uses?
Where is the Name derived from?
The Most Interesting Historical Reference?
And more!
What are the Documented Uses for Tranquil Essential Oil? Anger (dispels and calms), nervousness, argumentative, boxed in (feeling), mental stress,  peace, relaxation, restlessness, revenge, promote natural restful sleep, occasional restlessness, sports (nervousness and excel in), stress (emotional, mental, and performance), tension, negativity and unwind.
What is the Aromatic Affect on the Mind? This beautiful aroma is calming and relaxing.
What is the Nan's Mental (Mindset), Emotional and Spiritual Interpretation of this Oil?
This oil helps us to remain calm and still; and be an outside observer of situations rather than getting emotionally involved which compromises our own emotional wellbeing and doesnt serve anyone especially ourself.
Understand that to be at peace requires us to make that choice. If that is hard for you consider why chaos is needed in your life. What did you get? Those patterns are coming from lack consciousness.
Diffuse to create a tranquil and peaceful environment especially after conflict, tension or ill will. Great for pets and children coming from chaotic homes and circumstances.

How Do I Use It?
Use NEAT (undiluted). Then,
Roll to neck, wrists or temples
Apply to chakras
Can this Oil be Used for Animals? Yes. Use for stress and nervousness for dogs, horses and cats. Roll on and bring in tranquility. Great oil!

Note About Animals: Certain oils can be very toxic to cats. Citrus products and oils in particular. Please consult your vet if you are not sure about applying any essential oil to your pet.
What are the Safety Precautions? Tranquil does not have any contraindications. Keep out of reach of children.
f pregnant, nursing, taking medication, or have a medical condition, consult a healthcare professional prior to use.
Want to Purchase Therapeutic Tranquil Essential Oil?
Go to the Oil Shop! Buy Tranquil Oil Here!
Tips and Testimonials from an Essential Oil User
Apply to feet and roll on neck before you go to sleep to unwind or for occasional restlessness. I do! And add more lavender to increase the effectiveness of this blend.

Have a Great Experience to Share About this Essential Oil?
Do you have a personal story to share about this Essential Oil? Please share it here!
Return from Tranquil Essential Oil to Natural Sleep Remedies