Nan's Experience Essential Oils Membership provides Exclusive EO Training and Coaching on Transformation, Functional Wellness, Animal Topics and More!

FREE ACCESS to E-Merald Level with THREE Training Bundles!

 Click HERE to LEARN MORE and Get INSTANT ACCESS to E-merald Level Trainings!
Ultra Young DHEA Supplement Oral Spray
Supports Healthy Immune System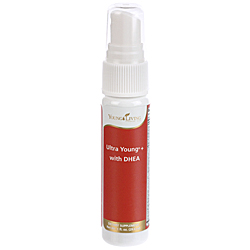 Ultra Young DHEA Supplement Oral Spray supports healthy cardiovascular and immune systems.

After the age of 20 the body's ability to produce naturally occurring DHEA and pregnenolone begins to decline.

DHEA is the most common hormone in the body and a precursor to over 50 other hormones. It is converted by enzymes into pregnenolone that is the key precursor for the body's production of estrogen. Pregnenolone has an impact on memory and mental acuity.

Contains two essential oils Sandalwood and Fleabane which are explained more below.
This is an easy reference guide for Ultra Young DHEA Supplement Oral Spray.  It will tell you how to use your oil blend and what to use it for.
Want to Purchase Ultra Young DHEA Supplement Oral Spray?
DISCONTINUED

---
Ultra Young
®

DHEA Supplement Oral Spray


What is in Ultra Young DHEA Supplement Oral Spray? 

Ultra Young DHEA Supplement Oral Spray combines natural ingredients as well as essential oils.

A brief description of each ingredient is provided below:


Vitamin A

Vitamin E

Vitamin B6 as pyridoxine HCl

Niacin (Vitamin B3)

Zinc as aspartate

Selenium

DHEA (derived from Wild Yam Root)

GABA
Vicai Faba Leaf Extract (Vicia faba L)
Grape Seed and Skin Extract (Vitis vinifera)
 Ningxia Wolfberry (Lycium barbarum)

Ginkgo biloba Leaf Extract
MSM – naturally occurring organic form of dietary sulfur.

Eleuthero root extract or Siberian Ginseng (Eleutherococcus senticosus)

Bee Pollen Powder

Inosine

Octacosanol

L-ornithine – An amino acid precursor for arginine.

L-arginine - An amino acid

Pyroglutamate - An amino acid

L-glutamine - An amino acid

L-glycine - An amino acid

L-lysine –  is an essential amino acid, which means that it is necessary for your body.

Natural Raspberry Flavor

Essential Trace Mineral Complex

Stevia leaf extract (S rebaudiana) – Natural sweetener
Pure Grain Alcohol
Deionized water
Also contains these essential oils:
Do you want more Information about the Individual oil? Just click on the name of the oil to find out other interesting information such as:
What Part of the Plant is Used?
What is an ORAC Value?
What is the ORAC of the Oil?
What are the Plant Properties and Uses?
Where is the Name derived from?
The Most Interesting Historical Reference?
And more!

How do I use Ultra Young DHEA Supplement Oral Spray?
Shake well before using. Spray three mists into the inside of cheeks and/or under tongue 2 times daily. Hold in mouth as long as possible, and then swallow.
Can this oil be used for Animals?  Yes, but have not used it personally; and hasn't been used extensively in animals.
Note about Animals: Certain oils can be very toxic to cats especially if the quality of the oil is not pure. Citrus products and oils in particular when not therapeutic grade.  Please consult your vet if you are not sure about applying any essential oil to your pet or giving an essential oil supplement to your pet.
I only recommend using Young Living Oils on animals at this time.

What are the Safety Precautions? Contains bee products-possible allergen. If pregnant, consult medical consultation prior to use.
If pregnant or under a doctor's care, consult your physician.
Want to Purchase Ultra Young DHEA Supplement Oral Spray?

Return from Ultra Young DHEA Supplement Oral Spray to Essential Oil Supplements