The Benefits of Oregano
Oil go way Beyond Cooking - Learn More Below!
The benefits of oregano oil far exceed what most people would even know or be acquainted with. I mean most of us know it as an herb or oil we use in our tomato sauce or put on top of our pizza!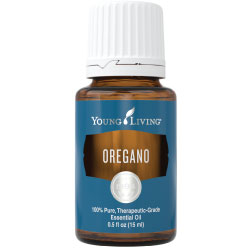 But the benefits of oregano oil go beyond cooking purposes. Its antiviral, antibacterial and immune stimulating properties make it highly effective for many pathogenic infections.
Because it is high in phenols, as is thyme, clove, basil, tea tree and peppermint essential oils, it cleanses receptor sites and combats free radicals as well.
I like to use it for cooking, of course, and for infections. Place it diluted in a vegetable capsule, or put it in your food or drink to get it in your body when you feel something coming on.
Better yet, get a Raindrop session. Oregano oil is used during Raindrop Technique where it is applied NEAT (undiluted) to the spine (more oregano oil benefits!).
I designed this section so you could use it as a fun and easy reference guide. It will tell you how to use your oil and what to use it for. It will also provide you with some fun tips, testimonials and oil trivia!
As I receive new tips and testimonials they will be added to the page, so check back often!
Purchase the benefits of Oregano Oil Oil Here!
---
Oregano Essential Oil
What is the Genus Species? Origanum compactum, CT Carvacrol
Why is this information important? There are several different chemotypes and species of Oregano. Many of the species (and chemotypes) are not suitable for internal or medicinal use. So this is definitely a plant you need to know a little information when selecting or considering an essential oil!
A chemotype (CT) is a designation that tells you that the species has different chemical constituents. This usually occurs because the plant is grown in a different area under a distinct climate that alters the chemistry.
The CT Carvacrol chemotype for Oregano is high in carvacrol (60-75%) and low in thymol (<5%) leading to its medicinal value. This is what you want to look for.
This is extremely important information. Remember, even though they may share some similar properties they are not at all the same. And you will not receive the benefits of oregano oil.
Where is the name derived from? Oregano comes from a Greek word "oreganos" meaning "joy of the mountain".
Why is this information so important? Its not, it's just a fun fact!
What Part of the Plant is Used? Leaves
What is the ORAC Value? 15,300 µTE/100g
Why be bothered with this number? ORAC stands for Oxygen Radical Absorbance Capacity. It tells you the antioxidant capacity of a food item. Antioxidants have shown to reduce the risk of age related conditions and cancer! This was developed by the USDA researchers. For instance: Spinach = 1,260; Clove = 1,078,700. Wow! The number for clove is NOT a typo!
Most Interesting Historical Reference?
Did you know that Oregano is contained in Hildegard's Medicine Book? Hildegard of Bingen (1098-1179) was known as the first herbalist and naturopath of the middle ages. Her book documented over 12,000 remedies for symptoms and diseases. Wow!
What are the Plant Properties? Antifungal, antiviral, anti-aging, antibacterial, anti-inflammatory, antiparasitic, immune stimulant and antiseptic.
What are the Documented Uses and Benefits of Oregano? Abscess, anthrax, asthma, bacterial infection, boils, bronchitis, bursitis, cholera, chronic pain, cold sores, cough, corns, diarrhea, digestive problems, diptheria, dysentery, Epstein Barr, fibroids, flu, food poisoning, fungal skin infection, gallbladder infection, gangrene, ganglion cyst, gonorrhea, immune system, infections, influenza, lyme disease, oral infection, mouth ulcers, rocky mountain fever, pancreatitis, parasites, pneumonia, radiation damage (internally), respiratory infections, scoliosis, sore throat, strep throat, syphillis, ticks, tonsillitis, tuberculosis, typhoid fever, whooping cough, viral and bacterial pneumonia, viral colitis, arthritis and rheumatism, muscles and vaginal yeast infection.
What is the Aromatic Affect on the Mind? Its sharp and herbaceous aroma makes one feel secure and safe.
What is the Spiritual Influence? Oregano releases the fear of completion and thoughts of vulnerability.
What Chakra is Affected? Promotes opening of the solar plexus chakra.
What is the corresponding Chakra Color? Green
How do I use it?
Use diluted - 20:80 dilution (one part essential oil: four part of vegetable oil). Then,
Apply several drops (2-4) on location
Apply to chakras/vitaflex points
Diffuse, or
May be used as a dietary supplement.
Good oil for the First Aid Kit? No
Can this oil be used for Animals? Yes, use with dilution. Key oil used in Equine Raindrop, Raindrop for dogs, and cats. I personally have used it to combat Equine Lyme Disease as well.
Dr. Melissa Shelton, DVM, recommends the supplement Inner Defense which contains Oregano for dogs with bacterial infection and diarrhea. Usually one capsule during a fast is enough to get diarrhea under control. And of course supplementing with probiotics as well as oregano may affect the natural balance of flora in the gut.
PS - Dr. Melissa's book is in the pet remedy book section!
Note about Animal Use: Certain oils can be very toxic to cats especially those that are of poor quality and that are not therapeutic grade. Citrus and Pine products in particular. Please consult your vet if you are not sure about applying any essential oil to your pet.
What are the Safety Precautions? First, only use therapeutic grade essential oils when wanting healing results! One of the benefits of Oregano is that it is improved as a Food Additive (FA) by the FDA, food grade oregano oil is readily available on the market. Please remember, these are not the same oils and are often adulterated (changed).
One of the benefits of oregano oil is that is has no known contraindications and it is generally regarded as safe (GRAS).
This oil can cause extreme skin irritation (dilution is highly recommended). And may irritate the nasal membranes if inhaled directly from the bottle, so please be cautious.
Although it may be used as a dietary supplement, it is advised not to use it in this manner for children under 6 years of age.
Essential Oil Trivia?
Did you know that Paul Belaiche studied and documented the microbial qualities of essential oils in 1979?
Out of forty different oils it was found that the benefits of oregano oil were enormous! Oregano oil was classified as being one of the strongest microbial oils against broad spectrum microorganisms.
Oregano inhibited the growth of these common pathogenic germs that we deal with every day! Here they are:
Proteus (intestinal infection)
Neisseria flava (sinus and ear infection)
Staphylococcus (food poisoning, stash infections)
Candida albicans (yeast fungus that can live throughout the body)
Pneumococcus (lung infection, including pneumonia) and
Streptococcus (strep throat, bacterial pneumonia, and meningitis to name a few).
There were several others as well, but I choose the top ones you would recognize!
Did you know that Greek physicians used oregano essential oils for venomous bites, hemlock poisoning and headaches?
Want to Purchase Therapeutic Grade Oregano Oil?
Go to the Oil Shop! Buy Oregano Oil here!
Tips and Testimonials from an Essential Oil User
Place a few drops in a capsule and take every day to prevent cold, flu and infection and reap the benefits of oregano oil daily!
Have a Great Experience to Share About this Essential Oil?
Do you have a personal story to share about this Essential Oil? Please share it here!
Return from Benefits of Oregano Oil to Essential Oils for Inflammation