Nan's Experience Essential Oils Membership provides Exclusive EO Training and Coaching on Transformation, Functional Wellness, Animal Topics and More!

FREE ACCESS to E-Merald Level with THREE Training Bundles!

 Click HERE to LEARN MORE and Get INSTANT ACCESS to E-merald Level Trainings!
Raindrop Technique for Dogs -
A Spa Treatment for your Canine Friend?
Raindrop Technique for dogs is a home remedy for dogs that uses a combination of essential oils and holistic modalities to bring harmony to the dog's body.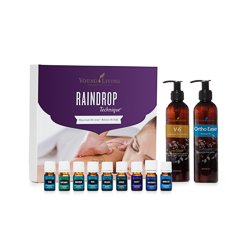 The Raindrop Technique was developed by Gary Young, ND an expert in the field of therapeutic grade essential oils and founder of Young Living Essential Oils.

Click here or a complete overview of the technique and the oils used.
What are the Benefits of Canine Raindrop Technique?
Dogs can expect to have the same benefits of raindrop as humans. Listed below are some additional examples provided by holistic vets that use Raindrop Technique for dogs as part of their practice to help dogs live well:
Support emotional and mental well being of the dog;

Ease occasional muscle discomfort before and after training or showing;

Use in conjunction with massage to ease muscle discomfort.

It will also complement other holistic modalities including acupuncture, chiropractic and laser light.

Experience Raindrop Technique for Dogs
How is Raindrop Technique for Dogs Performed?
Here is a quick overview of the procedure:
Valor or Valor II essential oil is placed on shoulders and sacrum to harmonize  energies of the physical, mental and emotional body. It is also placed on all four feet.

Oils of oregano, thyme, basil, wintergreen, marjoram, Aroma Siez (optional), cypress and peppermint are applied to the spine from the base of the sacrum to the shoulders. Feathering and thumb roll techniques are conducted on the spine to harmonize energies and allow the oils to penetrate deeper into the tissue. Ortho Ease a massage oil blend is also used during the technique.

A hot towel can be applied to the spine for about five minutes if your dog is very cooperative! Usually horses love this last step but dogs (and cats) just won't stay still long enough for this to be done! If your dog does decide to cooperate, then place the towel on the spine and add a light sheet or blanket over the compress to keep the dog warm.
How Much Essential Oil is Used?
Depending on your dog, one to two drops of oil is used for small dogs and up to four or five drops can be used for large dogs.
The oils should be diluted for small animals. Consider the overall wellness and toxicty level of your dog. My philosophy is that MORE is NOT ALWAYS BETTER! Especially when dealing with animals. Start slow....please :)

To schedule a Raindrop Technique session for you, your horse or your dog, please contact me me by e-mail or phone at 561-315-6334. 
Want to Purchase a Raindrop Technique Kit?
The Raindrop Technique Kit comes with all the oils needed to perform a raindrop, plus vegetable oil and Ortho Ease Massage Oil.

To purchase the kit go to The Oil Shop!
Return from Raindrop Technique for Dogs to Raindrop Technique