Nan's Experience Essential Oils Membership is HERE!!!  Exclusive EO Training and Coaching on Transformation, Functional Wellness, Animal Topics and More!

FREE ACCESS to E-Merald Level with THREE Training Bundles!

 Click HERE to LEARN MORE and Get INSTANT ACCESS to E-merald Level Trainings!
Inaugural Pricing has Ended but you can Still Join!

Cardamom Vitality Essential Oil -
Supports Healthy Digestive System*
Cardamom Vitality Essential Oil is a powerful antioxidant and supports a healthy digestive system*; and supports wellness and a healthy lifestyle*.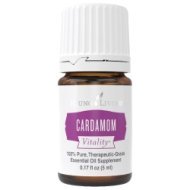 Cardamom has historical uses that include internal consumption to protect the stomach and inhalation to invigorate the mind. Modern scientific research has not yet validated these traditional claims.
As I receive new tips and testimonials for Cardamon Vitality Essential Oil they will be added to the page, so check back frequently!
Want to Purchase Therapeutic Cardamom Vitality Oil?
Purchase Cardamon Vitality Essential Oil Here!
---
Experience Cardamom Vitality Essential Oil
What is the Genus Species? Elettaria cardamomum
Why is this Information Important? It's always important to know your genus species of your oil. Just the common name on the bottle doesn't really tell you exactly what you're getting.
What Part of the Plant is Used? Fruit and Seeds.
What is the ORAC Value? 36,500 µTE/100g
What Does this Number Mean? ORAC stands for Oxygen Radical Absorbance Capacity. It tells you the antioxidant capacity of a food item. This was developed by the USDA researchers. For instance: Oranges = 750; Clove = 1,078,700. Wow! The number for clove is NOT a typo!
Most Interesting Historical Reference?
Did you know that the Cardamom has been used for over 3000 years? Yes, Chinese and Ayurvedic medicine have used it for digestive and respiratory issues.
What are the Plant Properties?  Warming yet invigorating.

What are the Documented Uses and Benefits of Cardamom Essential Oil?  Supportive of a healthy digestive systems*. Supports wellness and a healthy lifestyle*, provides antioxidant support*.

Want to Learn about Nan's Mental (Mindset), Emotional and Spiritual Interpretation of Cardamom Oil?
Then go to Benefits of Cardamom Essential Oil Page!
How Do I Use It?
Use undiluted, then
Dietary Supplement: place several drops in capsule with olive oil and take internally. If you prefer dilution, use 50:50 dilution-one part essential oil: one part vegetable oil.
Add it to your daily regimen to support healthy gastrointestinal function.*
Place in favorite smoothies, beverage, or baking recipe.

Aromatic - Diffuse
Can this Oil be Used for Animals? Yes.

Note About Animal Use: Certain oils can be very toxic to cats. Citrus and pine oils in particular when using non therapeutic grade oils. Please consult your vet if you are not sure about applying any essential oil to your pet.
I only recommend using Young Living Oils on animals at this time.
What are the Safety Precautions? First, only use therapeutic grade essential oils for best results!
Cardamom essential oil is Generally Regarded as Safe (GRAS) for internal consumption by the FDA. Although it may be used as a dietary supplement, it is advised not to use it in this manner for children under 6 years of age.
If pregnant or under a doctor's care, consult your physician.
Essential Oil Trivia?
Did you know that Cardamom was called the "grains of paradise" in Europe, India and the Middle East? Yes, cardamon spice was called that because it was so significant for culinary purposes.
Did you know that Cardamom was considered the "chief of all seeds" by the 17th century English herbalist William Cole?

Tips and Testimonials from an Essential Oil User
Add a drop of cardamom oil to Chai Tea for extra spice!
Want to Purchase Therapeutic Cardamom Vitality Oil?
Purchase Cardamon Vitality Essential Oil Here!