Citronella Essential Oil - 
Make Homemade Insect Repellent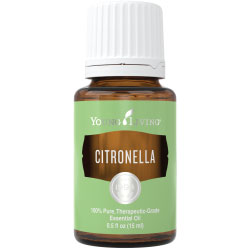 Use citronella essential oil in your homemade insect repellent and insecticide recipes. It is a natural mosquito repellent and definitely should be included in homemade fly spray for barn or home as well. It is also a natural antifungal; include it in blends for horse skin fungus and toe nail fungus.
The citronella plant belongs to the same family as lemongrass and palmarosa grasses.
Historically, it has also been used for a natural remedy for rheumatoid arthritis, parasites and bacterial infections.
Use this in a blend for remedies for pet odors and diffuse it throughout your home, kennel or barn. Personally, I love Purification il for this use!
My favorite oil blends and products that contain Citronella are Purification and Animal Scents Shampoo! Guaranteed to make your animal smell great! And help to repel insects including fleas!
As I receive new tips and testimonials for Citronella Essential Oil they will be added to the page, so check back frequently!
Purchase Citronella Oil Here!
---
Citronella Essential Oil
What is the Genus Species? Cymbopogon nardus
Why is this information important? It's always important to know your genus species of your oil. Just the common name on the bottle doesn't really tell you exactly what you're getting.
Where did the name come from? Citronella derived from French derivative of "citronelle", meaning "lemon liqueur", i.e., Citron.
Why is this information so important? Its not, it's just a fun fact!
What Part of the Plant is Used? Citronella Grass
What is the ORAC Value? 312, 000 µTE/100g
Why know about this number? ORAC stands for Oxygen Radical Absorbance Capacity. It tells you the antioxidant capacity of a food item. Antioxidants have shown to reduce the risk of age related conditions and cancer! This was developed by the USDA researchers. For instance: Oranges = 750; Clove = 1,078,700. Wow! The number for clove is NOT a typo!
Most Interesting Historical Reference?
Did you know that Citronella is one of the oldest used plants for insect repellent before the manufacturing of DDT? Yes, used all over the world for thousands of years!
What are the Plant Properties? Antibacterial, antioxidant, antifungal, anti-inflammatory, antiseptic, antiparasitic, antispasmodic, deodorant, insecticidal and relaxant.
What are the Documented Uses and Benefits of Citronella Essential Oil? Acne, anxiety, colds, eczema, fatigue, flu, headaches, minor infection, migraine, muscle pain, neuralgia, perspiration, respiratory infection and oily skin.
What is the Aromatic Affect on the Mind? Its citrusy and fruity aroma is very calming.
What is the Spiritual and Emotional Influence? Citronella essential oil helps to release the energy of punishment and distrust that creates anger, frustration and separation from self and source. It helps to calm the emotional and mental bodies so that one can resolve the inner reasons for the conflict.
This oil instills trust and connection to source which helps us embrace and accept ourself and all of life's rewards. It asks us to evaluate the things that "bug us" or irritate us on a deeper level. Once we do, we may find those pesky annoyances are exactly the things we need to be more accepting of in others so we can accept ourselves.
What Chakra is Affected? Solar plexus chakra.
What is the corresponding Chakra Color? Yellow
How do I use it?
Use 50:50. Then,
Apply several drops (2-4) on location
Apply to chakras/vitaflex points
Directly inhale
Diffuse or
Dietary Supplement.
Good oil for the First Aid Kit? No
Can this Oil be used for Pets? Yes, great for insect repellent! Make natural fly spray for horses using citronella and lemongrass. Also good for horse skin fungus when combined with other oils.
Note about Animal Use: Certain oils can be very toxic to cats. Citrus and pine oils in particular when using non therapeutic grade oils. Please consult your vet if you are not sure about applying any essential oil to your pet.
What are the Safety Precautions? First, only use therapeutic grade essential oils for therapeutic results! Citronella essential oil is Generally Regarded as Safe (GRAS) for internal consumption by the FDA. Although it may be used as a dietary supplement, it is advised not to use it in this manner for children under 6 years of age.
This oil should be used with caution if pregnant; can increase heart rate when inhaled; may produce contact sensitization with repeated use.
Essential Oil Trivia?
Did you know that Citronella has been used often put in Chinese medicine for the treatment of rheumatism? Yes, and also for menstrual difficulties.
Did you know that Citronella is often confused with its cousin, Lemongrass? Yes, some references even refer to it as the same plant. But it's not. Different species…different properties!
Want to Purchase Therapeutic Citronella Oil?
Go to the Oil Shop! Buy Citronella Oil Here!
Tips and Testimonials from an Essential Oil User
Combine with Cedarwood and Palo Santo for fantastic insect repellent!
Have a Great Experience to Share About this Essential Oil?
Do you have a personal story to share about this Essential Oil? Please share it here!
Return from Citronella Essential Oil to Essential Oil Singles