Clove Oil Uses -
From Digestive to Antioxidant Support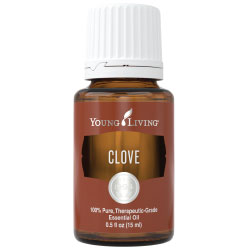 Clove oil uses include digestive support and antioxidant support. Traditional Chinese Medicine used clove for digestive and respiratory support.

Today, it is still known for its immune boosting properties and is contained in Young Living's famous blend Thieves which contains cinnamon, clove, eucalyptus, lemon, and rosemary.

Clove oil uses have historically included all things dental. It's principal constituent eugenol, is used in the dental industry to numb the gums.

Did you know that Clove also has the largest antioxidant value of any single ingredient tested?

Right now it does! Longevity essential oil contains clove and other oils with high antioxidant values!

So, with all of these clove oil uses, let's easily take advantage of the health benefits every day using Clove Essential Oil! Just use a drop in your favorite recipe! There are so many more benefits listed below, so keep on reading!

I designed this section so you could use it as a fun and easy reference guide. It will tell you how to use your oil, what to use it for and provide you with more clove oil uses. It will also provide you with some fun tips, testimonials and oil trivia!

As I receive new tips and clove oil uses they will be added to the page, so check back often!

Want to Purchase Therapeutic Clove Oil?

Go to the Oil Shop! Buy Clove Essential Oil Here!


---
Clove Essential Oil
What is the Genus Species? Syzygium aromaticum (scientific name).

From what I have researched, clove also has several synonyms (same name for same plant). These are Eugenia caryophyllata, Eugenia caryophyllus, Caryophyllus aromaticus, Eugenia aromatica and Myrtus caryophyllus.

I have definitely seen Syzygium aromaticum, Eugenia caryophyllata and Eugenia caryophyllus used interchangeably and it does get confusing! If anyone finds any other information or finds this incorrect, please let me know!

Why is this Information Important? Well as you can see it is confusing when different names are used for the same plant. Additionally, there are 400 to 500 species of clove including several chemotypes.

A chemotype (CT) is a designation that tells you that the species has different chemical constituents. This usually occurs because the plant is grown in a different area under a distinct climate that alters the chemistry.

So, it is a good habit of purchasing essential oils using the common name and the genus species.

What is the Origin of the Plant Name? Clove comes from a Latin word "clavus" meaning "nail".

Why is this Information so Important? Its not, it's just a fun fact!

What Part of the Plant is Used? Flower bud and stem

What is the ORAC Value? 1,078,700 µTE/100g WOW!

What Does this Number Mean? ORAC stands for Oxygen Radical Absorbance Capacity. It tells you the antioxidant capacity of a food item. Antioxidants have shown to reduce the risk of age related conditions! This was developed by the USDA researchers. For instance: Oranges = 750; Clove = 1,078,700. Wow! The number for clove is NOT a typo!

Most Interesting Historical Reference?

Did you know that Fennel is contained in Hildegard's Physica Book? Hildegard of Bingen (1098-1179) was known as the first herbalist and naturopath of the middle ages. Her book documented her work.

What are the Plant Properties? Antioxidant. Energizing and revitalizing. Numbing (teeth) and warming.

What are the Documented Clove Uses and Benefits? Supportive of healthy immune and digestive system. Prevent free radical damage from aging and lifestyle (antioxidant). Help with occasional physical discomforts.

What is the Aromatic Affect on the Mind? Its hot and spicy aroma improves memory and assists in healing!

What is the Spiritual Influence? Clove oil uses includes the spiritual realm as well. Clove is said to provide insight into our pain and discomfort (physical or emotional).

We know that the physical and emotional are interwoven, we can't have one without the other. How many times have we had have hurt ourselves only to find out later there actually was a hidden meaning behind it?

For me, all the time! It was about eight years ago that I realized that every time I really just didn't want to go to work that day, I would throw my back out at the barn. And practically doing nothing! Self sabotage!

We all have days like that, but that was how I learned to "take a day off". I wasn't honoring that I needed a day off and needed to just take it on my own! That taught me how to be nourishing to myself.

So, clove can help us in this respect. It helps us reflect on the causes of our minor aches and pains; and assists us in releasing them because they no longer serve us! By the way, this is why I like that Clove is in PanAway Essential Oil Blend.

What Chakra is Affected? Solar plexus, heart and throat chakra.

What is the Corresponding Chakra Color? Deep Blue or Indigo.

How do I Use it?

Use diluted - 20:80 dilution (one part essential oil: four part of vegetable oil). Then,
Apply several drops (2-4) on location

Apply to chakras/vitaflex points

Diffuse, or

May be used as a dietary supplement.
Good oil for the First Aid Kit? No

Can this oil be used for Animals? Yes, but honestly it is such a hot oil that I use it in professionally made blends, such as Thieves or Melrose Essential Oils. If you would like to use clove than a very high level of dilution is recommended for pets.

Note about Animal Use: Certain oils can be very toxic to cats. Pine and citrus oils in particular that are not of therapeutic quality! Please consult your vet if you are not sure about applying any essential oil to your pet.
I only recommend using Young Living Oils on animals at this time.

What are the Safety Precautions? First, only use therapeutic grade essential oils for best results!

Because it is approved as a Food Additive (FA) by the FDA, food grade clove oil is readily available on the market. Please remember, these are not the same oils and are often adulterated (changed).

Clove is considered non-toxic at normal usage levels and is generally regarded as safe (GRAS). Can cause extreme skin irritation therefore dilution is recommended. Always dilute before applying to the skin or taking internally.

Although it may be used as a dietary supplement, it is advised not to use it in this manner for children under 6 years of age.

Check with your health care provider if taking a blood-thinning medication.
If pregnant or under a doctor's care, consult your physician.

Essential Oil Trivia?

Did you know that before the Dutch conquerors destroyed all the clove trees in the Spice Islands, the Penang people were very healthy people. This happened in the sixteenth century.

Did you know that Clove was one of the ingredients found in "Four Thieves Vinegar" or "Marseilles Vinegar"? Thieves used the formula when robbing graves of plague victims.

Want to Purchase Therapeutic Clove Oil?

Go to the Oil Shop! Buy Clove Essential Oil Here!

Tips and Testimonials from an Essential Oil User

Rub clove oil on the gums to ease discomfort.

Have a Great Experience to Share About this Essential Oil?
Do you have a personal story to share about this Essential Oil? Please share it here!
Return from Clove Oil Uses to Essential Oils for Inflammation

Return from Clove Oil Uses to Essential Oils for Pain