Deep Relief Essential Oil
Soothe Minor Aches & Pains associated with Everyday Life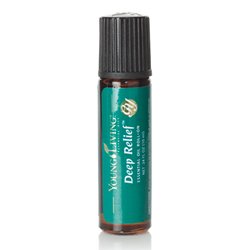 Deep Relief Essential Oil was designed specially formulated to relieve muscle soreness and tension. Perfect to soothe over minor aches, pains and discomforts associated with everyday activities or exercise.

My favorite use for this oil is to use it on my neck that often gets stiff from riding or exercise; or long hours in front of the computer. It also doubles to help with mental fatigue as it contains peppermint.

Peppermint has been used for many years to promote mental sharpness. A study performed by Dr. William N. Dember of the University of Cincinnati found that inhaling peppermint oil increased the mental accuracy of students by 28 percent!
The best thing about Deep Relief essential oil is that it comes in a portable roll-on applicator. The steel ball applicator makes it super easy to apply and provides a small amount of oil to the application area.
Perfect for when you are sitting in front of the computer or I applying the oil to those hard to reach places on your back or shoulders! Look at the muscle section for more oils that complement it.

There are many more uses for Deep Relief so keep reading below in the uses and benefits Section. It will tell you how to use your oil blend and what to use it for. It will also provide you with some fun tips and testimonials!
As I receive new tips and testimonials they will be added to the page, so check back frequently!
Want to Purchase Therapeutic Deep Relief Essential Oil?
Go to the Oil Shop! Buy Deep Relief Oil Here!
---
Deep Relief Essential Oil Blend™
What is in Deep Relief essential oil? There are nine therapeutic grade essential oils in Deep Relief. They are listed below along with a brief description of each oil.
Vetiver Essential Oil (Vetiveria zizanioides) brings you back to nature. It is a grounding oil and is one of the oils that is highest in sesquiterpenes, Vetiver was studied by Dr. Terry Friedmann for improving children's behavior. Vetiver may help when coping with stress and to recover from emotional trauma and shock.


Balsam Fir Essential Oil (Abies balsamea) traditionally used for muscular aches and pains, the warm aroma of balsam fir soothes and rejuvenates body and mind. Known for supporting respiratory function and support of the respiratory system. Diffusing it energizes the mind, yet relaxes to the body.


Palo Santo Essential Oil (Bursera graveolens) is a very spiritual essential oil used to boost the immune system. It also is a very powerful antioxidant. Like frankincense, palo santo is known as a spiritual oil and is called holy wood. Used by the Incas to purify and cleanse the spirit from negative energies.
Carrier Oil: Coconut oil (Cocos nucifera)
Do you want more information about the individual oil? Just click on the name of the oil to find out other interesting information such as:
What Part of the Plant is Used?
What is an ORAC Value?
What is the ORAC of the Oil?
What are the Plant Properties and Uses?
Where is the Name derived from?
The Most Interesting Historical Reference?
And more!
What are the Documented Uses for Deep Relief Essential Oil? Occasional aches and pain, muscle spasm, charley horse, tension in head and neck; joint stiffness due to exercise, muscles (over exercised, sore, tension or stiff due to exercise or everyday activities), sports; and focus.

What Healthy Body Systems are Supported? Musculoskeletal and Nervous System
What is the Aromatic Affect on the Mind? Uplifting and energizing.
How do I use it?
Use NEAT (undiluted). Then,
Roll on neck, back or on location
Apply to chakras/vitaflex points
Good oil for the First Aid Kit? No
Can this oil be used for Animals? Yes. Use it for dog joints. You can use it on the horses as well, but usually I start with Ortho Ease since you need so much!
Note about Animals: Certain oils can be very toxic to cats. Citrus products and oils in particular that are not of therapeutic grade! Please consult your vet if you are not sure about applying any essential oil to your pet.
What are the Safety Precautions? Deep Relief does not have any contraindications. Keep away from eyes or sensitive skin.
Keep out of reach of children. If pregnant, nursing, taking medication, or have a medical condition, consult a healthcare practitioner prior to use.
Want to Purchase Therapeutic Deep Relief Essential Oil?
Go to the Oil Shop! Buy Deep Relief Oil Here!
Tips and Testimonials from an Essential Oil User
Apply to neck and shoulders when you are working in front of the computer to prevent muscle tension. I do! The peppermint oil helps me concentrate also!
Have a Great Experience to Share About this Essential Oil?
Do you have a personal story to share about this Essential Oil? Please share it here!
Return from Deep Relief Essential Oil to Oils for Muscles