Melrose Essential Oil
Cleans and Heals all Wounds!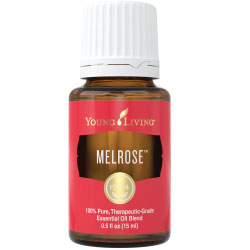 Melrose Essential Oil is a marvelous blend of essential oils that is excellent for cleansing and healing scrapes, cuts, wounds and insect bites.
The oils all have antibacterial, antiseptic and antifungal properties. So, any situation where tissue needs to be regenerated calls for Melrose.
This is also a good blend for killing odors in the home, garage or barn. Although I prefer the smell of Purification Blend, I also diffuse this oil for a change, or use a combination of the two!
Melrose essential oil is definitely one of top ten favorite essential oil blends because I use it so often at the barn. Living in Florida it seems that you can leave home without Purification and Melrose because of the mosquitoes, red ants and other various insects that we share our home with year round!
If I had human kids, I would probably keep it close at hand for bites and stings and scrapes and cuts. And to chase away odors if you know what I mean!
This is an easy reference guide for Melrose Essential Oil Blend. It will tell you how to use your oil blend and what to use it for. It will also provide you with some fun tips and testimonials!
As I receive new tips and testimonials they will be added to the page, so check back frequently!
Want to Purchase Therapeutic Melrose Essential Oil?
Go to the Oil Shop! Buy Melrose Oil Here! 
---
Melrose Essential Oil Blend™

What is in Melrose Essential Oil? There are four different essential oils in Melrose. They are listed below along with a brief description of each oil.
• Melaleuca alternifolia Essential Oil (Tea Tree Oil) has antiseptic, antiviral, antibacterial, anti-infectious and antifungal properties. Great for skin conditions.
• Melaleuca Essential Oil (Melaleuca quinquenervia, MQV, Nerolina or Naouli Oil) has antiviral, antibacterial, anti-infectious and antifungal properties. It is a strong tissue regenerator. Great for skin conditions.
• Rosemary Esential Oil (Rosmarinus officinalis CT cineol) has antiseptic and anti-infectious properties. Reduces mental fatigue and eases anxiety.
• Clove Essential Oil (Syzygium aromaticum) has antiseptic, antiviral, anti-infectious and antifungal properties. It is COX inhibitor (anti-inflammatory) and has one of the highest ORAC values of any plant in the world!
Do you want more information about the individual oil? Just click on the name of the oil to find out other interesting information such as:
What Part of the Plant is Used?
What is an ORAC Value?
What is the ORAC of the Oil?
What are the Plant Properties and Uses?
Where is the Name derived from?
The Most Interesting Historical Reference?
And more!
What are the Documented Uses for Melrose Essential Oil? Regenerates tissue, cuts, scrapes, bruises, antiseptic, neutralizing poison from bites (bees, wasps, spiders, hornets, ants, etc), anti-inflammatory, disinfectant, dandruff, air and laundry freshener, insecticidal, insect bites and repellant, sterilizing cuts and wounds, earaches, gums, canker sores, Candida, cold sores, infection and household cleaner.
What Body Systems are Affected? Respiratory and Skin.
What is the Aromatic Affect on the Mind? Calming and soothing.
What is the Spiritual Influence? Diffusing Melrose in a room will dispel negative emotions and vibrations. Spray some in an emotionally charged room or in your work space, especially if there has been injury, pain, or irritation. It will be soothing and will release trauma and stress.
This is a fantastic oil for those who are impatient and get annoyed and irritated easily by being impatient! The oil will help you accept the situation as it is, help you restore your balance and release urgency.
This is particularly true if the reason you got injured or hurt was because of your lack of patience! Then the universe is telling you to slow down and incorporate Melrose Esential Oil into your life!
So, this oil also may help with self reflection concerning your cut, wound or injury, or your pain surrounding the cut. It may be emotional or physical but you know they both go together!
How do I use it?
Use diluted - 50:50 dilution (one part essential oil: one part of vegetable oil). Then,
Apply several drops (2-4) on feet, ears and brow
Apply several drops (2-4) to cuts, burns, rashes or wound
Apply to chakras/vitaflex points
Directly inhale, or
Diffuse.
Good oil for the First Aid Kit? Yes, don't leave home without it!
Can this oil be used for Pets? Yes, use dilution for dogs. I use this all the time for my dog and the horses. It's great for bites and cuts. I will place it directly in a cut or wound to disinfect and clean. I always add helichrysum if there is a need to control pain.
I use Melrose also for anything fungal related including scratches, tail and mane itching, etc. I place a few drops right on top of the tail and usually a horse stops scratching his tail immediately. However, I do mix in a drop or two of Purification Blend that way all the fungal and bacterial bases are covered!
Note about animals: Certain oils can be very toxic to cats. Citrus and pine products and oils in particular that are not of therapeutic grade! Please consult your vet if you are not sure about applying any essential oil to your pet.
Use with caution for cats.
What are the Safety Precautions? Repeated use can result in extreme contact sensitization. Can be irritating to sensitive skin. Possible photosensitivity. 
Want to Purchase Therapeutic Melrose Essential Oil?
Go to the Oil Shop! Buy Melrose Oil Here! 
Tips and Testimonials from an Essential Oil User
I place a drop of Melrose and Purification in the laundry when I am washing Lexie's blankets and the saddle pads! Keeps them smelling fresh and fungal free!
Have a Great Experience to Share About this Essential Oil?
Do you have a personal story to share about this Essential Oil? Please share it here!
Return from Melrose Essential Oil to Oils for Hair