Ravensara Oil or Ravintsara Oil
- Antiviral and Immune Stimulant!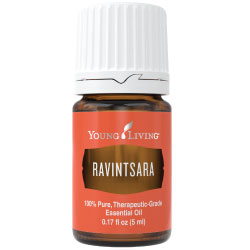 Ravensara Oil (Ravintsara) is steam distilled from the leaves and grown in Madagascar. There it is referred to as "the oil that heals" because it is used for so many different conditions. It can also be distilled from the bark (see below).
The best use of the oil is for lung and throat infections as well as chronic sinus inflammation and bronchitis inflammation. It is also effective against viral infections such as hepatitis, shingles and herpes.
Ravensara oil also supports the immune system which is so important when you have any type of infection or challenged by any health condition.
After all, if our immune system was operating correctly, we wouldn't get any kind of health issue including a cold or virus!
My favorite blend that contains Ravensara is ImmuPower. ImmuPower strengthens the immune system and is strongly anti-infectious. It contains Frankincense, Oregano, Cumin, Clove, Hyssop, Mountain Savory, Ravensara Essential Oils and more!
Want more information on Ravensara Essential Oil? Keep reading below! It will tell you how to use it and what to use it for. It will also provide you with some fun suggestions, safety precautions for you and your pet!
As I receive new tips and testimonials for Ravensara oil they will be added to the page, so check back frequently!
Want to Purchase Therapeutic Ravensara Essential Oil?
Go to the Oil Shop! Buy Ravensara Oil Here!
---
Ravensara Oil or Ravintsara Essential Oil
What is the Genus Species? Cinnamomum camphora. Please note the change!
Why is this information important? There are several species of Ravensara that are mostly grown in Madagascar. Botanists have now identified that most of the Madagascar oil is Ravintsara (Cinnamomum camphora), not Ravensara aromaticum.
They are similar trees but Ravintsara is not an original species. It was introduced from Asia in the 19th century and adopted very efficiently to the new climate. So much so that it is a very ecologically sustainable species for sourcing, unlike Ravensara which is becoming an endangered species.
Ravintsara oil tested by GC-MS reveals that 1,8-cineol eucalyptol) is the main constituent not methyl chavicol (estragole). Eucalyptol is the main ingredient in most oils that nourish and heal respiratory complaints! Ravintsara oil contains over 50% eucalyptol!
Also, there are oils taken from the bark which can contain up to 90% methyl chavicol which is less desirable and has different medicinal properties (nervous system). The oil from the leaf contains 48-61% 1, 8 cineole.
Where is the name derived from? Ravensara comes from a Malagasy word "ravintsara".
Why is this information so important? Its not, it's just a fun fact!
What Part of the Plant is Used? Leaves
What is the ORAC Value? 890 µTE/100g
Why know about this number? ORAC stands for Oxygen Radical Absorbance Capacity. It tells you the antioxidant capacity of a food item. Antioxidants have shown to reduce the risk of age related conditions and cancer! This was developed by the USDA researchers. For instance: Blueberries = 2,400; Clove = 1,078,700. Wow! The number for clove is NOT a typo!
Most Interesting Historical Reference?
Did you know that Ravensara is considered the "oil that heals" by the people of Madagascar? Madagascar is the origin of the plant.
What are the Plant Properties? Antitumoral, antibacterial, antifungal, antiviral, anti-infectious, and antiseptic, expectorant.
What are the Documented Uses and Benefits of Ravensara? Infections (throat and lung, bronchitis, sinusitis), viral infections (herpes, hepatitis), virus, rhino pharyngitis, mononucleosis, muscle fatigue, insomnia.
It may also be used for asthma, bladder, bunions, cancer, colds, ears, flu, lungs, nerves, pneumonia, wounds and adrenal glands.
What is the Aromatic Affect on the Mind? Its medical yet sweet aroma is calming.
What is the Spiritual Influence? Ravensara oil can clear confusion from our heart and release grief held by the lungs. It helps to let go of nervous tension, stress and anxiety and provoke positive feelings of hope and joy.
What Chakra is Affected? Solar plexus and heart chakras.
What are the corresponding Chakra Colors? Yellow.
How do I use it?
Dilute 50:50, and then,
Apply several drops (2-4) on location, abdomen and temples
Apply to chakras/vitaflex points
Directly inhale or
Diffuse.
Good oil for the First Aid Kit? No
Can this Oil be used for Pets? Yes, it has been very helpful to my dog allowing her to breath better thus helping her process emotions more easily. :)
It is excellent for the immune system so good for animals who have infections or have chronic infection on any level.
Note about Animal Use: Certain oils can be very toxic to cats particular if they are not of therapeutic quality. Pine and citrus products in particular. Please consult your vet if you are not sure about applying any essential oil to your pet.
What are the Safety Precautions? Only therapeutic grade essential oils should be used for healing results. Ravensara oil does not have any known contraindications.
Want to Purchase Therapeutic Ravensara Essential Oil?
Go to the Oil Shop! Buy Ravensara Here!
Tips and Testimonials from an Essential Oil User
Coming down with the flu or virus. Try Ravensara at the first signs and head it off at the pass!
Have a Great Experience to Share About this Essential Oil?
Do you have a personal story to share about this Essential Oil? Please share it here!
Return from Ravensara Oil to Oils for Inflammation