Slique Oolong Tea and Weight Loss 
All Natural Herbal Weight Loss
Slique Oolong Tea and weight loss is perfect for those looking for a complementary product for natural liquid weight loss programs or healthy weight management programs* when combined with exercise and proper diet.
This delicious and smooth tea contains cocoa, essential oils, frankincense powder and stevia, a natural alternative sweetener, which makes it particularly appealing to those who are wanting to avoid sugar or artificial sweeteners for dietary reasons.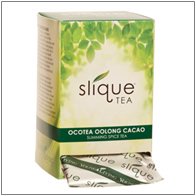 What is Oolong Tea?
Oolong Tea is in demand because of its ability to support individual healthy weight management goals* and very high antioxidant value. There are different types of oolong tea, but in Taiwan, oolong leaves are sought after! So move over Green Tea!
What are the Benefits of Oolong Tea?
The benefits of the tea are being discovered around the world. They include providing a feeling of fullness, minimizing sugar cravings, protection against free radicals and more. To learn more about the benefits, click here! 

Want to Buy Slique Cocoa Oolong Tea?
Then go to The Oil Shop! 
---
Slique Oolong Tea™
What is in Slique Oolong Tea for Healthy Weight Loss?
Slique Oolong Tea and healthy weight loss combines natural ingredients as well as essential oils to provide a healthy tea that is satisfying to drink. A brief description of each ingredient is provided below:
Jade Oolong Tea Leaves – are powerful natural antioxidants and  flavonoids that support healthy body functions and assists with natural weight loss in combination with exercise and diet*. Grown in Taiwan.

Amazonian Cacao - Cacao is a natural antioxidant and source of caffeine. Cacao is a good source of healthy fats, copper, magnesium, manganese, phosphorus, iron, zinc, and fiber.

Ecuadorian Ocotea Leaf (Ocotea quixos) is a unique therapeutic grade oil that may aid the body's natural response to irritation*. From the cinnamon family includes naturally occurring constituents beta-caryophyllene, methyl cinnamate and alpha-humalene. Ocotea also has natural cleansing and purifying properties.
Arabian Frankincense Essential Oil Powder (Boswellia sacra) has antioxidant properties; and may support a healthy immune system*.

Vanilla Essential Oil (Vanilla planifolia) The benefits of vanilla include helps to ease stress and irritation; and may have the ability to curb appetite*.
Do you want More Information about the Individual Oil?
Just click on the name of the oil to find out other interesting information such as:
What Part of the Plant is Used?

What is an ORAC Value?

What is the ORAC of the Oil?

What are the Plant Properties and Uses?

Where is the Name derived from?

The Most Interesting Historical Reference?

And more!
What are the Documented Uses for Slique Oolong Tea? Maintaining healthy weight, energizing, support individual weight goals when combined with healthy diet and exercise*. Antioxidant support.

How do I Use it?
Enjoy Slique Tea hot or cold, with meals or in between meals, or anytime!
How do I use Slique Oolong Tea for Weight Loss?
For Slique Oolong Tea and weight loss, drink at least one cup per day and combine with a healthy diet and exercise plan. For maximum weight loss use with digestive enzymes, meal replacement shake and all natural detox drink. And follow this recommended protocol for best results.
Can this oil be used for Children? This tea is not recommended for children.
Can this oil be used for Animals? I have not used this tea for pets yet! Slique Oolong Tea and weight loss for animals. Hmmm lets try changing diet and increasing exercise first :)
Note about Animals: Certain oils can be very toxic to cats. Citrus products and oils in particular that are not of therapeutic grade. Please consult your vet if you are not sure about applying any essential oil to your pet or giving an essential oil supplement to your pet.
I only recommend using Young Living Oils on animals at this time.
What are the Safety Precautions? This product contains naturally occurring caffeine.
If you are pregnant, nursing, taking medication, or have a medical condition, consult a health professional prior to use.
With all these oolong tea benefits why not give slique a try today!
Want to Buy Slique Cocoa Oolong Tea?
Then go to The Oil Shop!

Return from Slique Oolong Tea and Weight Loss to All Natural Herbal Weight Loss