Sulfurzyme Supplement
with MSM and Ninxgia Wolfberry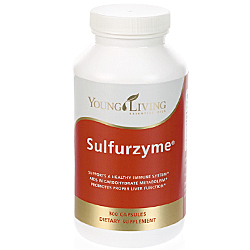 Sulfurzyme Supplement was specifically designed to support many functions of the body including the immune system. It contains MSM (methyl-sulfonymethane) an organic sulfur; and Ningxia wolfberry and FOS that both support sulfur metabolism in the body.
What are the Health Benefits of MSM (Sulfur)? And Why is Sulfur so Important for the Body?
Sulfur is involved with many functions of the body including:
Cellular waste elimination


Protection and repair of myelin sheath of the nerves


Helps to reduce inflammation in the body


Activates enzymes and metabolizes carbohydrates


Helps to assimilate vitamins to give us beautiful hair and skin


And more!
Did you know that Sulfur in the form of MSM equalizes water pressure inside of our Cells?
Yes, this is a huge benefit because it allows toxins to flow out of the cell membrane more efficiently which in turn will minimize things such as inflammation and nutrient deficiencies. This is particularly important and helpful for those of us who have arthritis, nervous system disorders and auto immune diseases.
Why is Sulfur not always Utilized Properly by the Body?
For sulfur to be used efficiently, the proper calcium amounts must be present. Otherwise, sulfur is not metabolized and even if you are taking sulfur it may not be helping.
And remember that is takes magnesium to metabolize calcium! So, the correct nutritional balance needs to in the body and the supplement to metabolize sulfur and MSM.
Ninxgia wolfberry is added to Sulfurzyme for this reason. The benefits of wolfberries are incredible; and they contain 21 trace minerals, 18 amino acids and many vitamins. It is a significant source of chromium, calcium, magnesium, potassium, copper and zinc which are required for enzyme activation and sulfur metabolism.
It is safe for human and animal use; and is also available in a powder form which is great for your pets. With the powder, I usually place it right in my dogs or horses food and they eat it right up! And get all the benefits of essential oils and more!
Did you know that Studies have shown that MSM can Slow or Reverse Autoimmune Diseases?
Yes, this is good news for people and animals suffering from rheumatoid arthritis and other autoimmune diseases such as Lupus, MS and others!
This is an easy reference guide for Sulfurzyme Supplement. It will tell you how to use it and what to use it for!
Buy Sulfurzyme MSM Supplement Here!
---
Sulfurzyme Supplement™
What is in Sulfurzyme Supplement?
There are several natural ingredients in Sulfurzyme Supplement including:
MSM – Sulfur which is known to restore flexibility to the cell membranes and can slow down the breakdown of cartilage. Supports hair, skin, liver and immune functions.


Fructooligosaccharides (FOS) – FOS are natural nutrients that support the growth of good bacteria including lactobacilli and bifidobacteria. Studies have also shown that FOS can lower blood glucose, increase magnesium and calcium; and reduce cholesterol levels. It also has a sweet taste!


Ningxia Wolfberry (Lycium barbarum) – This fruit contains coenzymes and minerals that support sulfur metabolism.


Sterioside (Stevia rebaudiana)– Natural sweetener


Gelatin (capsules only)
What are the Documented Uses for Sulfurzyme Supplement? Absent minded, aches and pain, Addison's Disease, alkalosis, alopecia areata, Alzheimer's Disease, anti-cancerous, arthritis, auto immune system and disease, baldness, Bells Palsy, blood detoxification, bones (general and pain), bursitis, carpal tunnel syndrome, cartilage injury (knee, elbow, etc), connective tissue trauma, Crohn's Disease, dermatitis, diabetes, digestive system, eczema, eyes, fatigue, fibrillation, fibromyalgia, focus, gallbladder infection, gout, growing pain, hair loss and growth, Hashimoto's Disease, hay fever (allergic rhinitis), heart, heart attack, herpes simplex type 2, hormonal imbalance, Huntington's Chorea, hypoglycemia, hyperthyroidism, hypothrodism, inflammation due to injury, jet lag, joint stiffness and pain, ligament sprain or tear, Lou Gehrig's Disease (ALS), Lupus, Mixed Connective Tissue Disease (MCT), Multiple Sclerosis (MS), muscles, muscles aches and pains, muscle spasm, muscle weakness, Muscular Dystrophy, nails, nervous system, neuralgia, neuritis, neuropathy, osteoarthritis, osteoporosis, Parkinson's Disease, psoriasis, rheumatoid arthritis, rheumatic fever, Schmidt's Syndrome, sciatica, scleroderma, scoliosis, seizures, shingles, shoulder (frozen), skin, sprain, stretch marks, stroke (thrombotic an hemorrhagic), sympathetic nervous system, tachycardia, tendonitis, vitamins, weight loss and whip lash.
What Body Systems are Affected? Muscles and Bones, Immune, Skin and Nervous Systems
How do I use it?
For Capsules: Take two capsules up to two times per day at least one hour before or after meals.
This product also is available in a powder form that can be mixed in with food. This may be the best alternative for animal use.
For Powder: Take 1/2 teaspoon with distilled water or juice up to two times per day at least one hour before or after meals.
Can this product be used for Animals? Yes. I usually use the powder for my dog and horse. Here are some recommendations:
For Cats: 1/4 to 1 capsule per day.


For Dogs: Small dogs 1-1 1/2 capsules per day; 1/2 to 1 teaspoon. Medium dogs 1-2 capsules per day or 1 heaping teaspoon. Large dogs 2-4 capsules per day or 1 tablespoon.


For Horses: 1 heaping tablespoon 2x per day.
Remember amounts depend on the health of animal. Chronic conditions may lend itself to more Sulfurzyme!
Place it in their food as needed and they eat it right up!
Note about animals: Certain oils can be very toxic to cats if they are not of high quality. Citrus products and oils in particular that are not of therapeutic grade quality! Please consult your vet if you are not sure about applying any essential oil to your pet.
What are the Safety Precautions? No contraindications.
Want to Purchase Sulfurzyme?
Then go to the Oil Shop! Available in capsules or the powder form which is perfect for smoothies and our animals.
What Other Essential Oil Supplements are good for Inflammation and the Joints?
Check out Omega Blue and BLM Essential Oil Supplements to support joints and more! 
Return from Sulfurzyme Supplement to Oils for Inflammation