TummyGize Essential Oil
Essential Oils for Children
TummyGize Essential Oil for Children supports healthy digestion and quiets little tummies*. Soothing and supporting specifically formulated for kids!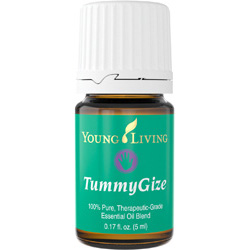 It is a wonderful blend of seven different essential oils that is part of the KidScents Collection Kit. Essential oils for children that are pre-diluted.

This is an easy reference guide for TummyGize Oil Blend. It will tell you how to use your oil blend and what to use it for. It will also provide you with some fun tips and testimonials!
As I receive new tips and testimonials they will be added to the page, so check back frequently!
Want to Purchase Therapeutic TummyGize Essential Oil?
Go to the Oil Shop! Buy TummyGize Oil Here!
TummyGize Essential Oil Blend™
What is in TummyGize? There are eight different essential oils in TummyGize. They are listed below along with a brief description of each oil.
Spearmint Essential Oil (Mentha spicata) Rich in carvone and d-limonene, may help calm occasional nausea*. Blend with Peppermint oil for digestive system support*.

Peppermint Essential Oil (Mentha piperita) is one of the most highly regarded herbs for supporting normal digestion, including promoting healthy intestinal function and gastrointestinal system comforts*. It is also a key oil in the Raindrop Technique.

Tangerine Essential Oil (Citrus reticulata) contains esters and aldehydes that are calming. Rich in d-limonene it helps to maintain a healthy lifestyle regimen.
Ginger Essential Oil (Zingiber officinale) is supportive of the digestive system, ginger is commonly used to soothe, comfort, and balance digestive discomfort*. Spicy and warm.

Fennel Essential Oil (Foeniculum vulgare) The Benefits of Fennel date back to the ancient Egyptians. It is stimulating to the circulatory, glandular, respiratory, and digestive systems*. It also may support feelings of well-being during women's natural cycles*.
Cardamom Essential Oil (Elettaria coardomomum) has been traditionally used through inhalation to invigorate the mind and internal consumption to protect the stomach*. It has also been used traditionally to alleviate mental fatigue and nervous strain. Modern scientific research has not yet validated these traditional claims.
Anise Essential Oil (Pimpinella anisum) is used to support a healthy digestive system*.
Carrier Oil - Coconut Oil and Glycerin (Caprylic/capric triglyceride)

Do you want more Information about the Individual oil? Just click on the name of the oil to find out other interesting information such as:
What Part of the Plant is Used?
What is an ORAC Value?
What is the ORAC of the Oil?
What are the Plant Properties and Uses?
Where is the Name derived from?
The Most Interesting Historical Reference?
And more!
What are the Documented Uses for TummyGize Essential Oil? Supports healthy digestive system*.

What is the Aromatic Affect on the Mind? Quieting and gentle.
What is the Spiritual and Emotional Influence? Use to help children and animals "digest and process" what may be bothering them on a physical, emotional and mental level. This will be a very good oil when there is a lot of chaos, stress, change or transition going on in the home environment. Or even at school, clubs or sport activities.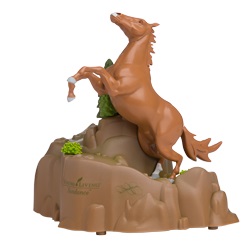 Sundance Stallion Children's Diffuser
What Chakra is Affected? Root, sacral and solar plexus chakras.
How do I Use it?
Use NEAT. Then,
Apply several drops (2-4) on ears, wrists, tummy, or feet
Apply to chakras/vitaflex points
Directly inhale
Diffuse

Can this Oil be used for Animals? Yes! Definitely use it for dogs and horses. The animals love the kids oils since they are so gentle!

Note about Animals: Certain oils can be very toxic to cats. Citrus products and oils in particular that are not of therapeutic grade! Please consult your vet if you are not sure about applying any essential oil to your pet.
What are the Safety Precautions? If pregnant or under a doctor's care, consult your physician. Dilution not required; suitable for all but the most sensitive skin. Generally safe for children.
Want to Purchase Therapeutic TummyGize Essential Oil?
Go to the Oil Shop! Buy TummyGize Oil Here!
Tips and Testimonials from an Essential Oil User
Place on the VitaFlex points over the stomach and intestine area.
Return from TummyGize Essential Oil to KidScents Essential Oil Collection