Nan's Experience Essential Oils Membership provides Exclusive EO Training and Coaching on Transformation, Functional Wellness, Animal Topics and More!

FREE ACCESS to E-Merald Level with THREE Training Bundles!

 Click HERE to LEARN MORE and Get INSTANT ACCESS to E-merald Level Trainings!
25 Years Young Essential Oil
Live. Revitalize. Life.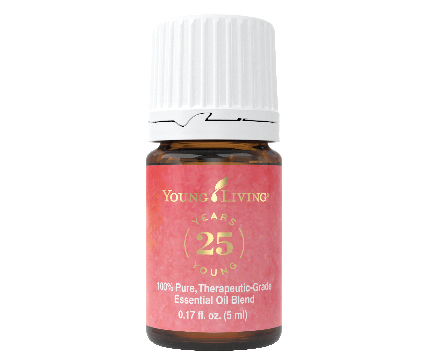 25 Years Young Essential Oil revitalizes your spiritual and emotional wellbeing so you can live your life on purpose.
This oil supports healthy skin by diminishing fine lines and wrinkles; and moisturizing and hydrating skin.

This oil was created for the 2019 Young Living Convention to inspire youthful energy and support healthy looking radiant skin and hair. Maintaining a healthy outlook and healthy skin is important for us to feel youthful!

As I receive new tips and testimonials they will be added to the page, so check back frequently!
Want to Purchase 25 Years Young Essential Oil?
Go to the Oil Shop! Buy 25 Years Young Essential Oil Here!
---
Experience 25 Years Young Essential Oil Blend™

What is in 25 Years Young Essential Oil? 
There are over five therapeutic grade essential oils in this oil! They are listed below along with a brief description of each oil:
Sacred Sandalwood Essential Oil (Santalum album) is calming and emotionally balancing and is used for stress and unwinding. Also called Aloes.
Myrrh Essential Oil (Commiphora myrrha) is protective against aging skin.
Lavender Essential Oil (Lavandula angustifolia) can help you relax, wind down before bed. Its balancing properties are wonderful for creating a relaxing environment.

Frankincense Essential Oil (Boswellia carteri) is high in sesquiterpenes which helps to uplift mood and promote relaxation (overcome stress).
Helichrysum Essential Oil (Helichrysum italicum) known for its restorative properties and provides excellent support to the skin.
Ylang Ylang (Cananga odorata equitoriana) has a long history in skin and hair care products, particularly in Asia, where it is used to promote luxuriant hair. It also restores confidence and equilibrium.
Cedarwood Essential Oil (Cedras atlantica) has an earthy aroma that gives you a sense of security. It supports healthy skin and hair. It is calming, purifying and grounding.
Rose Otto Essential Oil (Rosa damascena) has an intoxicating aroma that relieves stress. Excellent for all skin types.
Want More Information About the Individual Oil? Just click on the name of the oil to find out other interesting information such as:
What Part of the Plant is Used?
What is an ORAC Value?
What is the ORAC of the Oil?
What are the Plant Properties and Uses?
Where is the Name derived from?
The Most Interesting Historical Reference?
And more!
What are the Documented Uses for 25 Years Young Essential Oil? 
Soften fine lines and wrinkles; moisturize and soothe skin; hydrate skin; relief chapped skin.

What is the Aromatic Affect on the Mind?

What is the Nan's Mental (Mindset), Emotional and Spiritual Interpretation of this Oil?
25 Years Young Essential Oil revitalizes your spiritual and emotional wellbeing so you can live your life with focus and purpose. Stay young at heart with this oil by revitalizing your passion and your own personal power.
The oil said to me:

"You are Life...What is Age other than a Perception....You have an Ageless Energy Within that Needs to be Tapped Into to Maintain Life"
That was a pretty powerful message and I so agree with what the blend was trying to show me and encourage everyone to discover.
Have you forgotten about that energy? Have you shut it down because of old wounds and hurts?
Reminder: Within you is the path to re-discovery. Don't wait - explore it today.

What Chakra is Affected? 

How Do I Use It?
Use NEAT (undiluted), then,
Apply several drops (2-4) on face, throat, spine, wrists, neck, or feet
Apply to chakras
Directly inhale or
Diffuse
Can this Oil be Used for Animals?  Yes

Note About animals: Certain oils can be very toxic to cats especially if not therapeutic grade. Citrus and pine oils in particular that are adulterated.  Please consult your vet if you are not sure about applying any essential oil to your pet.
What are the Safety Precautions?

Keep out of reach of children. If pregnant, nursing, taking medication, or have a medical condition, consult a healthcare practitioner prior to use.
Maybe photosensitive.
Want to Purchase 25 Years Young Essential Oil?
Go to the Oil Shop! Buy 25 Years Young Essential Oil Here!
Tips and Testimonials from an Essential Oil User
Use several drops on your face, neck and décolletage before applying moisturizer to promote natural beauty and to soften fine lines and wrinkles.
Return from 25 Years Young Essential Oil to Essential Oil Blends