Nan's Experience Essential Oils Membership provides Exclusive EO Training and Coaching on Transformation, Functional Wellness, Animal Topics and More!

FREE ACCESS to E-Merald Level with THREE Training Bundles!

 Click HERE to LEARN MORE and Get INSTANT ACCESS to E-merald Level Trainings!
Inspiration Essential Oil Enhances
Spiritual Connection and Inner Awareness
Inspiration Essential Oil is a spiritual oil blend that has Cedarwood, Royal Sandalwood and Frankincense.  All of these oils have been used for hundreds of years by the Native Americans to open and enhance spiritual communication with the creator.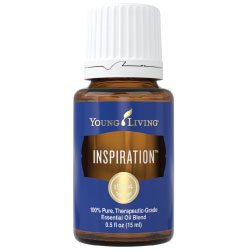 The blend opens the third eye and throat chakra and releases negative thoughts that can block our connection with the divine. It also harmonizes the mind and body.

This is an easy reference guide for Inspiration Oil Blend. It will tell you how to use your oil blend and what to use it for. It will also provide you with some fun tips and testimonials!
As I receive new tips and testimonials they will be added to the page, so check back frequently!
Want to Purchase Therapeutic Inspiration Essential Oil?
Go to the Oil Shop! Buy Inspiration Oil Here!
---
Experience Inspiration Essential Oil Blend™
What is in Inspiration Essential Oil?
Please Note that Inspiration oil was revised because of the deforestation and limited availability of Rosewood Essential Oil. See below for revised formula.
There are seven therapeutic grade essential oils in Inspiration. They are listed below along with a brief description of each oil.
Sandalwood Essential Oil (Santalum album) is calming and emotionally balancing and is used for stress and unwinding. Also called Aloes.
Spruce Essential Oil (Picea mariana) is physically grounding and relaxing. Has a sweet and earthy scent that is fresh and fruity. It is also said to release blocks to prosperity and wealth.

Frankincense Essential Oil (Boswellia carteri) is high in sesquiterpenes which helps to uplift spirits and promotes relaxation (overcome stress).
Rosewood Essential Oil (Aniba rosaeodora) is supportive to healthy skin. it is emotionally stabilizing and is used for relaxation.

Cedarwood Essential Oil (Cedras atlantica) has an earthy aroma that gives you a sense of security. It is calming, purifying and grounding.
Myrtle Essential Oil (Myrtus communis) is helpful for meditation and lifting the spirit.
Mugwort Essential Oil (Artemisia vulgaris) has calming properties. It was used as protective space clearing oil. It also increases psychic awareness.
In the revised formulation 2015, Sandalwood has been replaced with:
In the revised formulation 2016, Mugwort and Rosewood have been replaced with:
Want More Information About the Individual Oil? Just click on the name of the oil to find out other interesting information such as:
What Part of the Plant is Used?
What is an ORAC Value?
What is the ORAC of the Oil?
What are the Plant Properties and Uses?
Where is the Name derived from?
The Most Interesting Historical Reference?
And more!
What are the Documented Uses for Inspiration Essential Oil? Anger, closed minded, defeated, despondency, fear, guilt, harmony in body systems, irritability, meditation, prayer, release negativity, restlessness, sadness, shock, stress, spiritual awareness, sympathy, thoughts, and connection with the divine.
What is the Aromatic Affect on the Mind? This wonderful aroma is spiritually uplifting.
What is the Spiritual Influence? Inspiration essential oil releases negative emotions of paralyzed, fatigue and sluggish. It also helps us release "stuck" or feelings of being defeated.
It will enhance our connection and communication with the creator; and will increase our own spiritual awareness. It is a blend used in meditation, prayer and spiritual ritual for this reason.
What Chakra is Affected? Opens the third eye and crown chakras.
How Do I Use It?
Use NEAT (undiluted) then,
Apply several drops (2-4) on third eye (forehead), ears, wrists, neck or feet
Add several drops (2-4) to bath water
Apply to chakras

Directly inhale or
Diffuse.
Can this Oil be Used for Animals? Yes
Note About Animals: Certain oils can be very toxic to cats. Citrus products and oils in particular if not of therapeutic grade! Please consult your vet if you are not sure about applying any essential oil to your pet.
What are the Safety Precautions? Possible skin sensitivity. If pregnant or under a doctor's care, consult your physician.
Want to Purchase Therapeutic Inspiration Essential Oil?
Go to the Oil Shop! Buy Inspiration Oil Here!
Tips and Testimonials from an Essential Oil User
Apply to temples, third eye (forehead), crown and shoulders before meditation or prayer to help connect with the creator.
Have a Great Experience to Share About this Essential Oil?
Do you have a personal story to share about this Essential Oil? Please share it here!
Return from Inspiration Essential Oil to Oil Blends I-M