Nan's Experience Essential Oils Membership provides Exclusive EO Training and Coaching on Transformation, Functional Wellness, Animal Topics and More!

FREE ACCESS to E-Merald Level with THREE Training Bundles!

 Click HERE to LEARN MORE and Get INSTANT ACCESS to E-merald Level Trainings!
JuvaTone Natural Liver Cleansing Supplement -
Supports Healthy Liver Function*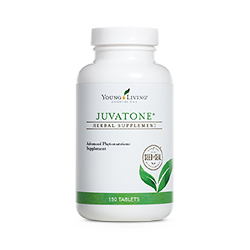 JuvaTone Natural Liver Cleansing Supplement is the perfect home remedy liver detox that supports healthy liver function*.

This supplement contains liver cleansing essential oils and liver supporting herbs and nutrients including choline, inositol and dl-methionine. Inositol benefits include supporting the body's normal excretion functions; and methionine benefits include the recycling of glutathione, one of the most important antioxidant of the body.
JuvaTone contains 329 mg choline per serving, which is 60% of the daily recommended value of choline (550 mg)!
The liver is one of the most important organs in the body to keep cleaned besides the digestive system. It filters out toxins, natural or man made; this includes everything we eat, drink, breathe or gets absorbed by our skin!

Contains therapeutic grade essential oils including geranium, german chamomile vitality, rosemary vitality and blue tansy.

Also check out Juva Cleanse Vitality and JuvaFlex VItality essential oils for more healthy liver supporting products.
Want to Purchase JuvaTone Natural Liver Cleansing Supplement?
---
Experience JuvaTone Natural Liver Cleansing Supplement

What is in JuvaTone Natural Liver Cleansing Supplement? 
JuvaTone easy liver detox tablets combines natural ingredients as well as essential oils. A brief description of each ingredient is provided below:


Essential Oils include:
Lemon Vitality Essential Oil (Citrus limon) consists of 68 percent d-limonene.  Jean Valnet MD estimated that it takes 3,000 lemons to produce one kilo of oil.

Rosemary Vitality Essential Oil (Rosmarinus officinalis CT verbenon) was one of the most broadly used plants throughout the ages. Rosemary includes the naturally occurring constituents eucalyptol and alpha-pinene.
Blue Tansy Essential Oil (Tanacetum annuum) tnsy plants have several species and this one is also called Moroccan Chamomile or Annual Tansy.

Want More Information About the Individual Oil?
Click on the name of the oil to find out other interesting information such as:
What Part of the Plant is Used?
What is an ORAC Value?
What is the ORAC of the Oil?
What are the Plant Properties and Uses?
Where is the Name derived from?
The Most Interesting Historical Reference?
And more!
What are the Documented Uses for JuvaTone Natural Liver Cleansing Supplement?  Promote healthy function of the liver including cleansing;  antioxidant support*. Supports normal excretion functions*.
What Healthy Body Systems are Supportive?  Digestive System*
How Do I Use JuvaTone Natural Liver Cleansing Supplement?
Take 2 tablets two to three times daily. Increase as needed up to 4 tablets four times daily. Best when taken between meals.
NingXia Red in combination with this supplement and Detoxzyme enzymes supplement. For best results, combine with ComforTone supplement to support cleansing of the colon.
Can this Product be Used for Animals?  Yes, absolutely. Cats can start at about ½ tablet a day spread out over the day; dogs one tablet per 20 lbs of body weight; and more for large animals including horses.
Note About Animals: Certain oils can be very toxic to cats especially if the quality of the oil is not pure. Citrus products and oils in particular when not therapeutic grade.  Please consult your vet if you are not sure about applying any essential oil to your pet or giving an essential oil supplement to your pet.
What are the Safety Precautions? No contraindications.  Contains bee products-possible allergen.
Do not expose to excessive heat or direct sunlight. If pregnant or under a doctor's care, consult your physician.
Want to Purchase JuvaTone Natural Liver Cleansing Supplement?
Return from JuvaTone Natural Liver Cleansing Supplement to All Natural Detox Supplements