Nan's Experience Essential Oils Membership provides Exclusive EO Training and Coaching on Transformation, Functional Wellness, Animal Topics and More!

FREE ACCESS to E-Merald Level with THREE Training Bundles!

 Click HERE to LEARN MORE and Get INSTANT ACCESS to E-merald Level Trainings!
ComforTone Colon Cleanse Supplement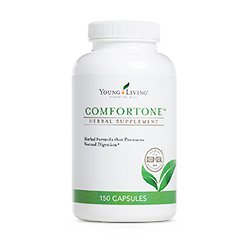 ComforTone Colon Cleanse Supplement allows you to colon cleanse naturally. It contains essential oils and herbal cleansing ingredients. I like to interchange ComforTone with ICP.

Along with Life 9 probiotic supplement, you can support the health of your digestive system by eliminating residues from the colon and enhancing its natural ability to function optimally*.

ComforTone has eight essential oils including German Chamomile Vitaltiy, Ocotea, Peppermint Vitality and Tangerine Vitality. Ocotea and Tangerine. Read below about the oils that are in this product.

I love that ComforTone Colon Cleanse Supplement contains essential oils. Oils  support detoxification and a healthy digestive system; and of course have all the other benefits of essential oils.

This is an easy reference guide for ComforTone Colon Cleanse Supplement. It will tell you how to use it and what to use it for!
Want to Purchase Comfortone Colon Cleanse Supplement?
To purchase this product, go to The Oil Shop!
---
Experience Comfortone Essential Oil Supplement™
What is in ComforTone Colon Cleanse Supplement? 

There are several natural ingredients as well as eight essential oils in ComforTone.

The natural ingredients include:


Cascara Sagrada Powder Bark (Frangula purshiana)

Psyllium Seed Husks Powder (Plantago ovata) – Is a gentle form of ground psyllium that expands when mixed with water.

Barberry Bark (Berberis vulgaris)

Burdock Root (Arctium lappa)

Garlic Bulb (Allium sativum)

Echinacea Root (E. purpurea)

Bentonite

Diatomaceous Earth

Ginger root (Zingiber officinale)

Chamomile Flower Extract (Matricaria recutita)

Apple pectin (Malus pumila)

Licorice Root (Glycyrrhiza glabra) 
Cayenne Pepper Fruit (Capsicum annuum)

Silica

Trace Minerals

The essential oils that are contained in ComforTone are listed below along with a brief description of the oil.
Want More Information About the Individual oil? Just click on the name of the oil to find out other interesting information such as:


What Part of the Plant is Used?
What is an ORAC Value?
 What is the ORAC of the Oil?
What are the Plant Properties and Uses?
 Where is the Name derived from?
The Most Interesting Historical Reference
And more!

What are the Documented Uses for ComforTone Colon Cleanse Supplement?  May support health digestion and wellness*.

How Do I Use It?
Take 1-2 capsules before breakfast and bedtime. Drink plenty of water throughout the day for best results. Use daily for 8 weeks this discontinue for 2-4 weeks before resuming.
Can this Product be Used for Animals?  Yes, in very, very small amounts.
Note About Animals: Certain oils can be very toxic to cats especially when poor quality oils are used. Citrus products and oils in particular that are not of therapeutic grade.  Please consult your vet if you are not sure about applying any essential oil to your pet.
What are the Safety Precautions? This product contains Cascara sagrada bark. Read and follow directions carefully. Women who are pregnant or nursing and others who have a medical condition should not use this product except under the direction of a physician.
Children under 12 should not use this product. Discontinue use and consult a physician if you have or develop abdominal pain, diarrhea, nausea, or vomiting. Do not exceed recommended dosage. Not for long term use. Not to be used as a weight loss product.
Want to Purchase Comfortone Colon Cleanse Supplement?
To purchase this product, go to The Oil Shop!
Return from ComforTone Colon Cleanse Supplement to All Natural Detox Supplements