Nan's Experience Essential Oils Membership provides Exclusive EO Training and Coaching on Transformation, Functional Wellness, Animal Topics and More!

FREE ACCESS to E-Merald Level with THREE Training Bundles!

 Click HERE to LEARN MORE and Get INSTANT ACCESS to E-merald Level Trainings!
ICP Psyllium High Fiber Supplement -
Colon Cleanse Naturally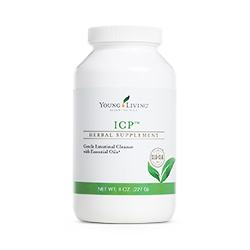 ICP Psyllium High Fiber Supplement contains essential oils and herbal cleansing ingredients. Rotate this with ComforTone to support healthy digestion and cleansing of the colon*. 
Also contains fast acting enzymes that help break down protein and phytase an enzyme essential for vegetarians. Enzymes also help us absorb nutrients more efficiently from foods and supplements.
A healthy digestive system is important for the proper functioning of all other systems because it absorbs nutrients that are used throughout the body.
What Are the Benefits of Fiber in the Body?
There are two kinds of fiber that the body requires: insoluble and soluble fiber. Insoluble cleanses the intestines of buildup on the wall while soluble fiber helps to absorb and release toxins from the body.
Enhanced with a special blend of essential oils, the fibers work to decrease the buildup of wastes, improve nutrient absorption, and help maintain a healthy heart.*
A combination of both will ensure that a healthy digestive tract is functioning at its best; and assimilation of nutrients from food is optimal.

This is an easy reference guide for ICP Supplement. It will tell you how to use it and what to use it for!
Want to Purchase ICP Psyllium High Fiber Supplement?
Purchase ICP Psyllium Supplement at The Oil Shop.
---
ICP Psyllium High Fiber Supplement
™
What is in ICP Psyllium High Fiber Supplement?  ICP Psyllium Powder combines natural ingredients as well as essential oils. A brief description of each ingredient is provided below:
Psyllium Seed Powder (Plantago ovata) – Is a gentle form of fiber that expands when mixed with water.
Flax Seed (Linum usitatissimum) – Is a rich source of fiber and omega-3 fatty acids.

Oat Bran (Avena sativa) –  provides healthy source of fiber*.

Fennel Seed (Foeniculum vulgare)

Rice Bran (Oryza sativa) – A natural source of Vitamin E, antioxidants and minerals
Guar Gum Seed (Cyamopsis tetragonoloba)

Yucca Root (Y. schidigera)

Aloe Vera Leaf Extract (A. barbadensis)

Cellulose – A toxin absorbing fiber.
Enzyme formula (Lipase, Protease, Phytase and Peptidase) – Enzymes that help support the breakdown of fat and proteins; and help with the assimilation of nutrients.
Also contains these Essential Oils:
Rosemary Vitality Essential Oil (Rosmarinus officinalis CT verbenon) was one of the most broadly used plants throughout the ages.  Rosemary includes the naturally occurring constituents eucalyptol and alpha-pinene.
Anise (Pimpinella anisum)

Want More Information About the Individual Oil?
Click on the name of the oil to find out other interesting information such as:
What Part of the Plant is Used?
What is an ORAC Value?
What is the ORAC of the Oil?
What are the Plant Properties and Uses?
Where is the Name derived from?
The Most Interesting Historical Reference?
And more!

What are the Documented Uses for ICP Psyllium High Fiber Supplement?  Supports healthy digestive function and digestive system*. Provides healthy addition of fiber. Fibers scour out residues in colon (large intestine)*.

How Do I Use ICP Psyllium High Fiber Supplement?

Mix 2 rounded teaspoons with at least 8 oz. of juice or water. If cleansing or eating a high-protein diet, use 3 times daily. If eating a low-protein diet, use once daily. Drink immediately as this product tends to thicken quickly when added to liquid. Tastes best in carrot juice, apple juice or smoothies.

ICP provides three grams of soluble fiber and one gram of insoluble fiber per serving.

How Do I Use ICP Psyllium High Fiber Supplement for Healthy Weight Loss and Management?

ICP will maximize the efficiency of your digestive track by cleansing the digestive tract and allowing for optimum assimilation of foods*. It also provides a good source of fiber which is lacking in processed food diets. For maximum healthy weight loss and management use with digestive enzymes, probiotic and Slique Oolong Tea along with exercise.

Can this Product be Used for Animals?  Yes, use in small amounts.

Note About animals: Certain oils can be very toxic to cats especially if the quality of the oil is not pure. Citrus products and oils in particular when not therapeutic grade.  Please consult your vet if you are not sure about applying any essential oil to your pet or giving an essential oil supplement to your pet.

What are the Safety Precautions? Using this product without enough liquid may cause choking. Do not use this product if you have difficulty swallowing. Aloe Vera Leaf (A. barbadensis) is contained in this product. Read and follow directions carefully. Do not use if you have or develop diarrhea, loose stools, or abdominal pain. Consult your physician if you have frequent diarrhea. 
If you are pregnant, nursing, taking medication or have a medical condition, consult your physician before using this product.

Want to Purchase ICP?

Purchase ICP Psyllium Supplement at The Oil Shop!
Return from ICP Psyllium High Fiber Supplement to All Natural Detox Supplements