Nan's Experience Essential Oils Membership provides Exclusive EO Training and Coaching on Transformation, Functional Wellness, Animal Topics and More!

FREE ACCESS to E-Merald Level with THREE Training Bundles!

 Click HERE to LEARN MORE and Get INSTANT ACCESS to E-merald Level Trainings!
Present Time Essential Oil 
There is No Time Like the Present!
Present Time Essential Oil is a fantastic blend of oils that brings you completely in the moment. This is a perfect blend for those who are always consumed by thoughts of the past or the future.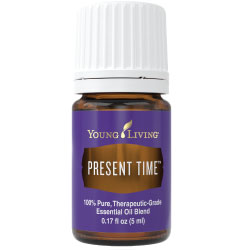 Our life is created in the moment. And it is so important to project positive and loving thoughts into the future that we create each moment.
I love everything about this oil! I love the smell, I love to use it when I am stressed and I love to use it at the barn. I also like to use it when I compete along with Brain Power for the mental edge!
This is a fun and easy reference guide for Present Time Essential Oil Blend. It will tell you how to use your oil blend and what to use it for. It will also provide you with some fun tips and testimonials!
As I receive new tips and testimonials they will be added to the page, so check back frequently!
Want to Purchase Therapeutic Present Time Essential Oil?
Go to the Oil Shop! Buy Present Time Oil Here!

---
Experience Present Time Essential Oil™
What is in Present Time Essential Oil Blend?
There are three different oils in Present Time. They are listed below along with a brief description of each oil.
Ylang Ylang Essential Oil (Cananga odorata) has a long history in skin and hair care products, particularly in Asia, where it is used to promote healthy, luxuriant hair. It also restores confidence and equilibrium.

Spruce Essential Oil (Picea mariana) is grounding and releasing.

Neroli Absolute (Citrus aurantium amara) Known for its transformational effects on the mind and spirit it is a highly regarded oil used in Ancient Egypt.
Carrier Oil: Almond
Want More Information About the Individual Oil? Just click on the name of the oil to find out other interesting information such as:
What Part of the Plant is Used?
What is an ORAC Value?
What is the ORAC of the Oil?
What are the Plant Properties and Uses?
Where is the Name derived from?
The Most Interesting Historical Reference?
And more!
What are the Documented Uses for Present Time Essential Oil? Anger, argumentative, balance, clearing, confusion, day-dreaming, disappointment, fear, frustration, grief and sorrow, guilt, grounding, irritability, loss of loved one, stay in moment, obsessiveness, past, spacing out, ease stress, sympathy, and transitions.
What is the Aromatic Affect on the Mind? Emotionally calming and balancing.
What is the Nan's Mental (Mindset), Emotional and Spiritual Interpretation of this Oil?
Present time forces the body to stay in the moment. This is excellent for those who live in the past or the future and never are fully present.
Those who are dealing with loss or buried emotions will benefit from this oil. Also those who tend to day-dream or live in a world of illusion will be asked to come back to a sense of reality.
This is excellent for fear because usually the mind and the body become separated when in extreme fear. This will bring alignment back to the body and mind as a cohesive unit. Smelling this oil will bring you right back to the moment.
What Chakra is Affected? Opens the solar plexus chakras.
How Do I Use It?
Use NEAT (undiluted) then,
Apply several drops (2-4) to wrists, edge of ears, neck and feet
Add several drops (2-4) to bath water
Apply to chakras
Directly inhale, diffuse, or
Dilute 1:15 with vegetable oil for body massage.
Can this Oil be Used for Animals? Yes, absolutely.
I had a horse that was always perfect in the schooling area. And then the moment you walked in the ring, he "panicked", lost his focus and sometimes would run at the jumps! He obviously would be triggered everyday he entered the ring. If you compete in the hunter ring, this is not good!
It was so frustrating to prepare and be perfect beforehand and then have such trouble in the ring. I tried many things (training related and oil related) and in the end it was Present Time and Clarity that helped him stay focused during the whole course! I like to wear Present Time too, so it turned out that we had total synergy!
By the way, riders (and any athlete) can be very much the same way! So use it for both horse and rider!
Note About Animals: Certain oils can be very toxic to cats. Citrus products and oils in particular that are not of therapeutic grade! Please consult your vet if you are not sure about applying any essential oil to your pet.
What are the Safety Precautions? Present Time essential oil may have possible skin sensitivity.

If pregnant or under a doctor's care, consult your physician.
Want to Purchase Therapeutic Present Time Essential Oil?
Go to the Oil Shop! Buy Present Time Oil Here! 
Tips and Testimonials from an Essential Oil User
Present Time has a beautiful aroma. Apply it to your wrists and neck for emotional balancing and to reduce stress and promote relaxation. I love to use a few drops of this in a massage!
Have a Great Experience to Share About this Essential Oil?
Do you have a personal story to share about this Essential Oil? Please share it here!
Return from Present Time Essential Oil to Oils for Stress