Nan's Experience Essential Oils Membership provides Exclusive EO Training and Coaching on Transformation, Functional Wellness, Animal Topics and More!

FREE ACCESS to E-Merald Level with THREE Training Bundles!

 Click HERE to LEARN MORE and Get INSTANT ACCESS to E-merald Level Trainings!
Thieves Fresh Essence Mouthwash
Natural Alcohol Free Mouthwash
Thieves Fresh Essence Mouthwash is made with therapeutic grade essential oils. This non alcohol mouthwash made with Thieves blend and floral waters is very refreshing and helps to promote a healthy lifestyle*.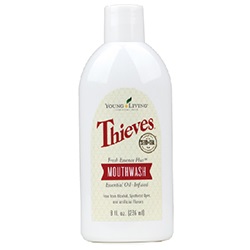 It is safe for human and animal use; and I have used it many times at the barn and for my dog!
Thieves mouthwash contains the same ingredients found in Thieves Essential Vitality Oil which was developed based on the ingredients found in the "Four Thieves Vinegar" or "Marseilles Vinegar". The vinegar was first prepared by thieves that worked in the spice industry and robbed graves to generate income.

Thieves Fresh Essence Mouthwash is also designed to release the ingredients slowly in the mouth via liposomes. They adhere to the mucus membranes or teeth.

Have Dry Throat or Cough? Then check out Thieves Essential Oil Natural Cough Drops for sore throats and cough!
This is an easy reference guide for Fresh Essence Mouthwash. It will tell you how to use your oil blend and what to use it for. It will also provide you with some fun tips and testimonials!
Want to Purchase Thieves Mouthwash?
Then go to The Oil Shop! Buy Thieves Mouthwash Here!
---
Thieves Fresh Essence Mouthwash™
What is in Thieves Fresh Essence Mouthwash?
There are several natural ingredients as well as eight essential oils in Thieves Fresh Essence Mouthwash.
The natural ingredients include:
Deionized Water

Peppermint Floral Water - is one of the most highly regarded herbs

Melissa Floral Water - Also goes by Lemon Balm.

Colloidal Silver

Lecithin

Citric acid

Steviocide (Natural Sweetener)

Tocopherols (Vitamin E)
Potassium Sorbate

The essential oils are listed below along with a brief description of each oil:
In the revised 2016 formulation, Melissa Floral Water has been replaced with the following:
Quillaja saponaria

Wood Extract
Peppermint floral water was removed from the formulation.

Do you want more information about the individual oil? Just click on the name of the oil to find out other interesting information such as:
What Part of the Plant is Used?

What is an ORAC Value?

What is the ORAC of the Oil?

What are the Plant Properties and Uses?

Where is the Name derived from?

The Most Interesting Historical Reference?

And more!
What are the Documented Uses for Thieves Fresh Essence Mouthwash? Better breathe, soothing to throat, freshening breath; and cool and clean mouth.

How do I use it?
Place in your mouth and rinse or gargle for 30 to 60 seconds.

Can this oil be used for Animals? Yes.
This can be directly applied to teeth and gums. For cats you may want to dilute but my dog loves it-she will drink it in her drinking water ( I usually only recommend oral use for dogs, ferrets or horses at this time).
Start with as little as one drop in an ounce of water; and work up to what your animal likes and tolerates.
For horses I like to make a spray and spray it in their mouth. Some dogs may like the spray and well good luck with the cats!
Note about animals: Certain oils can be very toxic to cats. Citrus products and oils in particular. Please consult your vet if you are not sure about applying any essential oil to your pet.
What are the Safety Precautions? No contraindications.
Are there Companion Products?
There is a whole line of Thieves products that are awesome! I use them all -Thieves Essential Oil, household cleaner, Thieves Spray and Thieves toothpaste are all great! And now, Thieves Laundry Soap and Thieves Fruit and Vegetable Rinse and Wash!
Or check out Thieves Essential Oil Natural Cough Drops for sore throats and cough!
Want to Write Your Own Experience about Thieves Mouthwash?
Great! Then just go to the Thieves Essential Oil Experiences Section to begin! Or read other testimonials about the entire Thieves line there! Thank you!
Want to Purchase Thieves Mouthwash?
Then go to The Oil Shop! Buy Thieves Mouthwash Here! 
Return from Thieves Fresh Essence Mouthwash to Thieves Essential Oil