Nan's Experience Essential Oils Membership provides Exclusive EO Training and Coaching on Transformation, Functional Wellness, Animal Topics and More!

FREE ACCESS to E-Merald Level with THREE Training Bundles!

 Click HERE to LEARN MORE and Get INSTANT ACCESS to E-merald Level Trainings!
Three Wise Men Essential Oil
An Uplifting Oil that Keeps Negativity Far Away!
Three Wise Men Essential Oil is a very spiritual oil that contains sandalwood, frankincense, spruce and myrrh. All of these oils have been used for thousands of years to open and enhance spiritual communication with the creator.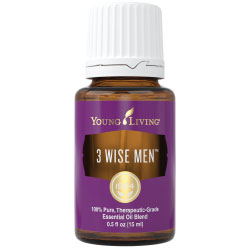 The blend opens the crown chakra and protects from negative energies and bombardment as well. So, 3 Wise Men essential oil is a great blend for massage therapists, Reiki and Raindrop practitioners.

Three Wise Men Essential Oil also assists in releasing emotional and spiritual blocks and negative memories. When we are able to do this, we are able to move forward easier on our spiritual path and open up to new opportunities.
This is an easy reference guide for Three Wise Men Oil Blend. It will tell you how to use your oil blend and what to use it for. It will also provide you with some fun tips and testimonials!
As I receive new tips and testimonials they will be added to the page, so check back frequently!
Want to Purchase Therapeutic Three Wise Men Essential Oil?
Go to the Oil Shop! Buy Three Wise Men Oil Here!
---
Experience 3 Wise Men Essential Oil Blend™
What is in Three Wise Men Essential Oil?
There are five therapeutic grade essential oils in Three Wise Men! They are listed below along with a brief description of each oil.
Carrier Oil: Almond Oil
Want More Information About the Individual Oil? Just click on the name of the oil to find out other interesting information such as:
What Part of the Plant is Used?
What is an ORAC Value?
What is the ORAC of the Oil?
What are the Plant Properties and Uses?
Where is the Name derived from?
The Most Interesting Historical Reference?
And more!
What are the Documented Uses for Three Wise Men Essential Oil? Apathy, balance, blocks, cleansing, concentration (poor), day dreaming, defeated, unlock negative memory, forgive and forget, frustration, grief and sorrow, personal change, protection from negative emotions and memory, positive feelings, sadness, spiritual awareness and protection, stress, visualization of goals,void and emotional clearing.
What is the Aromatic Affect on the Mind? This spicy, incense-like aroma is grounding yet uplifting.
What is the Nan's Mental (Mindset), Emotional and Spiritual Interpretation of this Oil?
Three Wise Men essential oil releases negative emotions of fear, exhaustion, and frustration. It will help you open to joy, excitement and personal change. When we can unlock emotional blocks, it is so much easier to move forward on our spiritual path.
This oil is used frequently in energy work not only because it facilitates emotional clearing but also because it protects the wearer from negative energies and emotions of those around us similar to White Angelica but with a gentler energy.

This is important when doing intuitive work; if we are picking up other energies then we are not transforming others or ourselves. Allow this oil to show you why you are also taking on those energies and burdening yourself rather than allowing others to do their own work. 

What Chakra is Affected? Opens the third eye and crown chakras.
How Do I Use It?
Use NEAT (undiluted) then,
Apply several drops (2-4) on crown of head, third eye, ears, wrists, neck or feet
Add several drops (2-4) to bath water
Apply to chakras

Directly inhale or
Diffuse.
Can this Oil be Used for Animals? Yes. It will help them release negative memories and emotions.
Note About Animals: Certain oils can be very toxic to cats. Citrus products and oils in particular that are not of therapeutic grade! Please consult your vet if you are not sure about applying any essential oil to your pet.
What are the Safety Precautions? Possible skin sensitivity. Dilution not required; suitable for all but the most sensitive skin. Generally safe for children over 2 years of age.
If pregnant or under a doctor's care, consult your physician.
Want to Purchase Therapeutic Three Wise Men Essential Oil?
Go to the Oil Shop! Buy Three Wise Men Oil Here!
Tips and Testimonials from an Essential Oil User
Apply in a clockwise motion to the crown of the head as to produce energy of opening and releasing.
Have a Great Experience to Share About this Essential Oil?
Do you have a personal story to share about this Essential Oil? Please share it here!
Return from Three Wise Men Essential Oil to Frankincense Essential Oil