The Benefits of Lemon are Immeasurable. Use Lemon
Essential Oil Daily to take Advantage
of those Benefits!
The Benefits of Lemon are well documented.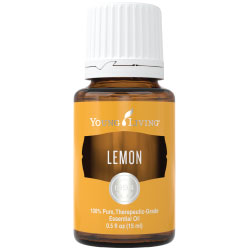 Did you know that Lemons (and limes) contain a supply of vitamins and minerals that is greater than any other food?
Lemon is also known for its ability to clean toxins from the any part of the body. That includes the hair and scalp, digestive system and the kidneys, and much more!
The simplest way to reap the benefits of lemon is to use Lemon Essential Oil. Lemon oil is always available and the oil doesn't go bad when you don't use it right away.
I keep it on my counter the kitchen, or, put it in my purse to use throughout the day! Place a drop in a glass of water for a refreshing drink!
Love all the citrus oils? I do! Then try Citrus Fresh blend that contains lemon, grapefruit, orange and spearmint! Taste great in your water and minimizes the anxiety level.
There really are hundreds of benefits of lemon. Read below for more information on how to use Lemon Essential Oil and what to use it for.
This section will also provide you with some fun suggestions, safety precautions for you and your pet!
As I receive new tips and testimonials for Lemon Oil they will be added to the page, so check back frequently!
Purchase Lemon Essential Oil Here
---
Lemon Essential Oil
What is the Genus Species? Citrus lemon
Why is this information important? It's always important to know your genus species of your oil. Just the common name on the bottle doesn't really tell you exactly what you're getting.
Where did the name come from? We believe that lemons were native to Asia. The Romans called the lemon "median apple".
Why is this information so important? Its not, it's just a fun fact!
What Part of the Plant is Used? The rind.
What is the ORAC Value? 660 µTE/100g
Why know about this number? ORAC stands for Oxygen Radical Absorbance Capacity. It tells you the antioxidant capacity of a food item. Antioxidants have shown to reduce the risk of age related conditions and cancer! This was developed by the USDA researchers. For instance: Oranges = 750; Clove = 1,078,700. Wow! The number for clove is NOT a typo!
Most Interesting Historical Reference?
Did you know that the Romans used the lemon rind to ward off insects and freshen clothes?
Also, the lemon and its oil were symbolized by the Roman goddess of youth, Juventas. 

What are the Plant Properties? Antitumoral, antifungal, antibacterial, antiviral, astringent, anti-inflammatory, immune stimulant, diuretic, digestive, expectorant, calming.
What are the Documented Uses and Benefits of Lemon? Hair, acne, seborroea, skin conditions, infectious disease, impaired memory, gout, liver and kidney (cleansing), urinary tract infections, parasites, varicose veins, anxiety, insomnia.
What is the Aromatic Affect on the Mind? It is very uplifting to the body and mind. Very light and improves concentration.
What is the Spiritual Influence? Because it is cleansing to spiritual bodies as well as the liver and kidney, it will release patterning and open the heart centers. The result is joy and hopefulness with clear thought.
What Chakra is Affected? Opens the throat and heart centers.
How do I use it?
Use diluted - 50:50 dilution. Then,
Apply several drops (2-4) on location
Apply to chakras/vitaflex points
Directly inhale
Diffuse, or
May be used as a dietary supplement.
Good oil for the First Aid Kit? Yes
Can this Oil be used for Pets? Yes, great to discourage fleas and flies on your dogs and horses. This oil is photo sensitive. As with humans, do not expose the skin to direct sunlight for 24-78 hours after application.
Note about Animal Use: Certain oils can be very toxic to cats especially oils that are not of therapeutic quality! Citrus and pine products and oils in particular. Please consult your vet if you are not sure about applying any essential oil to your pet.
What are the Safety Precautions? First, only use therapeutic grade essential oils! Lemon essential oil is Generally Regarded As Safe (GRAS).
However, this oil is very photo sensitive. Do not expose the skin to direct sunlight for 24-78 hours after application. May cause skin irritation, therefore, it is recommended that lemon oil be diluted.
Essential Oil Trivia?
Did you know that you need 3,000 lemons to make 1 kilo or oil?
Did you know that a Japanese study found that when they diffused lemon it reduced errors by 54 percent! By the way, in that same study, Jasmine and Lavender reduced errors by 33 and 20 percent respectively. How's that for mental clarity and accuracy!
Want to Purchase Therapeutic Lemon Oil?
Go to the Oil Shop! Buy Lemon Essential Oil Here!
Tips and Testimonials from an Essential Oil User
I hadn't cleaned the dry erase board in a long time. And the longer it stays on there, the harder it is to get off.
The spray that came with the board didn't work. But, the Lemon Essential Oil took it right off and it smells great! Who would have guessed that the benefits of lemon extended to my white board!
Have a Great Experience to Share About this Essential Oil?
Do you have a personal story to share about this Essential Oil? Please share it here!
Return from Benefits of Lemon to Hair Loss and Growth
Return from Benefits of Lemon to Oils for Hair