Nan's Experience Essential Oils Membership provides Exclusive EO Training and Coaching on Transformation, Functional Wellness, Animal Topics and More!

FREE ACCESS to E-Merald Level with THREE Training Bundles!

 Click HERE to LEARN MORE and Get INSTANT ACCESS to E-merald Level Trainings!
Jade Lemon Vitality Essential Oil from China
Provides All the Benefits of Lemon
Unique Lemon-Lime Flavor!


Jade lemon vitality essential oil vitalizes and zests up water, recipes and drinks with just a drop! This is fast becoming one of my favorite oils for it's unique and pleasing taste!

The Benefits of Lemon includes the naturally occurring constituent limonene; and has cleansing and purifying properties. Drink in your water every day and reap the benefits!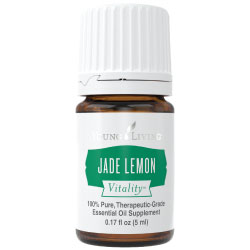 Imagine how your baking can be taken to the next level when you add Jade Lemon to your lemon square, cookies or cake! And how much fun your kids will have creating their own healthy flavors of treats, popsicle or drinks! No artificial sweeteners, dyes, preservatives or chemicals.

Love all the Citrus Oils? I do! Then try Citrus Fresh Vitality Essential Oil blend that contains Lemon vitality, Tangerine Vitality, Orange Vitality and Spearmint Vitality Oil. Taste cool, citrusy and minty in your water. Perfect for that hot summer day or to complement your exercise routine.

This section will also provide you with some fun suggestions, safety precautions for you and your pet!
As I receive new tips and testimonials for Lemon Oil they will be added to the page, so check back frequently!
Want to Purchase Therapeutic Jade Lemon Vitality Oil?
Purchase Jade Lemon Vitality Essential Oil Here
---
Experience Jade Lemon Vitality Essential Oil
What is the Genus Species? Citrus lemon
Why is this Information Important? It's always important to know your genus species of your oil. Just the common name on the bottle doesn't really tell you exactly what you're getting.
Where Did the Name Come From? We believe that lemons were native to Asia. The Romans called the lemon "median apple".
Why is this Information so Important? Its not, it's just a fun fact!
What Part of the Plant is Used? The rind.
What is the ORAC Value? 660 µTE/100g
What Does this Number Mean? ORAC stands for Oxygen Radical Absorbance Capacity. It tells you the antioxidant capacity of a food item. This was developed by the USDA researchers. For instance: Oranges = 750; Clove = 1,078,700. Wow! The number for clove is NOT a typo!
Most Interesting Historical Reference?
Did you know that the Romans used the lemon rind to ward off insects and freshen clothes?
Also, the lemon and its oil were symbolized by the Roman goddess of youth, Juventas. 

What are the Plant Properties? Cleanser

What are the Documented Uses and Benefits of Lemon? Supports water drinking and exercise goals. May support weight management goals when combined with healthy diet and exercise*.

Want to Learn about Nan's Mental (Mindset), Emotional and Spiritual Interpretation of this Oil?
Then go to Benefits of Lemon Essential Oil!
How Do I Use It?
Use undiluted, then
Dietary Supplement: place several drops in capsule and take internally. If prefer dilution, then 50:50 dilution-one part essential oil: one part vegetable oil such as coconut or olive oil.
Add a drop or two to water, juice, NingXia Red or other beverage.
Place in favorite baking, soup, sauce, dressing or marinade recipe.

Aromatic - Diffuse
Can this Oil be Used for Pets? Yes. Always start slow. With a small dog or cat use a toothpick amount to start. (Dip toothpick in bottle to get that amount).
Note About Animal Use: Certain oils can be very toxic to cats especially oils that are not of therapeutic quality! Citrus and pine products and oils in particular. Please consult your vet if you are not sure about applying any essential oil to your pet.
I only recommend using Young Living Oils on animals at this time.
What are the Safety Precautions? First, only use therapeutic grade essential oils! Lemon essential oil is Generally Regarded As Safe (GRAS).
Keep out of reach of children. Avoid using on infants and very small children.
If pregnant or under a doctor's care, consult your physician
Do not use near fire, flame, heat or sparks.
Essential Oil Trivia?
Did you know that you need 3,000 lemons to make 1 kilo or oil?
Want to Purchase Therapeutic Jade Lemon Vitality Oil?
Purchase Jade Lemon Vitality Essential Oil Here
Tips and Testimonials from an Essential Oil User
Add a drop of Jade Lemon Vitality to your Margarita Recipe and you will be thrilled how it livens up that flat Margarita mix! Better-use Orange Vitality with it!

Return from Jade Lemon Vitality Essential Oil to Vitality Dietary Essential Oil Collection