Blue Tansy Essential Oil -
Natural antihistamine and Anti-inflammatory
Blue Tansy essential oil is a natural antihistamine and anti-inflammatory. It is also very beneficial to the skin and cells of the body and makes a perfect natural remedy for itchy skin and cancer natural skin treatment. Use it for sunburn, radiation burns and inflamed skin!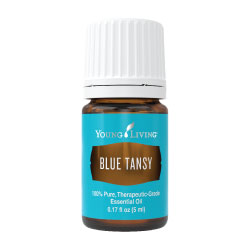 In animal studies, it has shown to be a natural muscle relaxer as well; and therefore can be used for arthritis, muscles, bumps and bruises like Helichrysum Essential Oil. And because it is a nervine, it relaxes and eases stress and anxiety due to nervous tension.
The oil is a magnificent blue color. This comes from chamazulene that is produced during a precise distillation process which has very powerful natural anti-inflammatory and anti-allergy properties.
My favorite oil blends that contain Blue Tansy are Acceptance, Valor, Dream Catcher and Australian Blue Essential Oil.
As I receive new tips and testimonials for Blue Tansy Essential Oil they will be added to the page, so check back frequently!
Purchase Blue Tansy here at The Oil Shop!
---
Blue Tansy Essential Oil
What is the Genus Species? Tanacetum annum. Common names are Annual Tansy and Moroccan Chamomile.
Why is this information important? It's always important to know your genus species of your oil. Just the common name on the bottle doesn't really tell you exactly what you're getting.
For example, Moroccan Chamomile is sold under several genus species names, most of which don't have the healing properties of Tanacetum annum
Where did the name come from? Tansy comes from a Greek word "Athanaton" meaning "immortal".
Why is this information so important? Its not, it's just a fun fact!
What Part of the Plant is Used? Leaves and flowers
What is the ORAC Value? 68,800 µTE/100g
Why know about this number? ORAC stands for Oxygen Radical Absorbance Capacity. It tells you the antioxidant capacity of a food item. Antioxidants have shown to reduce the risk of age related conditions and cancer! This was developed by the USDA researchers. For instance: Oranges = 750; Clove = 1,078,700. Wow! The number for clove is NOT a typo!
What are the Plant Properties? Anti-inflammatory, analgesic, anesthetic, anti-itching, antihistamine, antibacterial, hypotensive, relaxant, hormone like and nervine.
What are the Documented Uses and Benefits of Blue Tansy Essential Oil? Allergies, asthma, inflammation, itching, liver cleanser, low blood pressure, lymphatic system, muscles, nerves, nervous tension, pain, radiation burns, respiratory support, skin (dry, inflamed), sprains, stress and sunburn.
What is the Aromatic Affect on the Mind? Its sweet and herbaous aroma is calming and relaxing.
What is the Spiritual and Emotional Influence? Blue Tansy has a very high resonance energy making it a high vibrational oil. It releases the emotions of anger and control and allows more flow in our life.
It eases nervous tension and stress; and calms inflammatory situations. It will help you to discover what is itching you or creating inflammation in your life.
It will calm those who feel overwhelmed to the point where they are losing self-control. And in this respect, I get that it will help with addictions and negative habits that are self destructive to the body, mind and spirit.
What Chakra is Affected? Throat chakra.
What is the corresponding Chakra Color? Blue
How do I use it?
Use NEAT (undiluted). Then,
Apply several drops (2-4) on location
Apply to chakras/vitaflex points
Directly inhale
Diffuse or
Dietary Supplement.
Good oil for the First Aid Kit? No
Can this Oil be used for Pets? Yes. Animal studies have shown it to be a natural muscle relaxer. It is a key ingredient in JuvaFlex which I use to help my dog's digestion and cleanse her liver.
Note about Animal Use: Certain oils can be very toxic to cats Citrus and pine products and oils in particular if they are not of therapeutic quality. Please consult your vet if you are not sure about applying any essential oil to your pet.
What are the Safety Precautions? There is no specific safety data available at this time.
Essential Oil Trivia?
Did you know that Blue Tansy contains 3-6% Chamazulene?
Yes, chamazulene can only be produced when distilling certain plants very accurately. Chamazulene is called an artifact for this reason. German Chamomile, Helichrysum Yarrow and Blue Tansy Essential Oil are the only plants that will produce this highly sought after artifact.
Tips and Testimonials from an Essential Oil User
Use with Ravensara for minimizing the effects of asthma.
Have a Great Experience to Share About this Essential Oil?
Do you have a personal story to share about this Essential Oil? Please share it here!
Return from Blue Tansy Essential Oil to Essential Oil Singles