Nan's Experience Essential Oils Membership provides Exclusive EO Training and Coaching on Transformation, Functional Wellness, Animal Topics and More!

FREE ACCESS to E-Merald Level with THREE Training Bundles!

 Click HERE to LEARN MORE and Get INSTANT ACCESS to E-merald Level Trainings!
Dream Catcher Essential Oil
Enhances Your Goals and Dreams
Dream Catcher Essential Oil is an interesting blend that protects from negative dreams. It will also help to unwind before bed especially when used with lavender.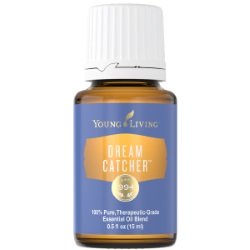 Use Dream Catcher to enhance your dream state and help with visualization of our dreams and goals. If you would like to enhance meditation, visualization or manifestation of your goals, this will be a good oil to use. It will help you keep your mind open (and third eye), and release negativity.
Like Peace & Calming you will find that children are definitely drawn to Dream Catcher essential oil. They will love the smell and it will help them with occasional sleeplessness also.
Peace & Calming and Dream Catcher are definitely great natural remedies for sleep. Other oils that are supporting are Lavender or Roman Chamomile .  Diffuse oils before going to bed to unwind the mind and body.
I like to use Dream Catcher interchangeably with Peace and Calming. If I want to enhance my dreaming or want to clarify some information in my dream state I definitely use Dream Catcher oil. In that case I place a little bit on my pillow and my forehead (third eye) and ask for the clarification I need before I go to sleep.
If you are having intense dreams, then probably something subconsciously is surfacing that you may need to process or release.
This is a fun and easy reference guide for Dream Catcher Essential Oil Blend. It will tell you how to use your oil blend and what to use it for. It will also provide you with some fun tips and testimonials!
As I receive new tips and testimonials they will be added to the page, so check back frequently!
Want to Purchase Therapeutic Dream Catcher Essential Oil?
Go to the Oil Shop! Buy Dream Catcher Oil Here!
---
Experience Dream Catcher Essential Oil Blend
What is in Dream Catcher Essential Oil Blend? There are eight therapeutic grade oils in Dream Catcher Blend. They are listed below along with a brief description of each oil.
Tangerine Essential Oil (Citrus reticulata) contains esters and aldehydes that are calming. Rich in the d-limonene it also helps to ease stress.

Ylang Ylang Essential Oil (Cananga odorata) has a long history in skin and hair care products, particularly in Asia, where it is used to promote luxuriant hair. It also restores confidence and equilibrium.

Black Pepper Essential Oil (Piper nigrum) It is supportive of the digestive system and is useful topically for soothing muscle discomfort following exercise.*

Juniper Essential Oil (Juniperus osteosperma) It may work as a detoxifier and cleanser, and is beneficial to the skin.

Bergamot Essential Oil (Citrus bergamia) The essential oil has a calming aroma which relaxes the mind and body. It has a long history of use for oily and troubled skin.
Sandalwood Essential Oil (Santalum album) is calming and emotionally balancing and is used for stress and unwinding. Also called Aloes.

Blue Tansy Essential Oil (Tanacetum annuum) is has a slightly sweet and herbaceous aroma. Tansy plants have several species and this one is also called Moroccan Chamomile or Annual Tansy. Emotionally, it combats anger and negative emotions.

Anise Essential Oil (Pimpinella anisum)

In the revised formulation 2015, Sandalwood has been replaced with:
These oils were also added:
Geranium Essential Oil (Pelargonium graveolens) helps you relax and supportive to healthy skin!

Blue Cypress Essential Oil (Callitris intratropica) is indigenous to Australia. It has traditionally been used for incense, perfume and embalming. Traditionally the aboriginal burned the wood to repel mosquitoes and midges! Its benefits also include supporting the body's natural response to irritation.

Davana Essential Oil (Artemisia pallens) It helps ease stressful feelings and nervousness.
Kaffir Lime (Citrus Hystrix) contains aldehydes and esters that have calming properties.
Jasmine Essential Oil (Jasminum officinale) as a wonderful aroma that relieves stress and uplifts the mind and body! It is also beneficial for the skin and supportive of women's wellness*. It has been used throughout history for romance and attraction and for balancing the feminine energy of the body.
German Chamomile Essential Oil (Matricaria recutita) made from german chamomile flowers contains chamazulene, a compound studied for its ability to support the body's natural response to irritation*. It clears the mind and creates patience and peace.
Rose Otto Essential Oil (Rosa damascena) has an intoxicating aroma that eases stress! It supports healthy skin. It's sweet fragrance that is intoxicating and highly romantic. Very high vibrational oil.
Grapefruit Essential Oil (Citrus paradisi) Rich in d-limonene, it is nourishing to the skin. Traditionally cleansing to the mind and body.
Spearmint Essential Oil (Mentha spicata) Rich in carvone and d-limonene.

Lemon Essential Oil (Citrus limon) consists of 68 percent d-limonene. It has cleansing and purifying properties. It takes 75 lemons to create one 15 ml bottle of lemon therapeutic grade oil.
Ocotea Essential Oil (Ocotea quixos) is a unique therapeutic grade oil that helps aid the body's natural response to irritation*. From the cinnamon family. Ocotea also has natural cleansing and purifying properties.
Want More Information About the Individual Oil? Just click on the name of the oil to find out other interesting information such as:
What Part of the Plant is Used?
What is an ORAC Value?
What is the ORAC of the Oil?
What are the Plant Properties and Uses?
Where is the Name derived from?
The Most Interesting Historical Reference?
And more!
What are the Documented Uses for Dream Catcher Essential Oil? Relieve boredom, poor concentration, day dreaming, deodorant, disappointment, discouragement, dream state, occasional sleeplessness, negativity (releases), spiritual, spiritual eyes, third eye chakra, uplifting, vision of goals and visualization.
What is the Aromatic Affect on the Mind? Calming and balancing.
What is Nan's Mental (Mindset), Emotional and Spiritual Interpretation of this Oil? 
This oil helps us release the fear of manifesting our good and potential. If we are afraid to manifest our goals and dreams then we become blocked mentally and spiritually. When we are able to open up again, we can focus on what is important to us and begin to move in a forward direction.
If you are having "bad" dreams, then old patterns or old unresolved emotions are wanting to surface to be resolved. This is a good thing-remember that which is buried can not be found or resolved.

What Chakra is Affected? Opens the third eye chakra.
How Do I Use It?
Use NEAT (undiluted) then,
Apply several drops (2-4) to wrists, edge of ears, forehead, neck and feet
Add several drops (2-4) to bath water
Apply to chakras

Directly inhale
Diffuse, or
Combine with Lavender or Roman Chamomile essential oil.
Can this Oil be Used for Animals? Yes, I have used this for horses that were close minded; and needed to open their mind and release past negativity so they could realize their potential. Works great!
Note About Animals: Certain oils can be very toxic to cats. Citrus products and oils in particular that are not of therapeutic grade. Please consult your vet if you are not sure about applying any essential oil to your pet.
What are the Safety Precautions? Dream Catcher essential oil does not have any known contraindications. However, this oil is photosensitive; direct exposure to sunlight within 24 hours after use may cause dermatitis. 
If pregnant or under a doctor's care, consult your physician.
Want to Purchase Therapeutic Dream Catcher Essential Oil?
Go to the Oil Shop! Buy Dream Catcher Oil Here!
Tips and Testimonials from an Essential Oil User
Apply to 3rd eye to increase spiritual vision and to open the third eye.
Apply Dream Catcher along with Lavender across the shoulders to promote a sounder sleep and foster good dreams.

Have a Great Experience to Share About this Essential Oil?
Do you have a personal story to share about this Essential Oil? Please share it here!
Return from Dream Catcher Essential Oil to Natural Sleep Remedies